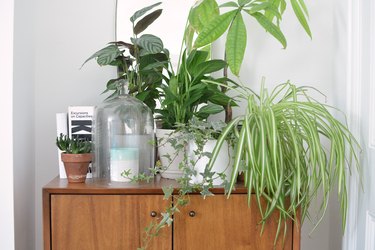 Plants are the hottest home trend right now — you only need to search #urbanjungle or #plantgang on Instagram to see the botanical boom in action. We're filling our homes with more and more greenery, and what's not to love? From their natural beauty to their air purifying benefits, adding houseplants is a definite win-win.
If you're not exactly green-thumbed, don't fret. There is a range of plants out there for you to choose from that are virtually unkillable — think succulents, snake plants, and cacti. Or, if all else fails, you can always go faux. (Also, these nine unusual houseplant hacks will help turn brown thumbs green.)
Since we believe that when it comes to curating your space, plants are just as important as wall art or lighting, we're sharing a few simple tips for styling plants as decorative accents.
1. Create a vignette.
It can help to imagine the letter "A" when arranging a vignette featuring plants and other decor items. Place your tallest item at the top of the "A" to lay the foundation of your composition, and then add in items at varying heights while loosely keeping to an "A" frame as you arrange them. See how we've gathered the tallest plants in the center of the cabinet in the image above. Then we simply added in smaller plants, books, and personal items on each side to create interest at different levels.
When it comes to your plant collection, be sure to invest in planters. If you don't want to break the bank, source containers like old jam jars or check second-hand shops for vintage ceramics. If buying new, decide whether you want an eclectic look or a coordinated collection of pots.
2. Add vertical interest.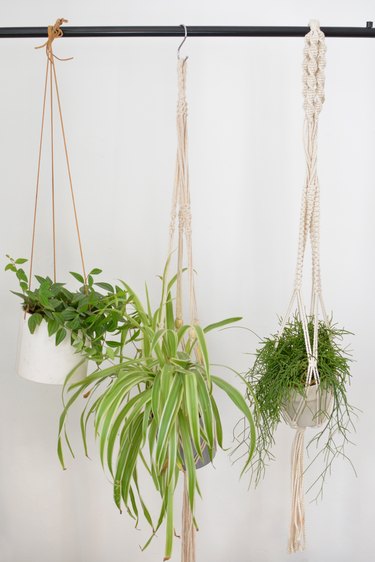 Short on floor space? Look at ways to incorporate plants overhead — hanging planters are perfect for adding interest and dimension to a room. Cascading plants like ivy bring life to empty corners of our homes. We love macramé planters that you can easily slip a trailing plant into.
Hanging plants also work well in the bathroom; pick humidity-loving plants like ferns that will thrive in steamy shower rooms.
3. Embrace the plant shelfie.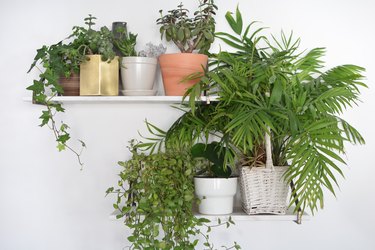 Plants work beautifully on shelves and they're a great option for smaller homes. Opting to fill shelves with an abundance of greenery to create a statement shelfie can transform a space. Mix upright and trailing plants to create a visual journey and give your shelfie some variation.
Alternatively, you could arrange multiple smaller collections of succulents or cacti on windowsills, or look to other areas you can squeeze in some botanical interest: the top of kitchen units (these particular houseplants thrive in kitchens), bathroom cabinets, or even fridges.
4. Consider cuttings.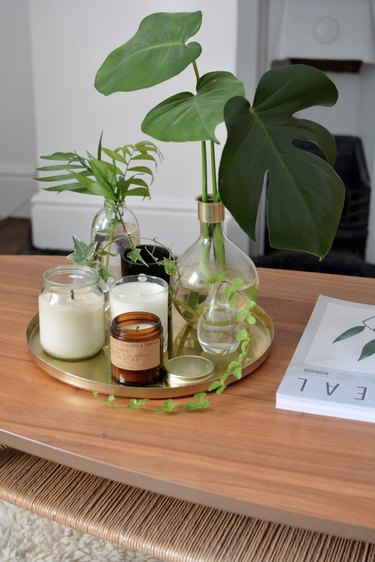 Large plants can dwarf a small space, so consider working with more delicate arrangements. Use small glass vases filled with water for cuttings, perfect as coffee table vignettes. Plants like ivy, monstera, spider, and pothos root well in water, and once established you can repot them in soil to start a whole new family of plant babies!
Now go forth and create your own "green" house ...