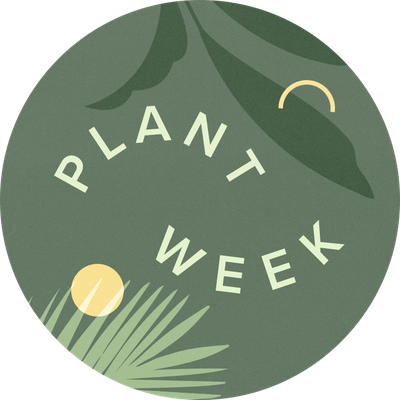 Welcome to Plant Week: Our guide to all things indoor plants, including tips for beginners, advice on care, and tons of plant-spo.
It's officially time for porn ...
Plant porn, that is! (You think we'd actually do that to you?) That's right, today is all about the dreamy, plant-filled spaces you'll want to add to your Pinterest board ASAP. From lush bathrooms and overflowing gardens to #PlantLady instas that we drooled over, all of these spaces are going to turn you green with plant-based envy.
Ready to be inspired? Here are just a few of our favorite #plantporn images.
Yes, You Should Turn Your Bathroom Into a Lush, Plant-Filled Retreat — Here's How
Intrigued? Read here for expert advice on transforming a bathroom into a lush, verdant retreat. We're willing to bet you'll want to buy (yet another) plant before you reach the end.
8 Garden Ideas You've Gotta Try ASAP
What's the best way to show off your newfound love affair? Should you go with simple planters? Stuff everything into raised flower beds? Or, perhaps this year calls for a more artistic display? Whatever your preference, these eight verdant ideas will give you a little inspiration to help you pull together a chic garden look that's perfect for any season.
Find Out Where to Buy Every Single Thing in This Plant-Filled Bohemian Living Room
If you want the warm vibes of a boho aesthetic but worry all of those textural and botanical layers will lean too chaotic, then take a page from this charming design's book. And to sweeten the deal, we actually found out where to buy every single item in this pic. (You're welcome.)
Spotted: 82 Ways People Are Using Plants as Decor
We at Hunker have the privilege of photographing personal spaces. One thing we love to see is how greenery is incorporated throughout various homes, whether it's a simple plant placed strategically upon a high shelf, or where plants play a major role in the overall aesthetic of a home. Read more for some of our favorite looks, and visit one of these online plant retailers to channel the look in your home.
Our 20 Favorite Plant-Filled Bedrooms That Are Serving Up Major Inspo
Plant-filled bedrooms are so swoon-worthy, aren't they? Every aspect of this aesthetic adds up to create an ultra-relaxing and laid-back vibe — perfect for creating your own private oasis. Just take a look at these 20 jaw-dropping boho boudoirs to see what we mean.