One of our favorite interior delights is seeing the creative ways people outfit their entryways, and this bohemian space designed by Alycia Lynn is a prime example of ingenuity. An entryway is your home's first impression, so it's a great opportunity to showcase your personal aesthetic — and have a little fun. While there's a whole lot going on here, everything is beautifully tied together with a style sensibility that's built on warm hues, rich textures, and a casual attitude. The central feature of the look, the woven-disk collection, sets an artful scene of intriguing layers that's well balanced by the various plants down below. Speaking of that greenery, did you notice how each one comes with its own shapes and colors? That variety fits in with the eclectic vibes of the mismatched prints that fill in the spaces above the rustic console. But of all the things we love about this decor, we're especially taken with that faux skull's gilded horns for its ability to add a dash of playful glamour to the menagerie. If you're thinking of emulating this display, remember to keep all of your odds and ends within the same color palette. White and neutrals work well together here, and let those gold horns really leave a mark.
Gold Animal Skull ( $89 )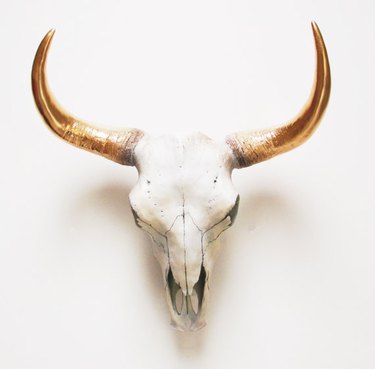 ---
Kelly is a full-time freelance writer, aspiring aerialist, and passionate interior design enthusiast. She's a regular contributor to design-centric publications like Apartment Therapy, The Spruce, and TexasLiving Magazine.