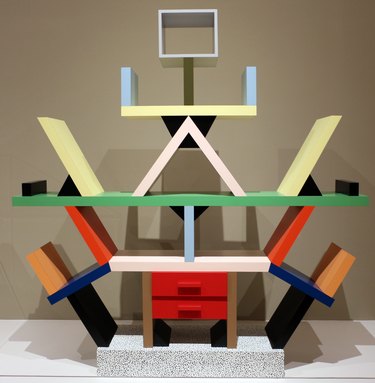 Hunker may earn compensation through affiliate links in this story. Learn more about our affiliate and product review process
here
.
Design lovers who are over the trend of chic minimalism might feel the same way. Memphis Design embraced the bold, the bright, the slightly kitsch. And you can still see its influence today. Here, we're taking a look at the history of the movement, some of its key figures, and a few ways you can incorporate it into your space.
A Quick History of Memphis Design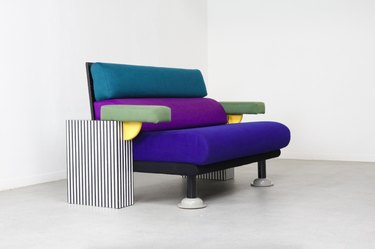 September 18, 1981 marked the first exhibition of these creatives as one group. The Milan show came together quickly — in about seven months — in line with Memphis Group's playful approach to design. More than 2,000 people showed up to take it all in. Not long after, the movement hit the U.S. On October 1982, the group presented pieces in Chelsea, New York.
Memphis Design included a variety of mediums, from ceramics to lighting to furniture. The group wanted to break away from stuffy decor rules, and push the boundaries of what it meant to create everyday objects. The name came from an unlikely, but perhaps fitting source. Bob Dylan's "Stuck Inside of Mobile With the Memphis Blues Again" was reportedly playing while the group met to talk tentatively about doing something together. Memphis paid tribute to the U.S. city and the ancient Egyptian capital, both sources of inspiration for designers.
The Cooper-Hewitt Museum staged an exhibition of Memphis Design in 1986 but by 1988, the group mostly dissolved. Many of the designers involved continued to illustrious careers, some of them still incorporating the playful elements of Memphis into their work.
Despite the group's spirit of rebellion, the pieces they created ended up retailing for higher price points. In 1983, Karl Lagerfeld decked out his Monaco apartment with Memphis Design items. Today, some of the most iconic pieces can retail from a couple thousand to around $50,000 — particularly because some were created in limited quantities.
Influential Memphis Design Figures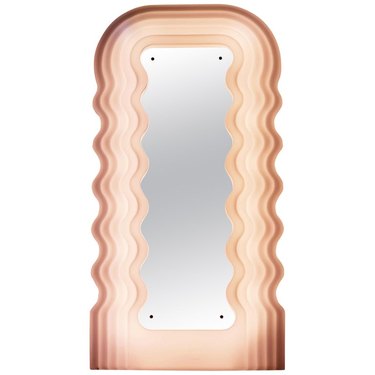 The name most often associated with Memphis Design and its origins is Ettore Sottsass. The Italian designer was previously known for pieces like his iconic Olivetti red typewriter. He used his existing connections and relationships to bring the group together and also help them get the exhibition organized in such a short amount of time.
But by the time the group dissolved, Sottsass was ready to move on. Today, you can still spot his designs in magazines and luxe homes — specifically his Ultrafragola mirror.
Although the group started in Milan, its members hail from everywhere from Tokyo to Los Angeles. They worked across disciplines like architecture, ceramics, and furniture design. Barbara Radice, Peter Shire, Shiro Kuramata, Martine Bedin, Luciano Paccagnella, George Sowden, and Javier Mariscal — just to name a few — are now known for iconic pieces or for specific areas of expertise.
Although the group didn't set up formal style guidelines, they united under the premise of challenging standard design rules. They mixed high-end materials with cheap ones to combine high brow and low brow sensibilities. They worked with bright, sometimes jarring colors, and whimsical patterns. Their pieces, ironically, would end up being sold for a lot of money. But at its outset, Memphis Design was all about knocking down some of the stuffy conventions of design in homes.
How to Incorporate Memphis Design Into Your Home
Ready to take the leap into a bolder, Memphis Design-inspired look? First off, consider what pieces might already work with the style. Colorful furniture and eye-catching artwork, for example, would feel right at home. Quirky ceramics and knick-knacks can also be easily incorporated.
When looking for new pieces, search for unexpected materials like laminate or surprising combinations like marble mixed with glass. When it comes to lighting, mirrors, and decor, the stranger, the better. Look for wavy, curving, or geometric shapes. If you love patterns, consider introducing stripes, terrazzo, and cut-outs (think Saved by the Bell).
Where to Shop Memphis Design and Memphis-Inspired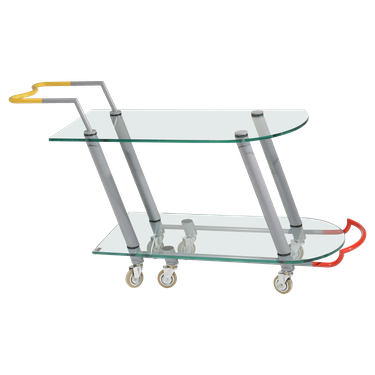 Many brick-and-mortar design stores include items influenced by Memphis Design, or products that have similar looks to the style. You can find terrazzo, for example, everywhere from luxe stores to retailers like Urban Outfitters. The pattern appears on dinnerware, wallpaper, and all types of home items. Other modern names like HAY remind us of Memphis Design in their use of bright colors, but with a more understated approach (they also carry a George Sowden-designed water bottle).
You can find a lot online, too. Try searching places like Etsy for vintage pieces, with everything from chairs to mirrors. Just be sure to get as much information as possible from the seller about the origins of the piece — a useful tip to keep in mind for sites like Craigslist and eBay, too.
Sites like Chairish, 1stdibs, and Pamono also carry a few Memphis Design items from iconic designers. But don't be surprised when you see prices on the higher end of the spectrum.