As design trends continue to come and go, there will always be the rebels that yearn for something outside of the norm. This moment took hold around 1980-1981 for a group of designers that joined forces to create Memphis Design.
"One began to wonder if it was really necessary to continue to sink into beige leather sofas, surrounded by fixture-walls with sharpe-cornered orthogonal planes in shiny polyester..." writes Barbara Radice in Memphis: Research, Experiences, Results, Failures and Successes of New Design. She continues, describing "a painting here, a sculpture there, lighted by black, acid structures in steel and sheet-metal, drinks and hors d'oeuvres lined up on severe coffee-tables, possibly in chrome and glass."
The antidote: bright colors, a mix of high and low-brow materials, lots of squiggles, and a commitment to make design a lot more bright and playful. Italian architect and designer Ettore Sottsass led the charge; already known in design circles for pieces like his bright red Olivetti Valentine typewriter, he tapped into some of his connections to help produce the group's pieces.
It's in Michele de Lucchi's journal, Radice writes, that the name Memphis first comes up. It actually comes from a song: Bob Dylan's "Stuck Inside of Mobile With the Memphis Blues Again." The tune played in Sottsass's Milan apartment when a group of designers sat together. They settled on the name because of its reference to the city in Tennessee but also the ancient Egyptian capital.
The Memphis Group included figures from the architecture and design worlds that hailed everywhere from Los Angeles to Tokyo. Some of its most well-known figures include Peter Shire, Radice, Andrea Branzi, de Lucchi, Michael Graves, Shiro Kuramata, Martine Bedin, Javier Mariscal, and George Sowden. And while they didn't adhere to any set of rules, per se, some commonalities include the use of industrial materials, neon colors, curving forms, and bold patterns.
On September 18, 1981, the group presented its first exhibition in Milan. The invitation, designed by Luciano Paccagnella, shows a green dinosaur staring out with red eyes and razor-sharp teeth. Lightning bolts pierce through the dark sky behind the dino. It all feels strange and whimsical (and perhaps scary for little kids).
The exhibition came together, somehow, in about seven months. This meant, Radice explains, that the crew made their drawings, found people to produce the pieces, created the invitation — the works — in a short amount of time. The show included 31 pieces, according to Radice, running the gamut from ceramics to lamps to furniture. Twenty five hundred people showed up.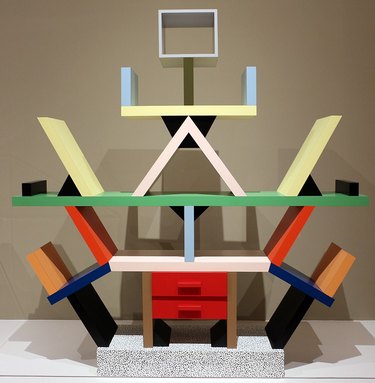 The group's name started to gain recognition beyond Milan. In October of 1982, around 3,000 people got in line to see a Chelsea, New York exhibition of Memphis Design called "Memphis at Midnight," the first display of the group's works in the U.S. Items sold for anywhere from $2,000 to $10,000, according to The New York Times. Karl Lagerfeld outfitted his Monaco apartment in Memphis items around 1983, a sure sign that it had entered into the mainstream.
In 1986, the Cooper-Hewitt Museum held an exhibition of Memphis Design work, just a little before the group officially disbanded in 1988. Sottsass felt ready to move on and didn't necessarily see Memphis Design as something that needed to last forever.
Yet its influence continues. In 2016, David Bowie's art collection — which notably contained a few Memphis Design items — sold for more than $41 million, according to Business Insider. You can find items on sites like 1stdibs at prices on the higher end of the spectrum. A Memphis Milano Style Desk, for example, is currently on sale for $8,500. Sottsass's "Ivory" Table from 1985 entered the collection of the Metropolitan Museum of Art; the Met Breuer staged an exhibition in 2017 called "Ettore Sottsass: Design Radical."
The style often makes its way into magazines and Pinterest boards; an Instagram account dedicated to Sottsass currently boasts 120,000 followers. You can see spaces inspired by Memphis Design everywhere from Paris to India. Interior designer Sasha Bikoff tells Bingham that it's probably due to the fact "we're seeing a backlash against minimal spaces and we're having such a moment in color right now."
It seems the legacy of the movement won't fade any time soon.