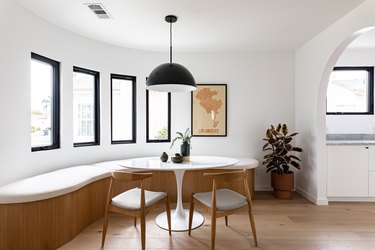 Hunker may earn compensation through affiliate links in this story. Learn more about our affiliate and product review process
here
.
Contemporary design is heavily influenced by modern design, but they are not the same. One is a specific historical design period with a guiding philosophy and identifiable characteristics. The other is a work-in-progress, a response to the zeitgeist, a reflection of the radical decor and architectural developments that preceded it, a look that you know when you see it. If you can separate the two, you understand enough about modern and contemporary design to combine them successfully.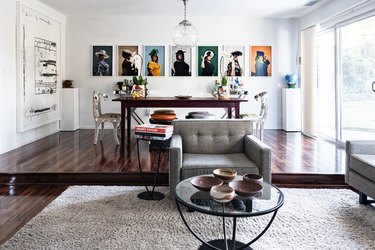 Modern design refers to a distinct time period that spans the early to mid-20th century, from World War I to approximately 1979, according to the National Trust for Historic Preservation. It is epitomized by spare lines, industrial materials, an alignment with nature, angles rather than curves, and a rejection of the ornamentation that characterized earlier Victorian, Edwardian and Art Nouveau style. Modernism embodies a philosophy that is socially conscious, progressive, utilitarian and "new." Marquee names in the pantheon of architects and furniture designers include Le Corbusier, Ludwig Mies van der Rohe, Walter Gropius, Ray and Charles Eames, Philip Johnson, Frank Lloyd Wright and other luminaries. Glass is adapted to modern technologies in stunning new ways by the Modernists; Philip Johnson's 1949 Glass House is a completely transparent living cube filled with bespoke furniture by Mies van der Rohe.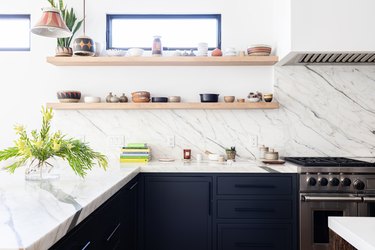 The Museum of Modern Art defines contemporary design — contemporary being an adjective, not a style — as well-made, beautiful, efficient, innovative and reflective of its time. This time is preoccupied with environmental concerns, global awareness, economy, durability, experimentation, technology and simplicity. Because contemporary is "of the moment," its designs are fluid, ever-changing, eclectic, low-key and open. Walls between rooms don't exist; glass doors open a residential wall to the outside; roofs are made of drought-resistant plants or grass. Architects such as Zaha Hadid create elongated curving buildings incorporating fractured forms and angles that reflect the chaos of modern life. Frank Gehry uses corrugated steel, plywood, glass, titanium and limestone to create sweeping arcs, dramatic light-catching juxtapositions of materials, and astonishing buildings, such as the Guggenheim Museum in Bilbao, that are at once distinctive and fully-integrated with their surroundings.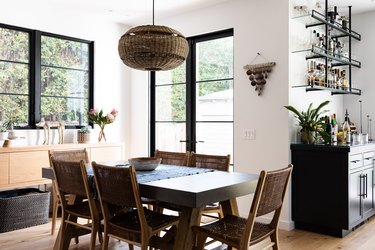 Modern and midentury modern furniture were designed between 1933 and about the mid-'60s. The designs mirror the philosophical theories embraced by architects of the period: Some notable furniture designers, such as Mies van der Rohe, were celebrated for both their buildings and their chaise lounges. The Bauhaus movement in Germany inspired Le Corbusier's sinuous chaise of leather and tubular steel and Mies van der Rohe's iconic Barcelona chair with its chromed steel frame and tufted leather seats. Eames chairs used plastic and fiberglass in brightly colored, innovative bucket-style seats. Saarinen's graceful curving Tulip table and chairs blended synthetic materials and the pared-down essence of form. Today, you can furnish an entire home in Mid-Century Modern or mix a few prized pieces with simple contemporary designs.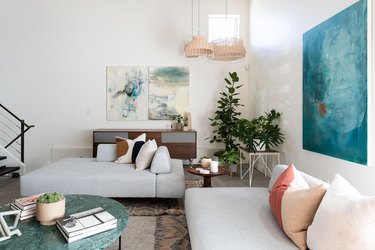 Contemporary furniture tends toward the sleek, monochromatic and unfussy, but there are no hard rules. You are just as likely to find a living room suite made from corrugated cardboard as a bedroom suite made from split bamboo. Many contemporary pieces are convertible, reflecting the shift toward urban living in smaller spaces and the need for everything to earn its keep twice over. The wall system with dining room table folds down into a Murphy bed. The white laminate loft room divider is a closet on one side, a bookcase to hold the library and the flat-screen TV on the other. A contemporary couch may employ humor rather than chintz to set a style: Salvador Dali's surrealistic "Lips" sofa was reinterpreted in a widely available, bright red, upholstered foam version. A giant floor model of the iconic Anglepoise desk lamp is more than seven feet tall. Contemporary works best in uncluttered spaces and can easily be paired with modern furniture and eclectic personal pieces.