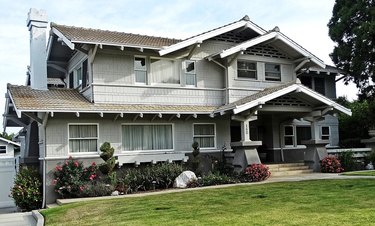 Hunker may earn compensation through affiliate links in this story. Learn more about our affiliate and product review process
here
.
In the 1912 book Modern American Homes, Hermann Valentin von Holst writes that "the new type of home has utility as its fundamental principle." Enter the Craftsman style home: a distinct form of architecture that's still popular more than 100 years later. The Craftsman vibe is all about a return to simpler times, and a focus on natural materials.
Today, you can find available Craftsman homes in various real estate listings and even on Airbnb, where the classic style is a big selling point. Its rustic elements also fit into our current fascination with the farmhouse look.
The History of Craftsman Homes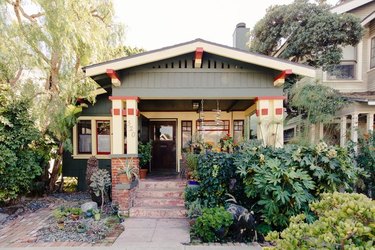 The Arts and Crafts movement of the late 1800s sparked interest in handiwork as a reaction against mass-produced items. With an emphasis on a growing middle class, the movement included everything from jewelry to textiles to architecture.
After originating in Britain, it arrived in the U.S. around the 1890s, thanks to newspapers and journals. The Craftsman house emerged as a pared-down style shaped by some of the most influential architects of the time. Designer Gustav Stickley became one of the authority figures, with the publication of his magazine The Craftsman.
Von Holst wrote that the new modern house should also strive to "seem a part of the scenery." In other words, it's less about super fancy architecture (as seen in Victorian architecture) and more about a sense of coziness. Which explains why Craftsman homes also feature a classic fireplace as the star of the interior.
Other key figures of the style include Charles Sumner Greene and Henry Mather Greene — brothers from Ohio who founded the influential Greene & Greene firm in Pasadena, California. The duo was influenced by Japanese architecture and created iconic homes like the Gamble House in Pasadena (now a National Historic Landmark).
Most Craftsman homes are bungalows with one or two floors; they also extend horizontally rather than vertically. You can spot a Craftsman by its distinct exterior angles, like pronounced gables and overhanging eaves. They often feature porches, pergolas, and chimneys made of sandstone, limestone, timber, and concrete.
How to Decorate Your Craftsman Home
In The Craftsman, Charles Alma Byers writes that the Craftsman bungalow "probably surpasses all other styles of architecture in its adaptability to individuality" and that it's also "definitely designed for a home that is both attractive and inexpensive." The Arts and Crafts movement, after all, focused on beautiful things that decor lovers could own without breaking the bank. Craftsman homes lend themselves to "be made cozy and homelike without a great deal of expensive furniture," Byers argues.
Though it might feel like a challenge to live in a space with such a distinct architectural style, you can definitely incorporate your own aesthetics. Even small updates like a little bit of paint and new hardware for your cabinets can make a big difference. For more visual interest in a Craftsman kitchen, think about adding a backsplash or patterned flooring.
Many Craftsman houses feature wainscoting as an architectural element. Consider decorating the space above the trim with a bold paint color or wallpaper pattern. Emphasize the exposed wooden beams by painting your walls white, or a neutral tone. If you want to give your fireplace a new look, try using materials like blue-gazed tiles for a unique spin.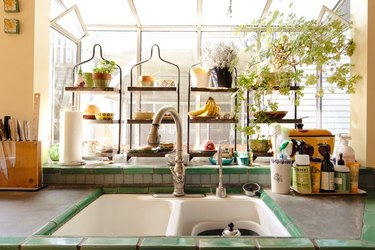 Use natural materials where you can to create a rustic feel that matches the exterior of the home. If you happen upon a two-story Craftsman house, consider a vintage runner in a bright hue to accentuate the staircase.
Don't hold back on color if you love getting eclectic. Think about how you can accentuate moldings with bright and bold hues.
No matter how you choose to decorate, it's all about striking a balance between modern and traditional. The Craftsman style continues to woo decor lovers and homeowners. It only makes sense to highlight the characteristics that make it so distinctive.