When you hear the term "farmhouse style," your mind might immediately go to Chip and Joanna Gaines, the stars of the HGTV show Fixer Upper, who are largely credited with the contemporary obsession with all things rustic chic. But the farmhouse aesthetic actually has a long history, originating from — you guessed it — authentic farmhouses.
The Origins of Farmhouse Style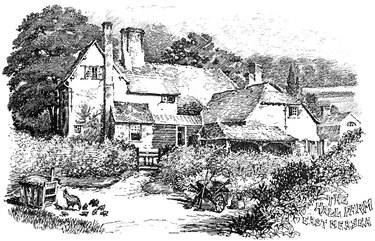 Farmhouse style wasn't originally a conscious design choice by decorators, rather it was invented out of practicality. Quite simply, farmhouses were built as shelter for farmers. Though farming — and therefore homes built on farmland — has existed for millennia, the root of the notion of farmhouse style originated in Europe in the 16th and 17th centuries. The movement quickly spread across the Atlantic to the United States during its colonial years, where the style flourished first on the East Coast, then eventually in the Midwest, when the homesteaders staked their claims in the 19th century.
These early farmhouses were often built with materials that were readily available — for instance, wood and stone that was cleared from the fields. Decor-wise, they were typically more austere, simply because farmers and their families primarily spent time outdoors doing chores or cooking in the kitchen — a farm life isn't an easy life, after all. But the homes were often cozy and comfortable to provide farmers with a well-earned rest after a long day of work.
Because farmhouses were primarily a place of rest and cooking, their floor plans were also simple, often centered around the kitchen and one or two bedrooms adjacent to it. But as a family grew, the house expanded with it, meaning rooms were attached as necessary in an often haphazard style, leading to some funky layouts.
Evolution of Farmhouse Style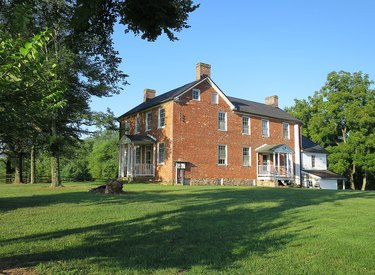 While the roots of farmhouse style are in functionality, natural materials, and simple decor, the Industrial Revolution brought about significant change. As trains began to crisscross countries, different building materials could be shipped into rural farmland. More convenient transportation also led to the spread of ideas, including design inspiration. Farming, too, became easier, thanks to new machinery, which meant that more time could be spent relaxing in the home.
All of these developments led to the elevation of the farmhouse aesthetic, which started adapting aspects of then-contemporary architectural design (particularly on the exterior), from Georgian to neo-Gothic to neoclassical. Additionally, a little more time and attention was given to interiors, where sturdy but visually pleasing fabrics found use, and handcrafted furniture developed creative flourishes. But even with these new visual languages, farmhouses still had to be practical, so they maintained details like the use of natural wood (often reclaimed from a barn or other structure), streamlined interiors, and a coziness inspired by a focus on the hearth.
In the late 20th century into the early 21st century, farmhouse style was picked up by the mainstream and brought into homes that weren't on farms. "Farmhouse-style decor was more literal, such as rooster curtains, faux painted signs proclaiming 'eggs, 25 cents', and simple colors such as red, black, and white," Joe Murphy, an interior design specialist, tells Hunker. The style veered sharply towards kitsch — the opposite of the original purpose of farmhouse decor.
Farmhouse Style Today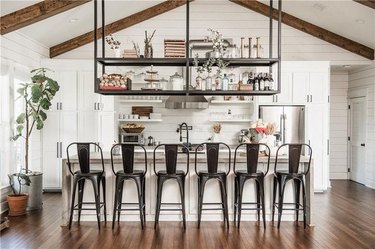 After Fixer Upper debuted in 2013, the public became obsessed with Joanna Gaines' modern farmhouse style, a look defined by shiplap, exposed beams, antique accents, handmade furniture, and a neutral palette. The aesthetic is elegant yet cozy, tinged with an industrial flair that makes the style suitable not only for rural homes, but urban ones, too. And many of the style's original themes have also made their way back into vogue: oftentimes the kitchen is still the focus of the house, set around a farmhouse sink (a big decor trend on its own). The popularity is quite evident in the market — when Joanna first partnered with Target on the Hearth & Hand line of farmhouse-chic home essentials in November 2017, the products sold out in days. Joanna continues to launch new seasonal Hearth & Hand collections, with items continually selling out.
There are also numerous variations on the traditional farmhouse style — some homes combine rustic elements with beachy ones for a coastal vibe, while others add boho details like woven furniture and punchy patterns. The modern farmhouse style is all about versatility, but at its core, it retains a very appealing air of simplicity.
While Fixer Upper ended after its fifth season in 2018, fans of the show can head to Waco, Texas, where the Gaines family lives and works, to visit Magnolia Market at the Silos, a shopping and dining complex that has become somewhat of a pilgrimage site for farmhouse-style die-hards. There, you can shop for Joanna-designed merchandise for your own home, snack on bites or sip on sweet tea peddled from vintage food trucks, or simply wander around and snap inspirational farmhouse photos for your Instagram or Pinterest board.
It's clear that the farmhouse style is here to stay, regardless of whether or not you actually live on a farm. Personally, we're big fans of its focus on simplicity and comfort — something we could all use a little more of in this technology-driven era.