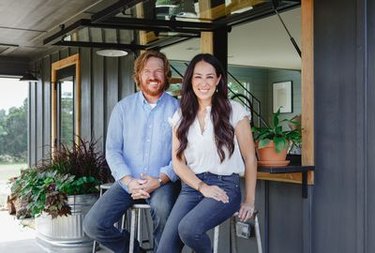 The year is 2013. Prince George has just been born, the word "selfie" has just been added to the dictionary, and House of Cards has just become the first web series to win an Emmy. But most importantly, at least for the interior design world, Fixer Upper debuts. The launch of the HGTV show, which ran from 2013 to 2018, would not only catapult its hosts, husband-and-wife duo Chip and Joanna Gaines, to international stardom, but would also be responsible for the skyrocketing popularity of modern farmhouse style.
A decade prior to their television fame, Chip and Jo opened their first business, Magnolia Market, selling home decor items out of a small shop on Bosque Boulevard in Waco, Texas. Eventually, they'd close that business to focus on another — Magnolia Homes, a home construction and design business that would ultimately become the foundation of Fixer Upper. Chip served as the contractor and Jo as the designer.
A scout from production company High Noon Entertainment would discover Jo on a design blog in 2012, which would eventually lead to the HGTV show that drew an average of 2.8 million viewers per episode in its final season — no small task for a home renovation program — and earned two Primetime Emmy nominations over the course of its run. Fixer Upper, and by proxy Chip and Jo themselves, was an instant success.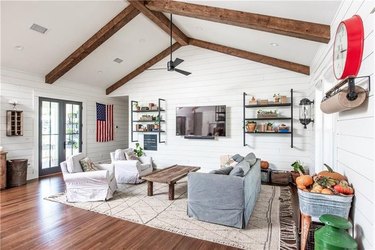 Millions were drawn in by the couple's infectious chemistry (Chip's ultimate dad jokes followed by Jo's enormous eye rolls), but also by the rustic yet modern aesthetics of Jo's signature farmhouse style. Think whitewashed shiplap, raw wood ceiling beams, and vintage decor items that seem as if they've spent a lifetime in a barn (which they probably have).
"Prior to Fixer Upper, farmhouse-style decor had a very different association. It was more literal such as rooster curtains, painted faux signs for 'eggs 25 cents', and simple colors such as red, black, and white," Joe Murphy, an interior design specialist at The Shower Head Store, tells Hunker. "Once Fixer Upper caught on and became popular, the vision for farmhouse-style decor changed because it wasn't so literal. It was subtle details that would remind you of that style, but not blatantly in your face within a room."
Given that the Gaines family — the couple has five children — live on their own farm in Waco, it's not too surprising that Jo would gravitate toward the farmhouse aesthetic.
"When asked what inspires me within my own home, I always go back to the same thing," Jo wrote in a 2014 Magnolia blog post. "There was a place and time when less was more. People didn't overcrowd their spaces and their homes were functional and practical. They worked hard on the land and their home served as a place of rest to prepare them for another hard day of working the fields. Call me old-fashioned but I am truly inspired by this way of living."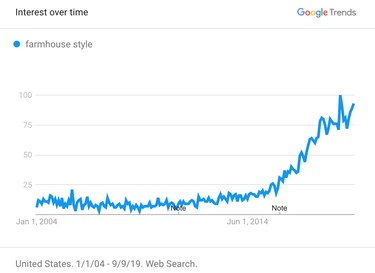 Today, Jo's modern farmhouse style has become ubiquitous in the interior design industry. A quick look at Google Trends shows a dramatic increase in searches for "farmhouse style" starting around 2013 and lasting to the current day. Before then, the number of searches remained relatively stagnant.
"Prior to the show airing, my clients who favored a light, bright traditional-yet-casual style might have described their style as cottage, country, or even shabby chic. Farmhouse was not a term that many of my clients referenced at that time, with the exception of those rare clients who literally lived in historic farmhouses," says interior designer Amy Bell of North Carolina–based Red Chair Home Interiors. "I've seen a dramatic rise in the number of clients who reference either farmhouse style or Joanna Gaines style when describing their ideal aesthetic. Even clients who aren't drawn to the style will mention it for clarifying purposes, as in, 'My style is casual, but I'm not into the farmhouse look.'"
House plan broker America's Best House Plans, which sells pre-designed blueprints for houses, has seen the farmhouse style grow tremendously in terms of popularity. "Prior to the airing of Fixer Upper in 2013, our most popular house plans were craftsman, ranch, and country homes. These styles had been the reigning champs among house designs for decades until Chip and Joanna changed everything," says Brandon Hall, the company's CEO. "Since 2013, we have seen the modern farmhouse homes slowly creep up in popularity, pushing the older styles out of the running. Nowadays, modern farmhouse plans are our number one, bestselling style."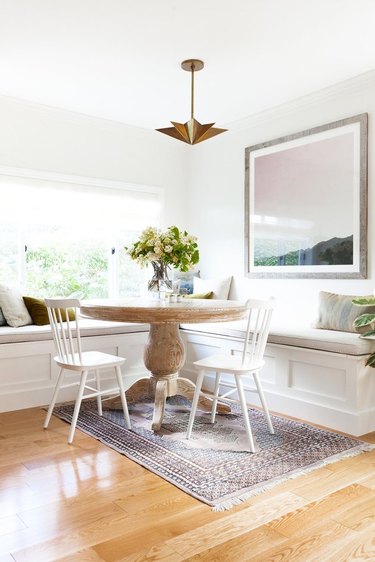 Jo's farmhouse style has even made its way into the mainstream through her partnership with Target on the Hearth & Hand line, which debuted in November 2017. The very first collection sold out almost immediately, with the following collections also generating enormous demand.
As for why the rustic-chic style is so popular with homeowners across the country (and, in fact, the world), it comes down to it being comfortable, a touch nostalgic, and very adaptable for all sorts of decor personalities — it's easy to play up the industrial elements, the shabby-chic elements, or the boho elements to suit your specific taste.
"Farmhouse-style homes are designed to focus on the open floor plan that creates a welcoming, family-friendly environment, perfect for small and large families alike," says Hall. "Whether you live in a big city or a small country town, this comfortable style is versatile enough to look at home wherever it is built."
Timing, too, perhaps had a role in the growth of the modern farmhouse movement. When Fixer Upper first aired in 2013, the economy was recovering from the 2008 recession, and the real estate market was rebounding strongly after years of stagnation. Thus there was demand for home renovation inspiration, and the Gaines family brought an accessible style to the masses.
While Chip and Jo have closed the Fixer Upper chapter of their life, they're still promoting the farmhouse-style aesthetic. Their Magnolia Market at the Silos complex in Waco, not to mention their other operations like restaurant Magnolia Table and B&B Magnolia Stay, draw visitors from around the globe. And the couple is embarking on their next TV project — their very own network, due to launch next summer. We can't wait to tune in.