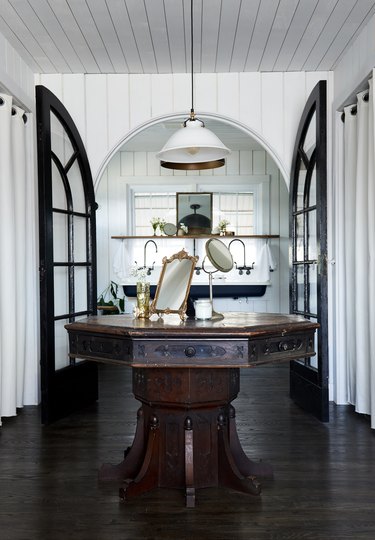 1. Bohemian Retreat
Farmhouse style doesn't need to be fuddy-duddy as shown by this bathroom belonging to photographer Clary Pfeiffer. Brass fixtures, a marble countertop, and contemporary artwork combine to infuse a modern edge. A vintage-style rug adds rustic charm, topping off the finished look.
2. Old English Escape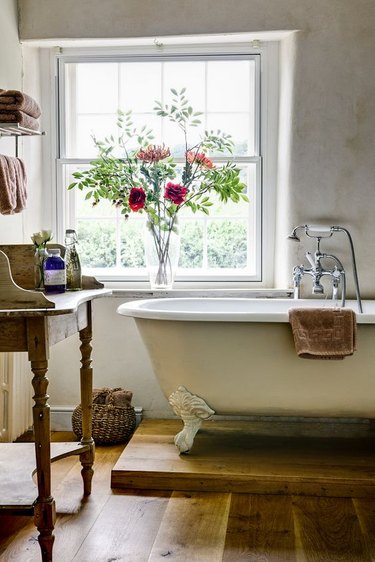 An antique clawfoot tub takes center stage in this modern farmhouse bathroom captured by photographer Jason Ingram, and it's highlighted further by a raised platform. The addition of a vintage table and a woven basket add to the intimate ambiance, while freshly picked flowers bring a bit of the outdoors in.
3. Rustic Perfection
After a more rustic look? Follow OlliePop founder Kassina Folstad's lead and opt for red brick walls, industrial pendant lights, and a vintage vanity. She actually pieced together the wood base of this beauty for $20 with items that she found and scavenged, and then topped it with Carrera marble.
4. A Timeless Approach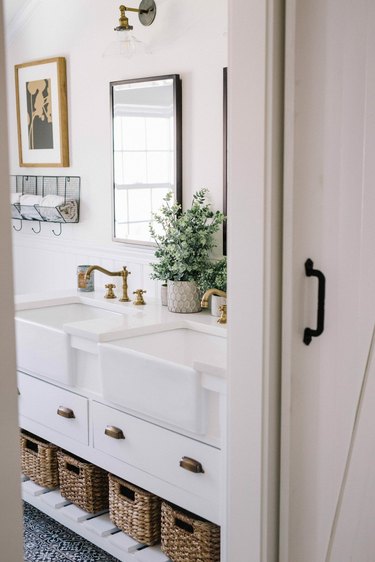 Blogger Lynzy from Lynzy and Co. has adapted this vanity to suit her style by changing the original hardware to antique brass pulls. Combined with a neutral color palette and woven baskets for storage, this bathroom is sure to last the test of time. Plus, a sliding barn door adds a unique touch and saves on space — a great tip for anyone with a small bathroom.
5. A Tub Meant for the Outdoors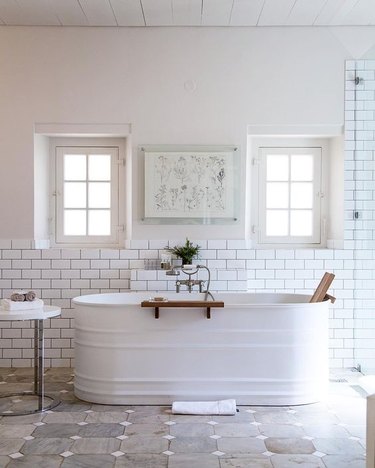 We love the way the Babylonstoren Hotel in South Africa brought the outdoors in by repurposing a livestock feed tank. Painted in a crisp white, this industrial showstopper blends seamlessly with white subway tile, a vintage-inspired faucet, and warm wood accents to create a dreamy farmhouse bath.
6. Dark and Moody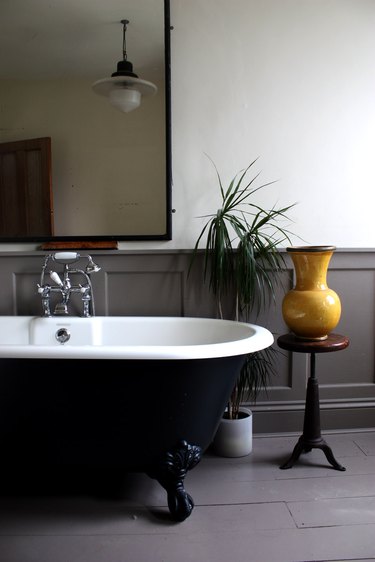 This farmhouse bathroom belonging to Lottie from Oyster & Pearl is full of drama, featuring gray half-paneled wainscoting and a black clawfoot bathtub. However, it remains relatively light thanks to the large rectangular mirror and white walls. The final touch: a pop of yellow which contrasts beautifully against the darker hues.
7. Going to the Chapel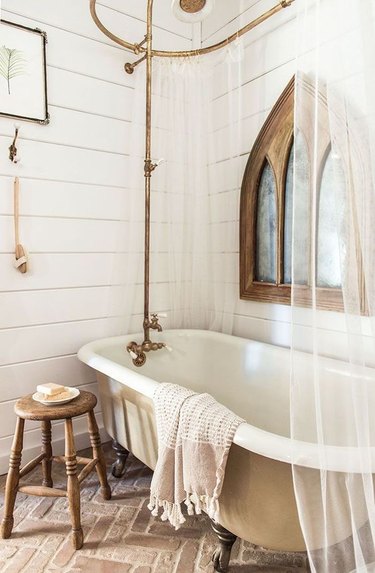 While your eyes might instantly be drawn to the vintage arched cathedral mirror in blogger Jenna Sue's bathroom, we are lusting after the herringbone brick floors that bring this rustic farmhouse look together. The clawfoot bathtub and the brass fixtures keep the look current with a splash of Downton Abbey.
8. Geometric Haven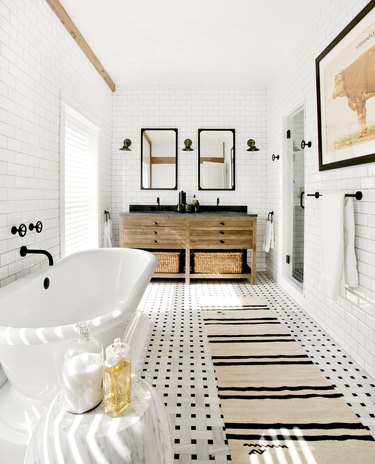 The monochrome approach taken by designer Timothy Godbold is a modern take on traditional farmhouse. White subway tile makes up most of the room, while black accents and a fabulous wooden vanity create contrasting focal points. The addition of a vintage anatomical cow print helps this bathroom design stay true to its farmhouse roots.
9. Escape to the Chateau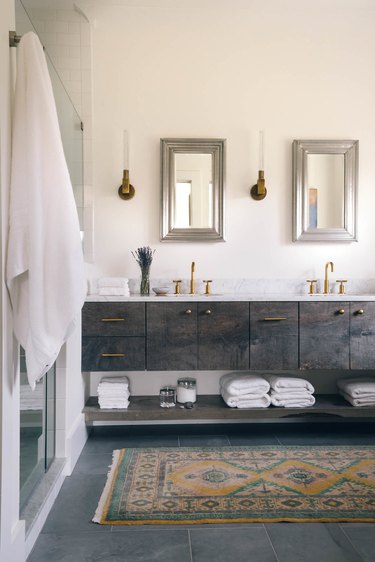 10. Industrial Chic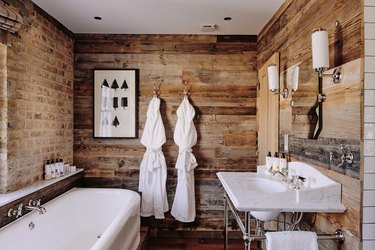 Reclaimed wooden walls are a wonderful way to champion a rustic look. This bathroom at the boutique hotel Artist Residence in London combines wood paneling with exposed brick and vintage-style fixtures to bring about an elegant retreat.
11. Vintage Lover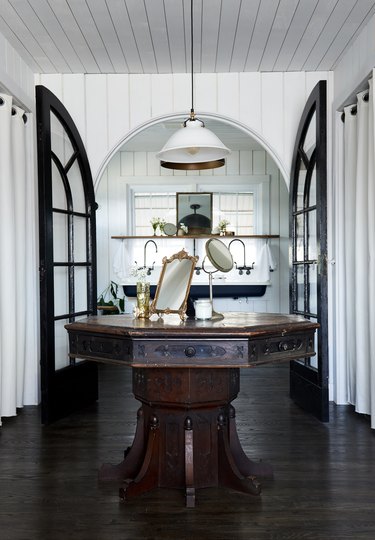 12. Utilitarian Farmhouse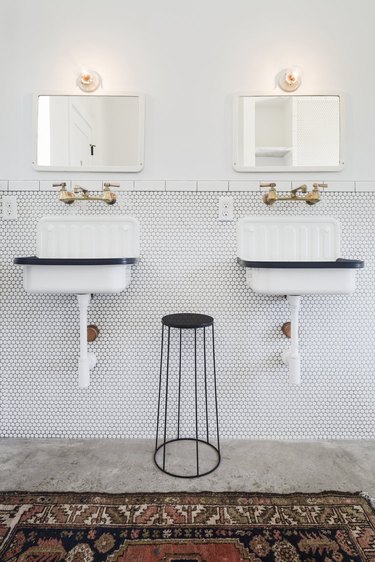 It's all about the sinks in this bathroom design by Pavonetti Architecture. These wall-mounted beauties feature integrated backsplashes and black trim creating an industrial-chic vibe that still has warmth and glamour thanks to the vintage rug and gold fixtures.
13. Cozy Cabin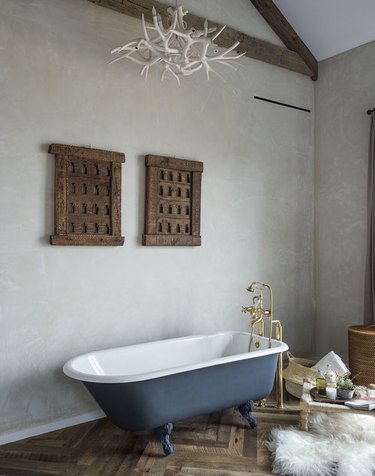 Are you dreaming of curling up in a log cabin? We sure are after seeing this gorgeous farmhouse bath designed by Jennifer Bunsa. Rustic features like concrete walls, herringbone patterned wood floors, and a blue clawfoot tub are beautifully complemented by a white antler chandelier, sheepskin rug, and brass fixtures. Rural farmhouse inspiration at its finest.
---
Emma Jane Palin is a multi-award-winning blogger and freelance writer with a penchant for design and interiors.
View Work