These days, bathroom shelving can range from the ultra-functional to the purely aesthetic. Either way, it has the decorative prowess to lend an added element of interest in a space that can otherwise err on the utilitarian side. Think about it, unless you have the ability to remodel the entire room with bold architectural moments, it's the smaller components, such as the hardware, lighting, fittings, decor, and storage (yes, storage!) that give a bath its unique character. And while we can't resist a woven basket in the corner or a rustic footstool propped next to a tub, there's something to be said about a set of shelves that marry form and function with flair.
When looking to integrate shelving into a bathroom, begin by taking inventory of your storage needs and the amount of space you have to work with. If you're going for something purely decorative — such as filling up a blank wall — a few floating shelves will do the trick. If you need to take a heavy-duty approach, a freestanding cabinet might be a better fit. And last but not least, be mindful of the existing aesthetic by selecting pieces that feel like a seamless extension of the decor you already have.
So, whether you're looking for a little extra storage or you're in the market for a design-forward accent, the bathroom shelving ideas ahead are sure to inspire.
1. Take advantage of the corners.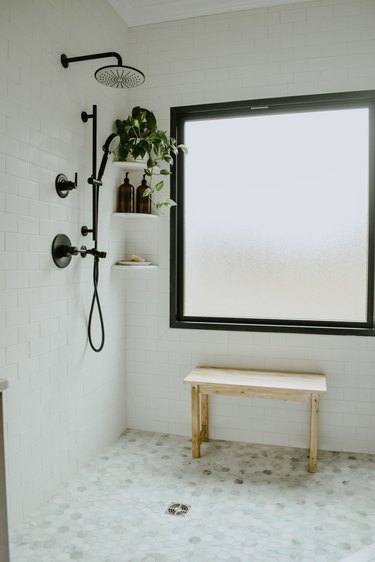 Make ample use of every available square inch in your bathroom by installing a corner shelf. Kourtni of House on Longwood Lane did just that in her shower (using marble tile), as a clever alternative to hanging caddies or lining shampoo bottles around the tub. And bonus: The end result will be a refined finish with a built-in look.
2. Keep it light with floating shelves.
Take advantage of the oft empty space left between a pair of vanity mirrors by installing a set of floating shelves right in the middle, à la this light-filled bath by Cortney Bishop. We love the idea of using them to house an array of plants, but you can just as easily fill the shelves with toiletries instead.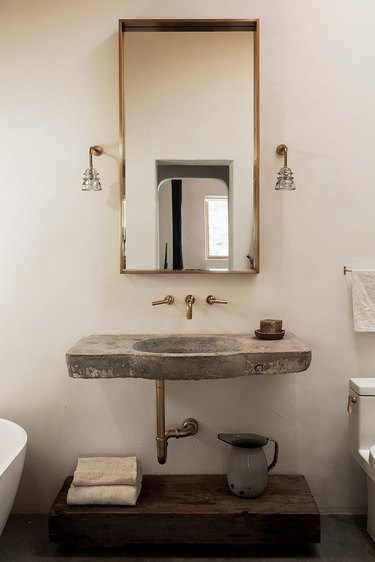 Make ample use of the space below a wall-mounted sink by incorporating a shelf that can house everything from extra rolls of TP to towels and more. We can't get enough of this rustic scene spotted in a reno by Sarah Solis Design Studio, where a reclaimed wood slab fits snuggly beneath an antique stone sink, sourced from a vineyard in the South of France, no less.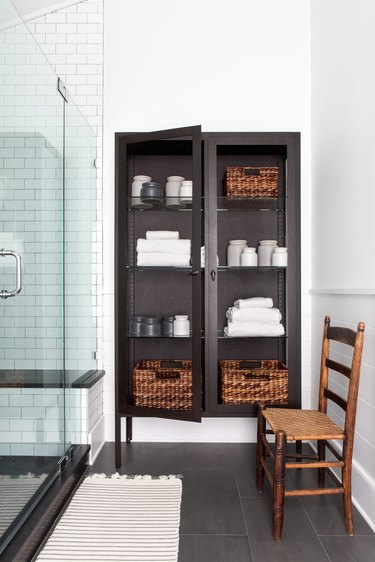 If you're looking for extra storage space in your bathroom, and you don't want to commit to a built-in or a similarly permanent option, consider a freestanding shelving unit. The creatives over at Chango & Co. opted for this design-forward cabinet to stash linens, towels, and all other bath essentials.
Glass bathroom shelving can be equal parts elegant and small space-friendly, thanks to its seamless composition. If you're going for a glam twist, follow designer Zoe Feldman's lead and opt for a set of open shelves that come with a lustrous finish. Here, the brass detailing not only complements the hardware, but also elevates the practical storage solution.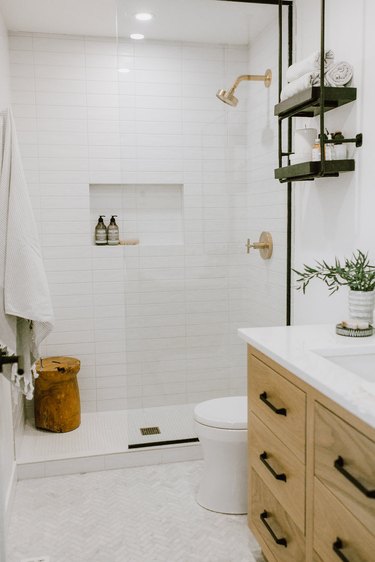 A bathroom shelf should do more than just provide extra storage, it should serve as an eye-catching element all on its own. Built to hang from the ceiling, the streamlined shelving in this modern bath by Jaclyn Peters Design is effortlessly cool. The contemporary solution also serves as a welcome respite from the traditional over-the-toilet cabinets or ladders that tend to take up valuable floor space.
7. Put a narrow niche to work.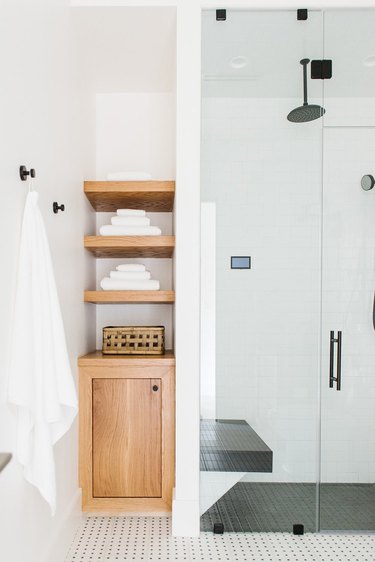 Finding extra storage space in a small bathroom can be a rarity, but before you throw in the towel, survey the area and note if there are any empty nooks or niches. By simply adding a set of floating shelves — as seen in this setup by Studio McGee — you can lend a wealth of storage in the most unexpected way.
For the small bath that comes without a medicine cabinet, a little creativity is in order. We're taking a page out of architects Dale Rush and Darci Hazelbaker's book and embracing minimalist shelving solutions. Something as simple as a set of thin floating shelves can serve as the perfect opportunity to display everyday essentials and beauty products — mini potted plants, fragrant candles, and framed prints go without saying.