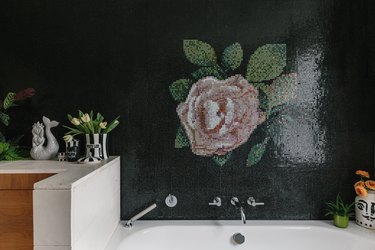 Crafting the perfect bathroom design requires pulling together a lot of different elements — from the floor tile to the countertops to the faucet to the lighting to even the toiletries. But the walls are arguably one of the most important features. With the right paint color, wallpaper, tile, or decor ideas you can add some serious personality, not to mention visual interest, texture, depth, the list goes on and on.
To help you make the right choice for your bathroom remodel, here, we break down the most popular ways to dress up the walls in your personal sanctuary.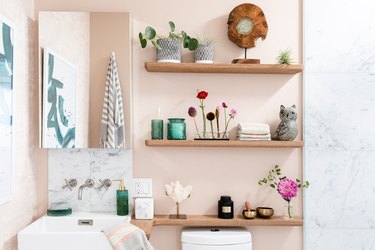 Looking for an option that you can DIY? Consider giving your bathroom a fresh coat of paint. Not only is it the easiest bathroom wall decor idea, but it's also the simplest to reverse if you get tired of your color palette.
Before busting out the foam roller, make sure you've picked the right paint color and finish. Remember, bathrooms tend to be wet, mold-prone places so a satin or semi-gloss finish will work best. And bonus: These sheens are easier to keep clean. Keeping your freshly painted walls looking their best, wipe them down with a sponge or a damp washcloth.
Now it's time for the hard part: selecting the perfect color. To help narrow down your choices, check out our comprehensive bathroom color guide. Neutral shades — such as white, beige, and gray — are always a safe bet and easy to paint over if you wake up one morning in the mood for something a bit more daring.
Nothing gives your space a unique look quite like wallpaper. With thousands of patterns, colors, and styles to choose from, you can pick a wallpaper design that speaks specifically to you. And today's options aren't the messy, glue-soaked, never-coming-down relics from the days of yore. A modern peel-and-stick wallpaper, or even better, decals, are easy to apply ​and​ remove, making them great options for renters or homeowners who want the freedom to change their minds.
Keep in mind that in a full bathroom the humidity might cause issues with the adhesive and the paper, so a traditional waterproof or vinyl option might work better, while a removable wallpaper would be perfect in a powder room. When working with a small space, be sure to think about the the scale of the wallpaper pattern — you dont want it to overwhelm your design. But if your mind is set on a certain product, and the manufacturer doesn't make it in vinyl, you can actually waterproof almost any kind of wallpaper. Waterproof wallpaper is designed to repel moisture, ensuring that your space won't be ruined by moldy, peeling walls. Vinyl wallcovering is washable and durable, making it a great choice for family bathrooms that see heavy traffic.
Some cons to consider with wallpaper include its expense and complicated installation. Quality wallpaper doesn't come cheap. And while you can install peel-and-stick wallpaper yourself, it requires carefully lining up the pattern across multiple sheets. With regular wallpaper, you'll most likely want to hire a professional.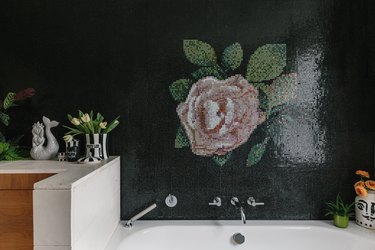 Bathroom tile is a classic wall idea, and there's no denying that the result is stunning. Use mosaic tile for a vintage midcentury makeover or install ceramic tiles in a modern bathroom for a polished finish. Whether limited to an accent wall, a backsplash, or the shower area, combining different colors, sizes, or styles can create a personalized and distinctive design.
Start by selecting the best bathroom wall tile for your space. While dedicated homeowners can make any type of tile work, consider how much time you want to spend cleaning, reglazing, or replacing chipped tiles. Ideally, you want to consider a durable and water-resistant option with minimal grout lines. We recommend trying ceramic, porcelain, or glass tile — these materials are easy to clean and good at repelling moisture.
Yes, installing tile can be complicated — we don't blame you if you decide to call in the pros — but in the end, this luxurious look is worth the time and expense. Of course, the cost of tiling a bathroom wall (or walls) can add up. In addition to hiring a pro (if needed), raw materials can cost quite a bit. While standard subway tile can cost less than a dollar per tile, fancier options can reach $20 per square foot — or more.
This Joanna Gaines-approved super-trend instantly brings classic charm into any space, even your farmhouse bathroom. Shiplap boards can be left white or painted in whatever color you prefer (why not black?). And installation isn't ​too​ complicated if you want to challenge yourself to a DIY project, although make sure you're comfortable with using basic tools.
Like all trends, shiplap won't be en vogue forever. So if you're not all in on the beloved rustic bathroom look, you may want to pass on this wall decor idea.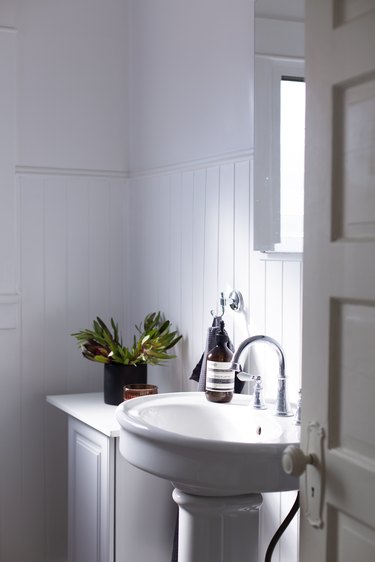 Wainscoting comes in a number of different varieties, so you can easily find a way to integrate this traditional feature into your washroom. Pair with a clawfoot tub and vintage sconces for a beautiful bathroom design that's rich in character and timeless charm. Common styles include raised panel, flat panel, overlay panel, board and batten, and beadboard. We recommend checking out your nearest home improvement store to determine which one will work perfectly with your bathroom decor. To keep costs down, look for manufactured wainscoting, not hardwood, which can run up to $40 per square foot for complicated designs.
DIY enthusiasts can easily tackle the installation, although putting it around the toilet can be tricky. Consider painting your bathroom wainscoting in a bold shade for a modern take on the timeless feature.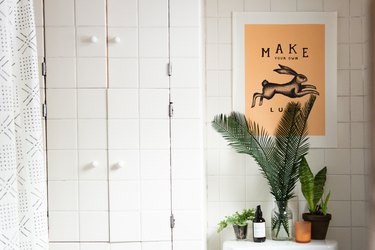 Interior design and artwork go hand in hand, so it goes without saying that your bathroom idea should include one or two pieces. Just think twice about putting highly valuable wall art, or extensive gallery wall arrangements, in a space that's humid and likely to get splashed. It's a great spot to hang those spare posters you've had gathering dust in a closet, or inexpensive framed photography, prints, or canvases. Whenever possible try to keep doors and windows open so that your bathroom wall decor can breathe.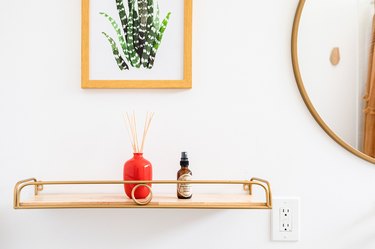 Looking for a multifunctional wall idea fit for a tiny bathroom? Enter shelving. Not only does it add visual interest, but it also creates a little extra storage space, too. And let's be honest, who couldn't use a little extra bathroom storage? Keep the look minimal in a small bathroom by adding a single perch above the towel bar or opt for a bit more flair with a trio above the toilet. Layer your shelves with a clever mix of essentials and home decor.