Crafting the perfect bathroom requires pulling together a lot of elements — from your flooring to your fixtures to your shower curtain. But the walls are perhaps the most important element. The right paint, wallpaper, or tile centers the space and adds serious personality.
Here, we break down bathroom wall ideas to help you design the space of your dreams.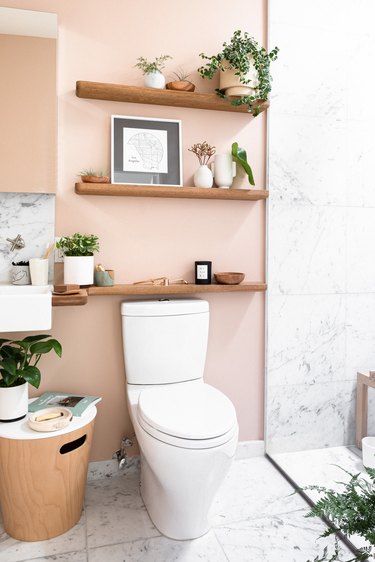 This simple wall option is the easiest to DIY and the simplest to reverse. Don't like the color you pick in three years? Just paint over it — easy peasy.
Before busting out the roller, make sure you've picked the right paint. Remember, bathrooms tend to be wet, mold-prone places. Paint with a glossy finish holds its ground against serious humidity, so pick a satin or semi-gloss. As a bonus, these sheens are easy to keep clean. Wiping down your walls requires nothing more than a sponge or a damp washcloth.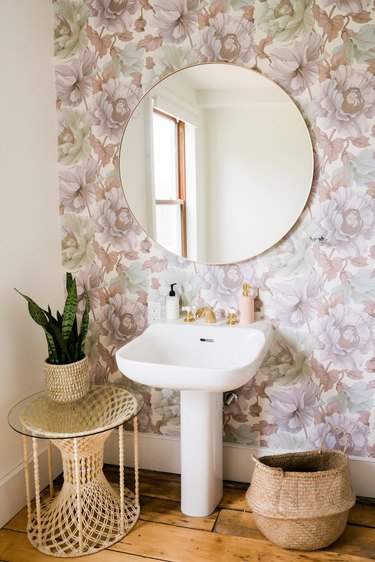 Nothing gives your space a unique look quite like wallpaper. With thousands of patterns, colors and styles to choose from, you can pick a wallpaper design that speaks specifically to you. And today's wallpapers aren't the messy, glue-soaked, never-coming-down relics of our childhood. A modern peel-and-stick wallpaper is easy to apply and remove and a good temporary option — although you may want to choose a traditional wallpaper for your bathroom.
While you can waterproof almost any kind of wallpaper, looking for a specifically waterproof option is your best bet. These styles are manufacturer-designed to repel moisture, ensuring you won't ruin your shower with molding paper. Vinyl wallpaper is another excellent option: These styles are washable and durable, making vinyl a great choice for bathrooms that see heavy use.
Some cons to consider with wallpaper include its expense and complicated install. Quality wallpaper doesn't come cheap (at popular wallpaper company Chasing Paper, a 2-foot-by-4-foot sheet costs $40). And while you can install peel-and-stick wallpaper yourself, it requires carefully lining up the pattern across multiple sheets. With regular wallpaper, you'll most likely want to hire a professional.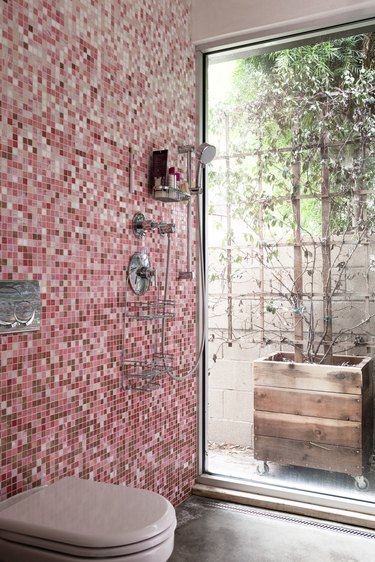 Tile is a classic bathroom wall idea, and there's no denying that the result is stunning. Use tile for a vintage midcentury look or install ceramic tiles to make the space feel luxe and cohesive. Combining different colors, sizes, or styles can create a personalized, distinctive look. Yes, installing tile can be complicated — we don't blame you if you decide to call in a pro. But in the end, this luxurious look is worth the time and expense.
Start by choosing the best bathroom wall tile for your space. You'll want something durable and water-resistant. While dedicated homeowners can make any type of tile work, consider how much time you want to spend cleaning, reglazing, or replacing chipped tiles. Ideally, you'll pick a smooth, shiny tile with minimal grout lines. We recommend trying ceramic, porcelain, or glass: They're easy to clean and good at repelling moisture.
Of course, tiling a bathroom wall (or walls) can add up. In addition to hiring a pro (if needed), raw materials can cost quite a bit. While standard subway tiles can be easily found for less than a dollar per tile, fancier options can reach $20 per square foot — or more.
This Joanna Gaines-approved super-trend brings the classic farmhouse look to your bathroom. Shiplap boards can be left white or painted in whatever color you prefer (why not black?), and installation isn't too complicated — although make sure you're comfortable with basic tools.
But beware: After starring for a few years in our collective interior design consciousness, shiplap may be on its way out. If you're not embracing the rustic look wholesale, you may want to give this trend a pass.
Wainscoting comes in a number of different styles, so you can easily find a way to integrate this half-sized feature into your bathing space. Common styles include raised panel, flat panel, overlay panel, and "board and batten," and we recommend checking out your nearest home improvement store to find one that will work perfectly with your decor. Handy homeowners can easily DIY this project, although installing around a toilet can be tricky.
Paint it in a bold shade to create a vintage, contrasting effect that adds sophisticated appeal to your space. To keep costs down, look for manufactured wainscoting, not hardwood, which can run up to $40 per square foot for complicated designs.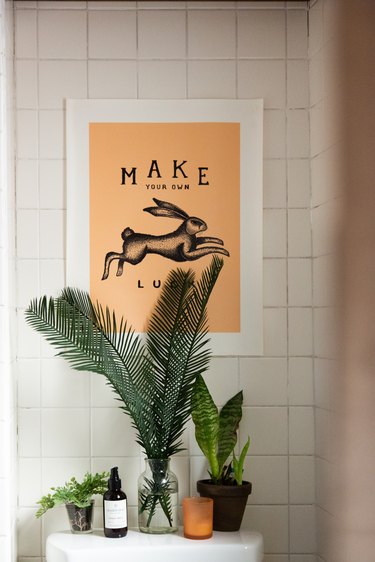 Of course, there's no reason why you can't bring in art to decorate your bathroom walls. Just think twice about putting highly valuable art in a space that's humid and likely to get splashed. It's a great spot to hang those spare posters you've had gathering dust in a closet, or inexpensive framed photography or prints.