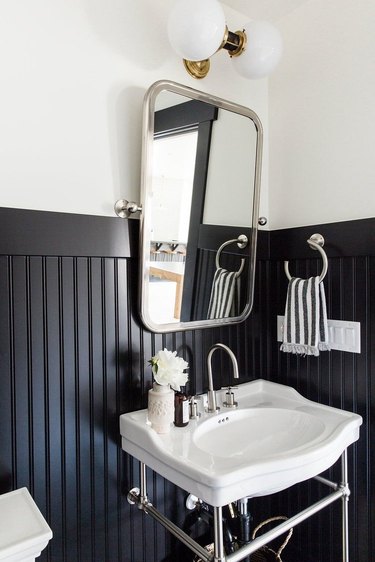 There are some trends that literally never go out of style, and wainscoting happens to be one of them. These wall panels have existed since the 1300s when they were used by medieval Europeans to cover up water stains and scratches on their walls. Today, form has triumphed over function since our walls tend to be a little more durable, and wainscoting is seen as an aesthetic add-on more than anything else. And we think it looks especially amazing in a bathroom.
But instead of clinging to traditional styles that you've likely seen in your grandparents' house, push the envelope and get inspired by these modern interpretations. Whether you choose a shocking paint color or take it upward toward the ceiling, we'll applaud you for tossing out the rule book and trying one of these six fresh and oh-so-current bathroom wainscoting ideas.
1. Pair paneling with vibrant wallpaper.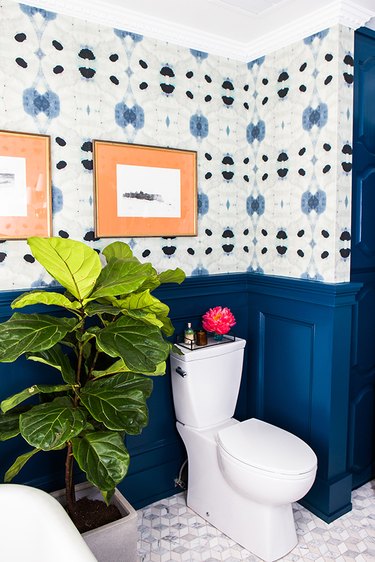 To really turn heads, install wainscoting in a punchy hue and pair it with a flamboyant wallpaper pattern. In this bathroom belonging to Jenny Komenda of Juniper Home, the vivid blue wainscoting flawlessly matches up with the tie-dye-inspired, effervescent wallcovering, creating a lively ambiance.
2. Embrace great lengths.
If you want to softly push your wainscoting in a modern direction, keep some elements of your bathroom traditional — grandma comes over a lot, after all — while going a bit taller with your paneling. This is exactly what the team over at Timber Trails Homes did in this space, while keeping the colors and decor classic. Since wainscoting has typically fallen directly in the middle of the wall, going taller is definitely a modern choice.
3. Go monochromatic.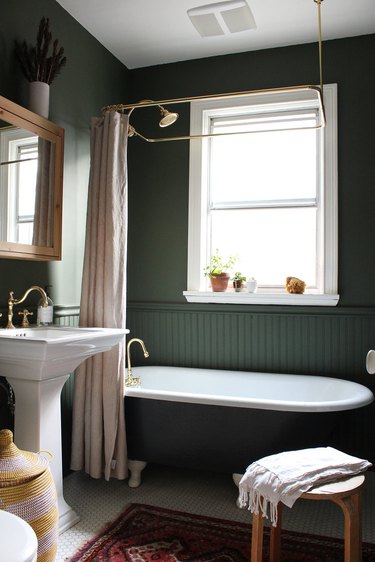 Now, here's a bold bathroom wainscoting idea: paint it the same color as the rest of the wall. Usually, white paneling gently stands out from a neutral, standard wall color, but we say spice it up by choosing a unique shade and painting everything in the same hue. Follow the example of this beautiful green space belonging to Emma from The Marion House Book and bring the monochromatic trend into your bathroom.
4. Install varying heights.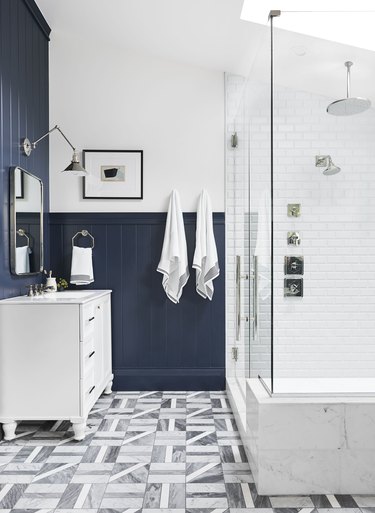 Your bathroom wainscoting idea doesn't all have to be the same exact height, despite what grandma says. You can choose to go halfway up the wall on one side and all the way to the ceiling on the other, and we promise, it will look supercool. That's what Emily Henderson did in this bathroom, and we think the look creates dimension and loads of visual interest.
5. Choose a completely unexpected color.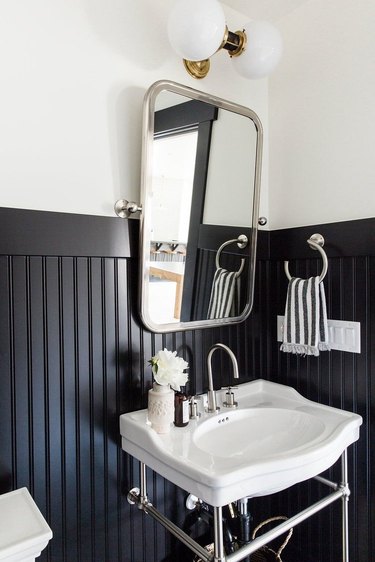 Beadboard has been around forever, so you won't be committing any crimes against design if you install it in your bathroom. But — what if you kicked it up a notch and painted it in a surprising color? White tended to be the color choice for wainscoting back in the day, but in modern times, we say anything goes. Your grandmother might not initially love the look of black wall paneling (inspired by this black-and-white bath designed by Shea at Studio McGee), but we have a feeling that she'll come around.
6. There are no rules. Use tile instead.
Lastly, we are asking you to throw everything out the window. Seriously. If you want your wainscoting to be round penny tile instead of wood paneling, you can totally do that. It's a fact proven by this pattern-filled bathroom designed by Black Lacquer Design.