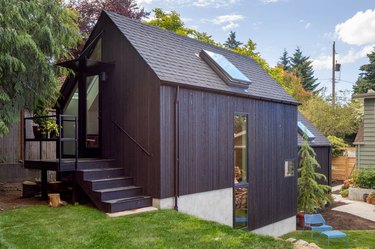 Three generations living together under one roof has plenty of benefits (hello, live-in babysitter!), but it also has its downsides (goodbye, privacy!). Seattle architecture firm Best Practice came up with a solution for a growing family that wanted to find a home for the grandmother, but couldn't locate anything nearby and didn't have enough room in their own house. The architects converted an existing garage into a complete and comfortable living space nicknamed the Granny Pad.
The garage was transformed into the entry, kitchen, and living area, and they added a second gable-style structure with the bedroom, bathroom, closet, and laundry. The team kept all the living spaces on one level for accessibility and kept the floor plan open, rather than separating the sleeping and living areas into smaller rooms, so they can be rearranged for future needs. The palette of the 571-square-foot living space was kept neutral to let the natural materials, such as pine plywood, shine. The firm was able to turn a garage into a safe and stylish home for the client's mother, with the benefit of having her children and grandchildren close by — but not too close.
---
Elizabeth Stamp is a freelance writer in Los Angeles. Her work has appeared in Architectural Digest, Elle Decor, and CNN Style.