Blank walls can be intimidating, and what works on a bedroom wall doesn't necessarily work in the bathroom. But don't leave them bare — from decals to paint options, there are plenty of ways to spruce up this room, no matter how big or small it may be. Get some inspiration from these 13 clever ideas, and give your bathroom walls some much-needed color.
1. Set the tone with wallpaper.
2. Fake the "wallpaper" look.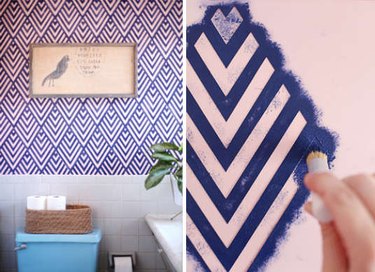 If you're on an extreme budget, consider a DIY patterned accent wall. With a stencil, some paint, and some patience, this option can make a major impact whether it's used on one wall or all four. The major upside to this option is that you won't have to deal with wallpaper removal when you feel like a change — with just a few coats of primer, your wall goes back to being a blank canvas.
3. Go for a beachy theme.
Beachy or water-friendly motifs are a classically popular choice when it comes to bathroom themes. If you want to channel the vibe without making your bathroom look too kitsch, consider focusing on a piece of blue art or photography that feels high-end, like this print from Saatchi Art ( $90 ).
4. Make an art gallery.
If you're exploring the world of prints, it might be hard to select just one or two, so go all out and curate a gallery wall. Use a color theme for a clean, modern look, or vary colors and frames for a more bohemian feel.
5. Find bathroom-friendly art options.
If you're worried about water or humidity doing damage to a piece of wall art, opt for materials that stand up well to moisture. Try out metal art prints — like this desert design from Society6 ( $160 ), made of aluminum sheet canvas.
6. Go for paint that pops.
We tend to play it safe when choosing a paint color for bathrooms, but picking an unexpected color is a smart (and simple) way to punch up the space. A great way to keep your paint color from completely taking over your bathroom is to carry it only halfway down the wall.
7. Have some fun with mirrors.
Decorative mirrors work on bathroom walls, too. Do some thrift store shopping for different shapes and sizes, and try creating a mirrorscape on one wall. If you have a small or dark bathroom, this could be just the trick to brightening it up.
8. Map it out.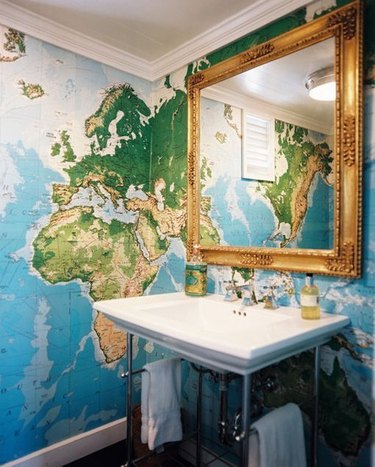 This wallpaper from Wallsauce reminds us of those map shower curtains of our youth — but manages to make the motif look entirely adult. If you're feeling nostalgic, but don't want to go all out, consider hanging a framed art print of your area as a statement piece.
9. Put up some plants.
The bathroom may seem like an unconventional place to cultivate a mini-garden, but if you think about it, what room needs the air-cleaning power of plant life more? This Ikea wall garden uses suction cups, plastic boxes, and bunches of ferns, but feel free to use whatever mounting and storage options you please.
10. Add a touch of humor.
Bathrooms don't have to be such serious zones. Consider some more lighthearted wall hangings like this one from Society6 ( $20 ) to make guests chuckle . It can definitely make an impact in a small powder room.
11. Make clever use of a wall decal.
Sometimes all you need is a straightforward design on one wall to make a lasting impression. And there's nothing that'll get the job done easier than a simple peel-and-stick wall decal. Try this mod plus sign version from Urban Outfitters ( $12 ) for the wall behind your vanity for a cool, done-in-an-afternoon update.
12. Highlight moldings with washi tape.
And speaking of peel-and-stick options, why not try washi tape in your bathroom? We already know that it works well in other rooms, so it's no wonder that the same trendy option can make a modern splash here. Take note from this photo by TreToEn and highlight the molding of a door, or use it to surround built-in shelves.
13. Add color by painting the ceiling.
If your bathroom is small — or, better yet, covered in tiles — take note: painting the ceiling is an unexpected way to bring color and style into this room. This example features a classic black-and-white motif that's given a twist by drawing the raven hue up from the tub, to the grout, to the ceiling. We dare you to go even bolder with a bright shade.