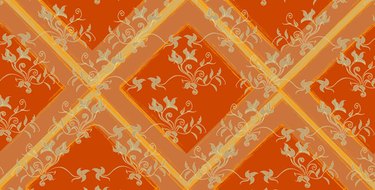 If you have a room with cement walls, such as a dorm room or a basement, and think your only option for wall color is paint, you're wrong. Even if the surface is rough, you can still hang wallpaper to give your room an added flair. Because cement walls are both rough and porous, choosing wallpaper appropriate for the surface and properly preparing the walls for the paper are key components to a successful installation.
Step 1
Chip off cement or mortar protrusions on the walls with a chisel and a hammer. Protrusions will show through the wallpaper and can even rip the wallpaper if the protrusion contains a sharp edge.
Step 2
Pour cement mix into a plastic container and add water slowly while stirring the mixture with a plastic putty knife. Stop adding water when the cement forms a thick paste.
Step 3
Apply the cement patch to dents and holes in the walls with a plastic putty knife. Allow the cement patch to dry completely. Drying time will depend on the depth of the patch and the temperature and humidity in the room.
Step 4
Sweep the walls with a broom to remove loose dust.
Step 5
Prime the walls with interior latex primer, applying it with a paintbrush. If the cement walls have never been treated with paint or primer, paint a second coat of primer after the first dries. Allow the primer to dry completely.
Step 6
Measure the first section of wall with a measuring tape to determine the length of wallpaper needed. Cut a length of wallpaper a couple of inches longer than what is needed, using a utility knife.
Step 7
Apply wallpaper paste to the back of the wallpaper with a sponge brush. If you are using vinyl wallpaper, use heavy-duty vinyl adhesive instead of wallpaper paste. Allow the paste to sit until it becomes tacky to the touch.
Step 8
Position the wallpaper on the wall and smooth it into place while hanging, using a sponge. Do not use a roller or squeegee to smooth the wallpaper, or you will press the wallpaper into imperfections on the wall, making them more visible.
Step 9
Cut the extra overhang off the top and bottom of the paper, using a utility knife and a straight edge.
Step 10
Repeat these steps until you have finished wallpapering the room.