Having a proper entryway mirror is feng shui 101. The right pick will brighten up a hallway and make a space feel more open and balanced. Mirrors can be hefty objects, so before you start your search, be sure you know how to properly hang one.
Once you've got the mechanics squared away, you'll be surprised by how versatile an entryway mirror can actually be. Here are some suggestions:
Ditch the frame.
Not all mirrors need a frame. While the frame is meant to add dimension and depth to the room, this infinity mirror almost feels like it's part of the wall and is successful in making the room feel even more spacious. A frameless mirror is great for minimalists and also allows the rest of the pieces in your room to do the talking.
Create a mirror collage.
Go for more: An eclectic cluster of mirrors in a foyer creates the illusion of a large, reflective surface. Think of it as a gallery wall, but comprised entirely of mirrors.
Use a leaning mirror for a more grandiose effect.
If you have enough room, there is something artfully undone and unexpected about a nearly floor-to-ceiling mirror leaning against the wall. Take note: This generally works best with oversized mirrors. (Anything smaller and the idea tends to feel like an afterthought). Before setting up your new piece, make sure you know how to properly secure a leaning floor-to-ceiling mirror.
Use the entryway mirror as your wardrobe mirror.
This suggestion works well for small spaces or bedrooms without the depth or space for a wardrobe or stand-alone mirror. Invite your guests in with this full-sized mirror and use it as your own personal vanity to check yourself out each time you step outside.
Pair your entryway mirror with storage.
Tiny apartment dwellers, rejoice: This West Elm mirror ( $399 ) doubles as a shelving unit. You can house practical items beneath the mirror, like shoes or books, or use it as another option to display various decor items.
Turn a wardrobe mirror horizontal.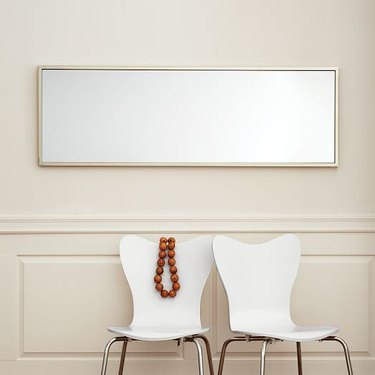 Here's a cheap and simple hack: Buy a narrow wardrobe mirror (the kind you'd find on the back of a closet door), turn it horizontal, and place at eye level. For added effect, stack three horizontal mirrors. This also does a fantastic job of elongating any room.
Add a paneled mirror to open up a space.
A paneled mirror is a popular option for people wanting to create the illusion of more space. The style mimics the form of a window, making a hallway appear more bright and spacious. Windowpane-style mirrors tend to be a bit pricier — Pottery Barn offers options that range from $200 to $600. If you're looking for a bargain, try scouring your local flea market for a used find.
---

Madison Vanderberg
Madison Vanderberg is a writer — mostly for the internet (HelloGiggles, Obsev, Racked), occasionally for the screen. When she's not writing, she's following realtors on Instagram and daydreaming about her future Scandinavian-inspired home.