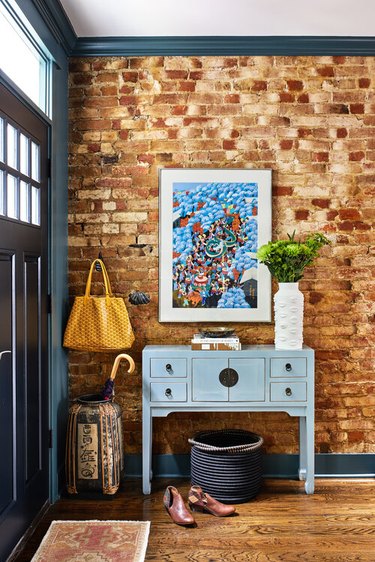 We all know first impressions matter — whether you're talking job interviews, first dates, or the interior design of your front hall. Even if you're working with a small entryway, there are stylish ways to make the space feel homey.
And a few multifunctional items will make the area, however small, function properly. Creative storage solutions — such as wall hooks, cubbies, and baskets — are key to an organized space. And you'll be less likely to lose your keys if they have a proper resting place or console table. Next, even if you're short on floor space, add a small entryway bench or chair for shoe-removal purposes; we like midcentury or minimalist options. A third must-have is a mirror, which will open things up and allow for a last-second "is there lipstick on my teeth?" check.
Above all, though, you want the entryway to be a warm, welcoming zone that complements the rest of your home. So, how can you makeover the area to be a smart and stylish small space? Read on for nine design ideas that'll answer your questions.
1. Use a huge mirror to create an optical illusion.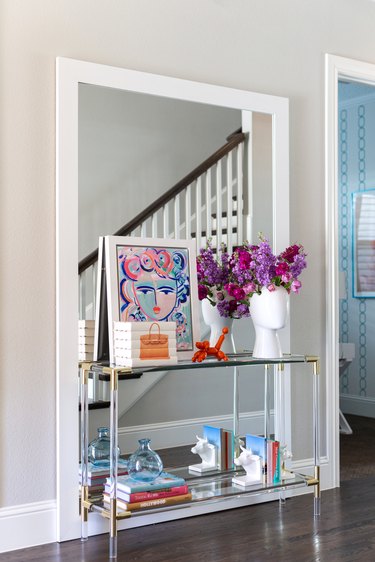 A luxe oversize mirror to the rescue! If you're working with a small foyer that leaves no room for light fixtures, a large mirror will act as an optical illusion to brighten and open up the space. We're taking notes from this Studio Ten 25 entry that even incorporates a glam console in front of the mirror for shelving. A similar one will prevent you from walking into your reflection.
2. Hang monochromatic art to take up wall space.
Mark our words: Gallery walls will never go out of style. They're particularly lovely in a small entryway for two reasons. First, they provide a pop of artful styling. And they also distract from a lack of square footage. Here, Chango & Co. chose a monochromatic palette — black, white, and a touch of tan — that calms the eye and doesn't feel overwhelming.
3. Don't be afraid of the dark.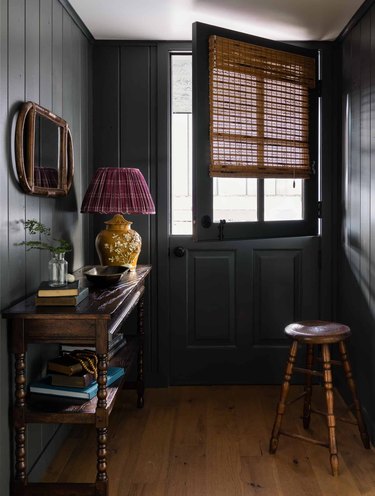 Leave it to designer extraordinaire Heidi Caillier to convince us a dark paint color is the perfect match for a small foyer. The moody vibe of this space transcends all eras, making for a breathtaking first impression. Moreover, this small entryway has all the essentials — a slim console for added storage space, a mirror, a lamp, plenty of light streaming in, and, perhaps most importantly, endless style.
4. Incorporate personalized wallpaper.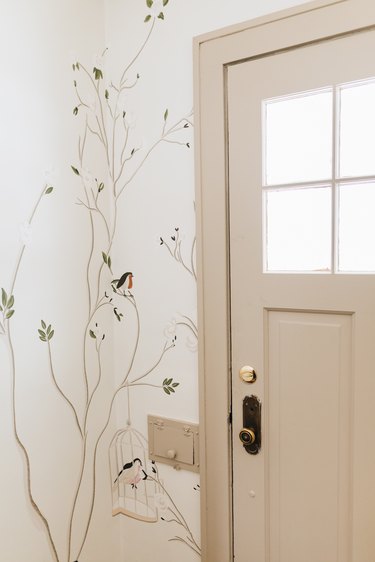 For this newly remodeled home in St. Paul, Minnesota, Anderson Realty tapped She She to create a custom, handpainted wallpaper specifically for this tight squeeze of an entryway. The elegant, botanical design acts as a daily reminder of spring, even in the worst of winters. Good news for you: The "Spring Chinoiserie" wallpaper is available for purchase.
5. Put a smaller mirror to work.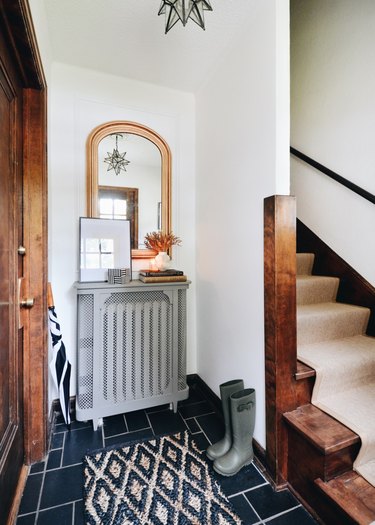 Old homes = small foyers, but skilled DIYer Erin Francois of Francois et Moi knew just how to turn this tiny space into a sunny one. If you're combatting a dark entryway, take a page from Francois, and place a mirror opposite your front door. Not only can you do a quick hair check before leaving the house, but the mirror will also reflect light that streams in from the front door.
6. Go big and bold for an inspiring first impression.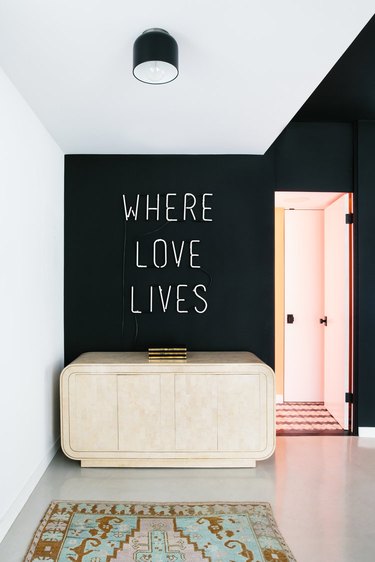 While this entryway isn't entirely tiny, we love how Black Lacquer Design went big, bold, and beautiful with a neon sign. A similar addition will create a punch of personality in a small entryway, too. Before entering your living room, guests will be delighted. And you'll get a jolt of inspiration every time you come and go.
7. Get creative with storage solutions.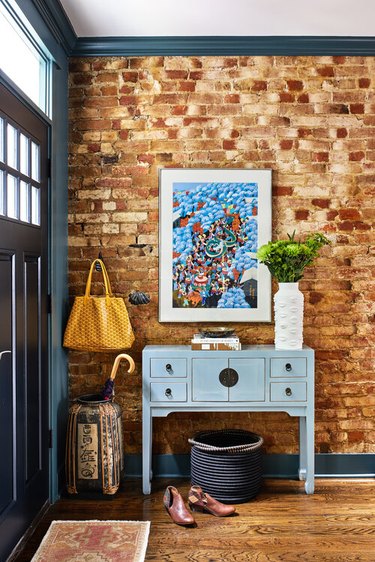 No matter how big or small your entryway, having a home for every little thing — keys, dog leashes, umbrellas — is crucial to controlling chaos. For this rowhouse redesign, Zoë Feldman Design utilized various forms of storage, such as hooks, baskets, and bowls to make sure everything has its rightful place.
8. Don't be afraid to add big art.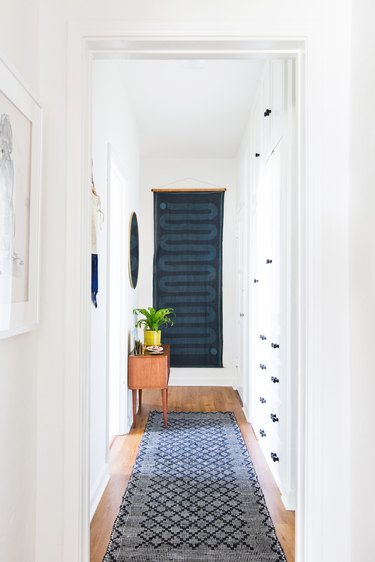 If your entryway is more hallway, less foyer, add a focal point at the end of the space to create the illusion of length, and, of course, visual interest. Interior designer Sara Ligorria-Tramp hung a scarf from Block Shop as a tapestry with a DIY mounting solution. A trick like this will almost make you forget about your nearly nonexistent entryway.
9. Have a seat and some storage.
No mudroom, no problem. Entryways, especially small ones, can quickly turn into a tornado of outerwear and shoes, but this Fowlkes Studio design simply won't allow for that kind of clutter. The tight space proves you don't need much square footage to create a streamlined, organized entryway. A coat rack and bench combo is key as are drawers, cabinets (and more drawers and cabinets).