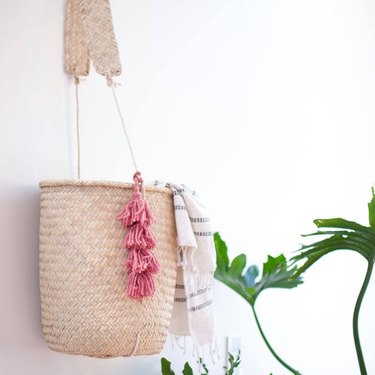 Hunker may earn compensation through affiliate links in this story.
Mastering entryway storage can be a breeze or a struggle depending on your square footage and budget, and, truth be told, whom you live with. Especially in the absence of an entryway closet, that precious strip of space may need to do double to quadruple duty for your everyday items and busy lifestyle. Is a storage bench or an open basket the answer to shoes cluttering your doorway? Can you get your roommates to use either? Here are storage possibilities you may not have considered for your entryway — using items you might already own — to make yours both functional and unique.
1. Roll in a Beverage Cart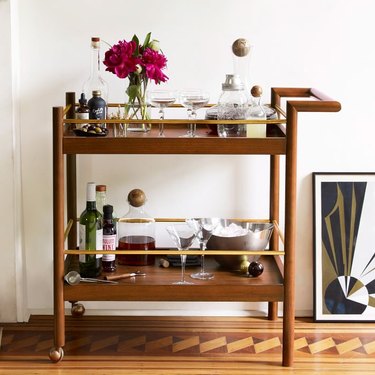 The beauty of beverage carts is that they tend to be narrow, making them friendly for entryways; already on wheels, so ultra mobile when you need them to be (you can't do that with large furniture); designed to generally be chic, so added style points; and, hey, why not have a drink ready to greet you at the door? If there were ever a quadruple threat, the beverage cart as entryway storage is it. Customize its contents to suit your needs. For instance, keep the bar on top and place a covered rectangular basket below for personal items, such as shoes or seasonal accessories, and you can also add hanging hooks from the handle or rails for bags and keys.
2. Hang Structured Bags on Wall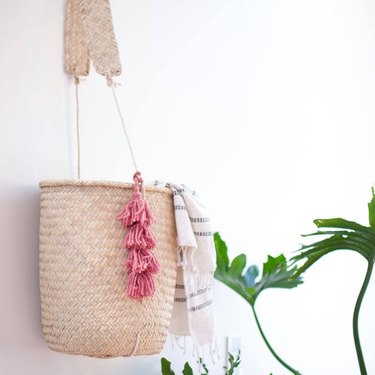 Have a great collection of assorted structured bags just sitting in your closet getting no love? Hang them in your entryway from complementary hooks for a visually interesting display that can also hold anything from scarves and hats to compact umbrellas. Just vary the sizes of the bags depending on what you wish to store. For the boho look, woven bags using straw or rattan are great options. Hanging baskets from Anthropologie and World Market follow the same concept, but any durable, structured bags will do to keep things looking tidier than soft totes.
3. Pack Luggage to Stay Put
People used to be proud to display their well-traveled luggage in their homes. We're all for bringing travel cases in the entryway as a storage option, plus, it's always smart to have luggage packed and ready for a last-minute adventure or to store an emergency kit by the door. Whether you go with the stacked vintage look or group different-sized colorful rollaways standing up, they're not only conversation starters for visitors; the luggage is also a reminder of possibilities and hopefully fond travel memories. You can even hit up your parents to see if they have old pieces for your use, such as makeup train cases or hat boxes. (P.S. The hat boxes from Calpack are beautiful.)
4. Say Yes to Stylish Hampers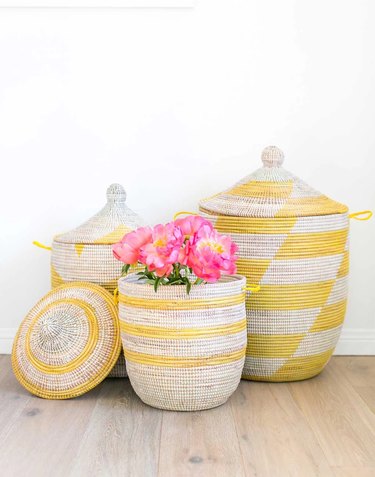 Hampers in the entryway?!? While we wouldn't have considered this years ago, especially the Pearl-Wick hampers our parents used (though this 1960s hamper is pretty incredible), some woven laundry baskets today are so beautifully designed, they deserve to be seen the minute you open the door. H&M Jute laundry baskets, you're among them. With many sizes to choose from and often lids to boot, they are ideal for an array of items — including pet accessories, umbrellas, reusable grocery bags, and shoes — and totally mobile and durable. You won't have to worry about potentially damaging them in your daily life as you would with wood furniture, or the woven material scuffing your walls. They're a win-win.
5. Make a Blanket Ladder Your Every Ladder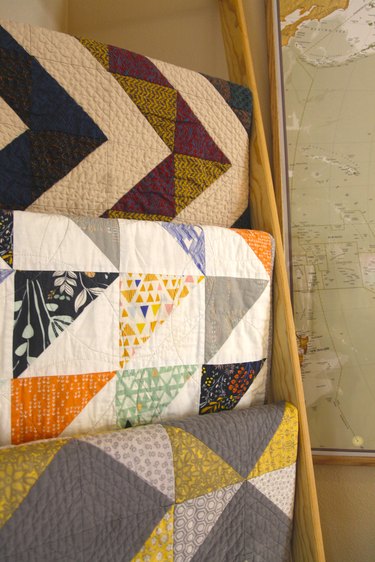 Yes, we know, you can get all sorts of ladder-style shelving, but that's not the look that we're going for here. The simplicity of a blanket ladder has its own appeal and is a space-saving option for narrow entryways over bulky storage units or racks. Hang scarves and jackets flat over the rungs, and the quick addition of a small hook on a side rail can provide a home for keys too. (Our swing blanket or ladder shelf DIYs are pretty lovely choices, we must say.)
6. Have Your Wall Clock Do Double Duty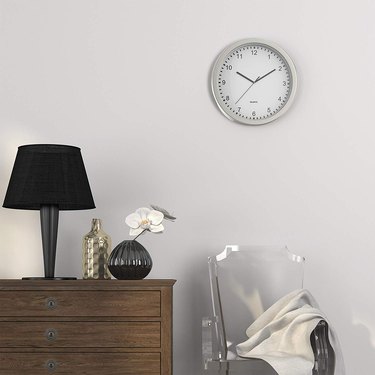 This is more of a challenge to designers out there, and even you, to take this concept of a wall clock with hidden storage and really give it some flair. A simple online search will not deliver many options you absolutely must have, but the idea itself is spy-level brilliance. Pull open the face of the clock to reveal narrow shelving for cash, keys, jewelry, and the like. We also love this Raft storage wall clock that may not have the hidden storage, but is pretty darn cool, and can hold small items as well.