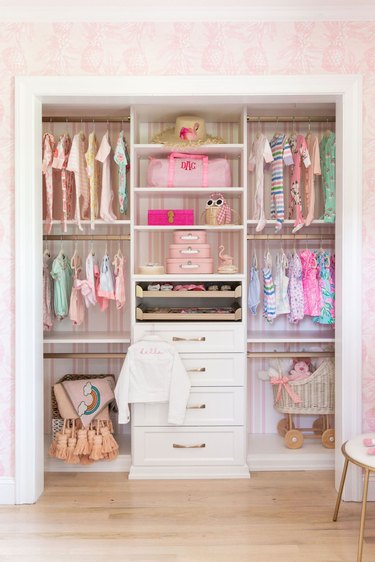 Finding a child who's enthused about organization is a monumental task (or so we've heard), but someone has to encourage the little ones to keep their belongings neat and clutter-free. As for dress up storage ideas, in particular, maintaining order in a way that's fun and creative is of the utmost importance. From brightly colored containers to labeled bins, the options for corralling all of your kids' costumes into one designated spot are aplenty.
We've rounded up six dress up storage ideas so that your kiddos will have the perfect place to hold their most prized possessions.
For those who are working with a small area, this simple dress up storage nook from Zoe Feldman Design contains just enough square footage to store hanging clothing, shoes, little purses, and even toys. We love the inclusion of a wooden bench (because what kid doesn't want to hang out and admire their favorite costumes?) and the creative use of the space underneath for two large storage baskets.
2. Add storage boxes and drawers to the playroom.
This ivory armoire from Kathleen Walsh is understated and elegant. Here it's primarily used to hang little girls' coats, but we love that there are also drawers, shelves, and canvas storage bins to accommodate tutus, capes, and other miscellaneous dress up items. The full-length mirrors will not only allow your kiddos to check their fabulous costumes, but they'll also help elevate the overall style.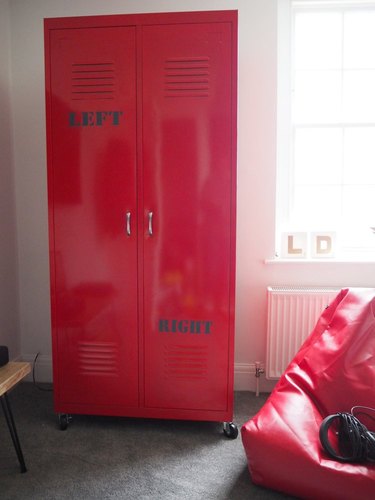 This bold red metal locker was just one of several eye-catching accessories we spotted in the bedroom makeover Lisa Dawson did for her son. The storage unit contains a hanging rail and shelving. Plus it's mounted on casters, which makes it mobile. To recreate this look, choose a storage locker in a bright shade that pops against the wall color, and sprinkle complementary accessories throughout the space to create uniformity.
4. DIY a wall shelf into a space to store dress up clothes.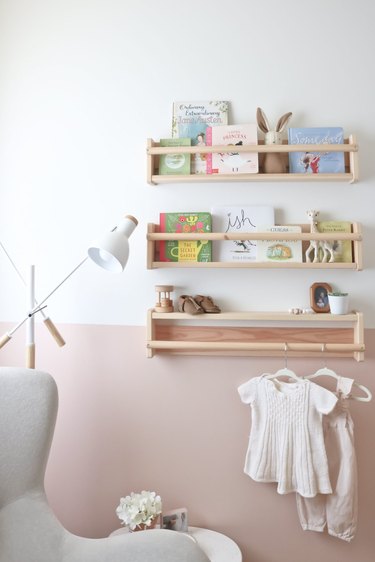 When designing her little girl's nursery and playroom, Kristina Lynne optimized a small space by fashioning a DIY spot for princess dresses and costumes out of the bottom rack of a wall storage unit. The shelf holds shoes, toy storage, and knickknacks while the rod works perfectly for hanging clothes and special outfits.
5. Customize your dress up storage center.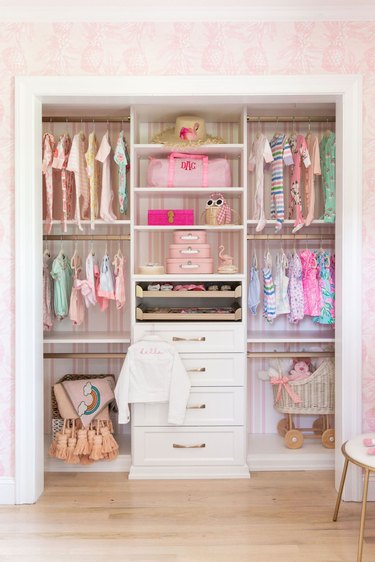 This charming pink nursery from McKenna Bleu features custom storage shelves that suit a kid's wardrobe perfectly. There are six separate rails for hangers and clothing plus ample shelves to accommodate shoes and other supplies. Two large storage cubbies beneath the clothing racks are large enough to hold bags or toys. And the four-drawer mini armoire offers even more dress up storage.