It's a proven fact: Kids have stuff. Tons of stuff. Massive amounts of stuff. And we think that's completely OK, especially in a playroom where they are meant to play to their hearts' content and let their imaginations run wild.
Because kids have all that stuff, clever playroom storage ideas are an absolute must. They will provide you with some sanity, plus teach your little ones the importance of tidying up and staying organized from an early age. If you create a system that's easy for kiddos to understand, and allows them to take part, you can teach them good life lessons and get some help with clean-up. However, children's playrooms are not typically very large, so you might have to get a bit creative with your storage. But no need to worry, here we have six smart (and stylish) solutions to get you started on the right foot:
1. Consider "non-playroom" storage solutions.
When it comes to playroom storage ideas, a little ingenuity here and there, along with some resourcefulness, will definitely pay off. You may not even necessarily need to purchase anything new. Take a look around and see if there's a furniture piece stashed away that can double as storage. In this case, Joni of Lay Baby Lay repurposed a vintage dresser to use as storage in this playful space, perfect for hiding away art supplies and other essentials.
2. Organize cubbies by color.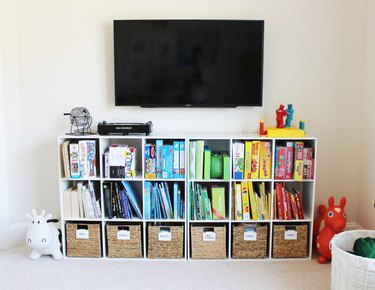 Cubbies are tried-and-true organizers for kids (think back to your kindergarten classroom and you'll probably remember storage cubes everywhere). But have you thought about arranging their contents by color? It will help your little ones stay organized (and learn about colors in the process). We love these color-coded cubbies set up by Leah of Love & Lion.
3. Go vertical.
In a playroom, you'll naturally want to keep as much floor space free from clutter as possible, since that's the headquarters of game-playing, reading, and general merriment. To keep the floor open, consider vertical storage ideas, like the metal, farmhouse-inspired organizer hanging on the wall in this playroom styled by Sarah of Sarah Joy Blog.
4. Use good ol' baskets.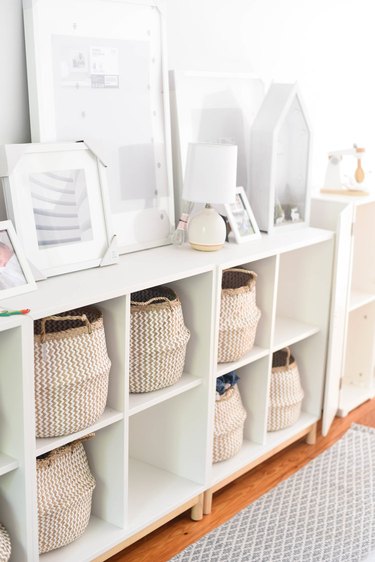 Baskets are a classic storage solution, but they also happen to be quite chic nowadays in a variety of spaces, especially in a playroom. They can tuck neatly into shelving and easily conceal toys that would otherwise be scattered on the floor. Follow the lead of Michelle from Iron & Twine, who used these seagrass chevron baskets that look oh-so-cool, while also being very practical.
5. Dedicate spots for every toy.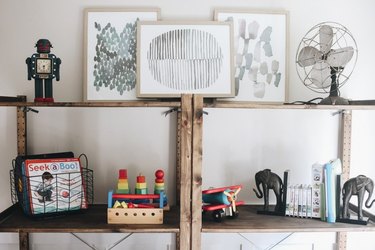 When organizing a playroom, choose a landing spot for every single toy — and give your child a tour of these spots throughout the space. You can tell from the shelves in this playroom created by Liz of Within the Grove that each of these items is in its proper place — and organized with the help of decorative objects like bookends and cool baskets.
6. Get brilliant with built-ins.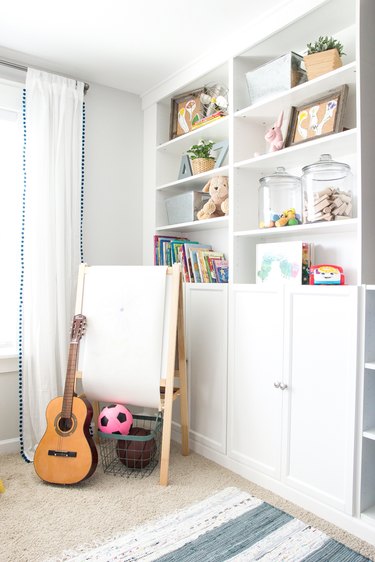 Even if your house wasn't blessed with a myriad of built-ins, you can always install them yourself. They're a fantastic playroom storage idea (bonus points if they're outfitted with cabinets). Lauren of Bless'er House actually turned these IKEA bookcases into built-ins in this space, and the result is a gorgeously organized kids room.