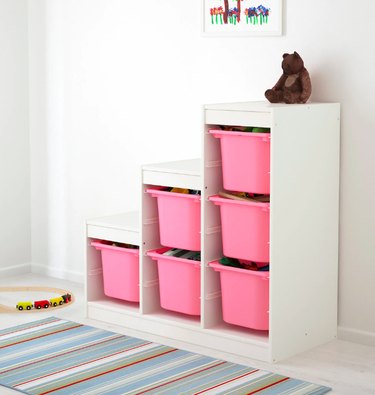 IKEA's Trofast storage system is a godsend to parents: Practically indestructible and definitely affordable, the Trofast offers bin storage that can be configured for so many different looks and uses. If you're thinking about ways to de-clutter a kids' room or searching for nursery furniture options that pull double duty, scroll on to see just how helpful and fun Trofast can be:
1. Add cushions to created a stepped seating area.
This clever parent put two of the stepped units together to create a comfy middle seat.
2. Add dots to make the bins look like dice.
Helps kids begin to learn their numbers, too!
3. Make a double desk for children who share a room.
One of the more popular ways to use Trofast is to create desk setups.
4. Line an entire wall with low storage.
This actually looks pretty sweet thanks to that fun color combo.
5. Mount a smaller unit on cork board.
Perfect idea for an older kid's desk.
6. Add a thick stripe of paint for a cool-kid look.
We are loving this desk setup for the subtle color play and use of texture.
7. Or, create a corner desk.
8. Go neutral.
To avoid making a nursery seem too cluttered, opt for the white bins and pair with IKEA's ever-popular Sinnerlig pendant.
9. Go for clubhouse vibes.
Got a backyard shed? Turn it into a play zone with a simple Trofast desk and a pegboard.
10. Double up.
Another popular way to style the Trofast is to include a wall unit that sits above one of the standard floor units. Plus, we love the use of labeling to keep things neat.
---
Leonora Epstein is Hunker's Senior Director of Content. She has previously served as Executive Editor at HelloGiggles and as BuzzFeed's Deputy Editorial Director. She is the co-author of "X vs. Y: A Culture War, a Love Story" (Abrams, 2014). Feel free to reach out at leonora@hunker.com.