Kids' bedrooms have gotten so much cooler. If only we could turn back the hands of time and be a kid again, we'd definitely know how to decorate it right this time around — no more Disney princess sheets or tacky dinosaur wall decals. From teepee hideouts, to chalkboard walls, to bold-patterned bedding, there are so many options when it comes to designing a cool and modern kid's room. Here are 18 awesome children's bedrooms that are so rad, we wish they were ours!
1. Mix patterns for a playful effect.
They key to effective pattern play — without making the space appear cluttered and overwhelming — is opting for a mixture of pattern sizes in the same color palette. Follow this rule of thumb illustrated so beautifully by design firm Sissy and Marley: Choose one large-scale pattern (like the boldly striped rug), one medium-scale pattern (like the raindrop wallpaper), and one small-scale pattern (like the small polka dot pillow) to help them blend together tastefully.
2. Add a girly touch with textured bedding.
This soft pink, ruched bedspread adds a sweet vibe to an otherwise crisp room. The simplicity of the mostly white, navy, and black decor contrasts nicely with the feminine vibes of the bedspread, rug, and stuffed pink pony making the space look fresh and modern, while still appealing to your daughter's girly side.
3. Opt for an unexpected headboard.
Your kid is only young once, so make all his wildest decor dreams come true with an over-the-top bed frame like this rad bedroom designed by Tarina from the blog Oh.Eight.Oh.Nine, with a teepee-shaped fort for a bed. Or, you can make your own unique house-shaped headboard using this clever how-to from Cassity at the blog Remodelaholic.
4. Set the scene for imaginary play.
Think beyond traditional wall murals when it comes to your child's room. It doesn't have to be gaudy or bold. In fact, sometimes the best accents are subtle and understated, like this light gray mountain scene. Add a fun element like a teepee or bear-shaped pillow to complete the look.
5. Maximize your use of space by thinking vertical.
One easy way to keep your children's bedroom looking modern and clutter-free is by using vertical space to your advantage. Whether it's a loft-style bed or shelving that goes up to the ceiling, making use of the room's high ceilings will help keep their space playful and interesting.
6. Carve out a special place for "me time."
Whether it's a bunk bed with a space for play underneath, like this one, a cool teepee filled with pillows, or a built-in window seat overlooking the backyard, every child can benefit from having a little nook in his or her bedroom that's tucked away from the rest of the space. And if space is limited, stash a small bean bag to one side of the closet.
7. Create a sense of calm with muted colors.
Kids' bedrooms often feature bold colors. But choosing a more muted color palette like this one gives the room a delicate feel, creating a perfect respite to relax after a long day at school.
8. Encourage creativity with an art wall.
Encourage your kids' artistic side by painting one wall with chalkboard paint. It's an easy way to keep them occupied, and it's easy to clean up, too. Just wash it down with a wet rag. Or, if a black accent wall feels a bit too bold, whiteboard surface paints are also available.
9. Indulge in fairytale-like accents.
Kids' bedrooms present the perfect opportunity to let your decor imagination run wild. Hanging playful accents, like this white tulle canopy that Tarina from the blog Oh.Eight.Oh.Nine hung from the ceiling, can make any room feel delightfully magical. The tiny star wallpaper doesn't hurt either.
10. Leave lots of room for play.
When arranging the furniture in your child's bedroom, don't forget to leave a wide open space that encourages playtime like this sweet playroom designed by Emily Henderson. Whether to build a tower out of Legos, read their favorite book, or have a pillow fight, kiddos need plenty of room to let their imaginations (and toys) run wild.
11. Keep the decor relatively simple.
Less is more when it comes to modern design, and your kid's bedroom decor is no different. By choosing a few high-impact accessories, such as these adorable hanging clouds over the bed, you can add personality to your child's space without adding to the clutter. (There'll be enough toys lying around as it is.)
12. Show off your child's interests.
Indulge your little one's dreams of becoming an astronaut by using their interests as the jumping off point for their bedroom decor. This tasteful starry night wall paired with playful pillows personalizes a simple black-and-white color scheme. And bonus: By choosing such a neutral color palette, it's easy to make simple changes as their interests evolve.
13. Try bold colors and wacky patterns.
While they may look a little too flashy in other rooms of your house, your child's bedroom is the perfect place to play with color and funky patterns. As long as the prints look fresh and modern — and the rest of the room's decor is relatively subdued — you can get away with something a little more exotic that's sure to delight your child's creative spirit.
14. Or opt for a neutral color palette.
Make your kid's room blend in with the rest of your home's sleek minimalist decor by opting for a neutral color palette featuring pops of yellow, soft whites, and dreamy grays. The circular rug, the furniture's warm wood finish, and the geometric wall hanging keep the room's neutral palette from looking dull.
15. Make a statement with over-the-top wallpaper.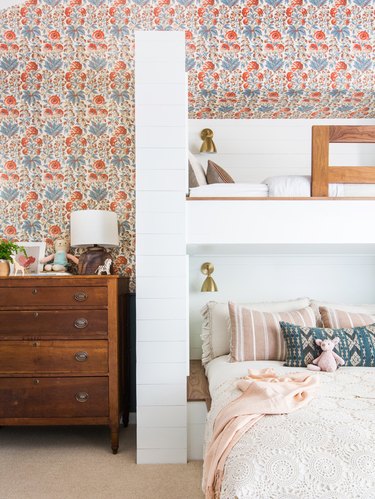 A cool, eye-catching wallpaper is a great way to make a statement and set the tone for your kid's den. Whether you opt for a sweet pattern, like the floral number that interior designer Amber Lewis selected for this cool bedroom, or something a little more playful, large-scale wallpaper patterns can bring an element of awe and surprise to any space.
16. Make it personal.
Find a balance between your decor style and your kid's personal taste by picking out a few key design elements together. You can both get on board with items that will fit your kid's personality and still look good, like spelling their name out on the wall using a little washi tape.
17. Create a clear division of space in a shared bedroom.
Make a shared bedroom an option your kids can live with by dividing the space evenly — and with clear boundaries — like Maryellen from the blog Cakies did. By putting these beds side-by-side, not only does it open up more floor space in the room to allow for play, but it also clearly segments which side of the room is whose, which can help avoid fights breaking out between siblings.
18. Choose basics that will grow with your tiny humans.
Kids grow up fast, so think long-term when purchasing your child's first twin-size bed and other furniture items. This charcoal linen headboard and white locker-style dresser that Kathryn from the blog House of Hawkes selected for her son's bedroom makeover, work well in a young boys room and are classic enough for him to use as a teen, too.