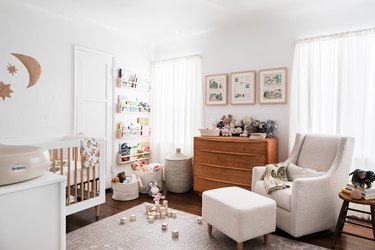 If you have kids at home, it's probably a daily battle against toys. They're everywhere — and almost never where they are supposed to be. Enter: Toy storage that works for absolutely any room, even outdoors. And bonus points for the kind that's so chic and organized you don't mind having it out on display.
Here's how to get a toy look you'll love.
1. Adopt the Montessori Method in a playroom.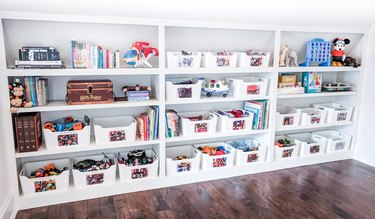 A Fresh Space, a professional organization team in Nashville, Tennessee, likes the Montessori Method when it comes to playroom design. Some key tenets of this practice include storing items at a kid's eye level, only keeping out what they use, and labeling everything. All of this enables children to manage their own toy storage — and we call that a win.
In this home, the hardest working piece of playroom furniture is the simple, minimalist shelves, filled with matching white plastic bins. Yes, there are tons of toys, but they are organized, labeled, and presented in a way that's accessible, functional, and the opposite of chaotic.
2. Mix it up in a traditional nursery.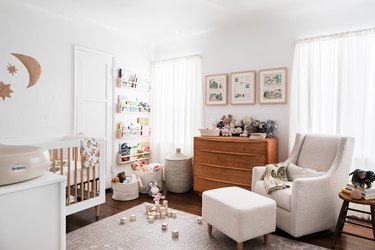 Toy storage is almost never a one-product-fits-all situation — as this gender-neutral nursery shows. Notice the cloth bins on the floor to gather soft toys. Plus, there's wall storage for books, as well as art that's out of reach of small hands for that perfect Instagram-worthy aesthetic. You can even DIY a toy trolley for more age-appropriate organization options.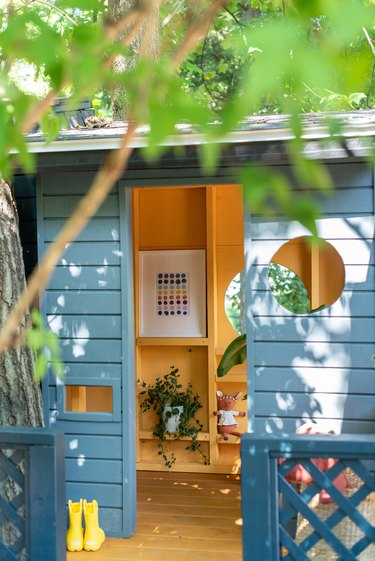 For this project, grOH! Playroom Design, based in Washington D.C., took the toy storage right outside and created an amazing dedicated space for fun and organization. Whether you go with an outdoor playhouse, like this one, or a basement playroom, creating a custom solution really does help contain the chaos — or, at least, keep it out of sight.
4. Don't skimp on design even in the family room.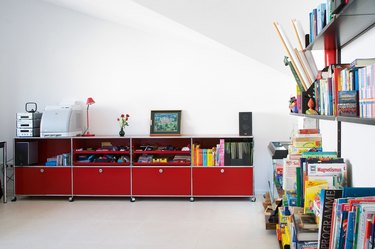 You don't have to use kid furniture just because they're kids. The bold red color of the storage unit from Swiss high-end manufacturer USM Modular Furniture keeps this toy storage solution feeling playful. But the piece will age well or slip seamlessly into a teen bedroom or even a home office.
5. Go vintage in their bedroom.
Another unique option for toy storage? Vintage furniture. This gorgeous wood wardrobe matches another aged piece in the parents' bedroom and adds a layer of whimsy to the charming girl's zone. The mom who designed this space notes, "I love mixing in vintage finds into the house ... You can save so much money and I love having something unique or rare."
6. Display it all in the play space.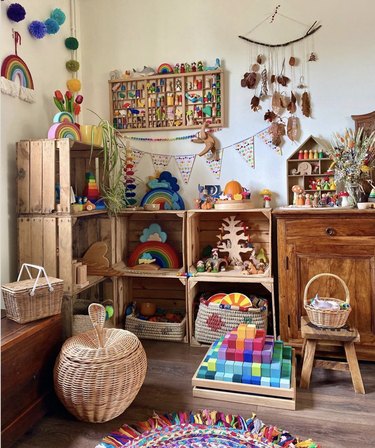 In this joyful play space in Cornwall, England, the toys are on full display. And why not? They're wooden, rainbow-hued, eco-friendly, and inspired by nature. As far as playroom storage, the idea here is not to hide, but to showcase — all the better to inspire a child's imagination.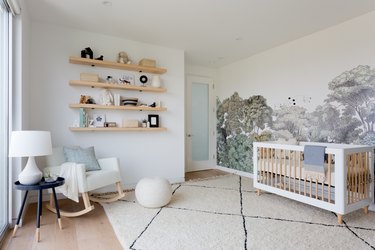 When it comes to nursery design, toy storage can be a bit more creative and less concerned with containment. In this minimalist space from JDP Interiors, the toys take center stage on the floating shelves and create personality. However, as the baby grows, toys will come down, and the nursery will transform into more of a play zone.