And if you want one of these revamped spaces in your home, we have you covered. With a few tweaks, your basement will be able to keep both the kids and the adults in your family occupied for hours. And the best part is, everyone will want to clean up when playtime is over.
1. Create a reading corner.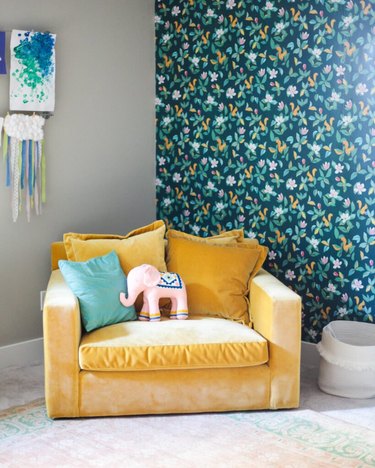 Take a note from Jen Biswas of Paisley & Sparrow. This mom of three outfitted one corner of her little ones' basement playroom with fun wallpaper and a super spacious accent chair. The seating area is spacious enough to fit multiple people during storytime. Plus, the dedicated reading zone encourages everyone to get cozy and quiet.
2. Build a playhouse under the stairs.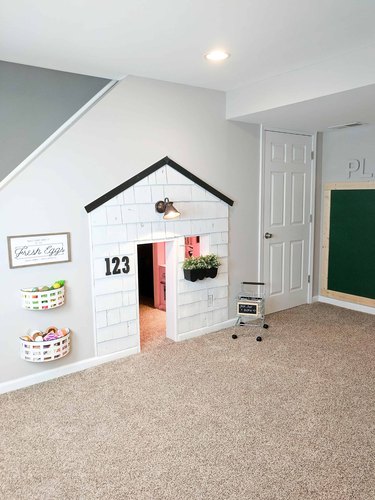 Tucked under the staircase, this playhouse from Arin Solange is a kid's dream hideaway, complete with house numbers, shingles, and a window box. Enter the tiny door and you'll see two miniature rooms and a pink play kitchen. Add some toy storage in there, and you have the perfect solution for that awkward under-the-stairs space.
3. Put the cute stuff on display.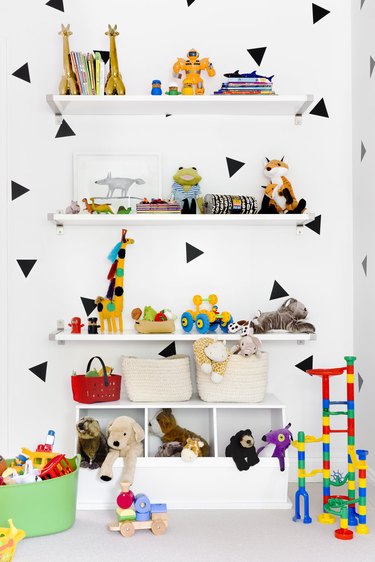 Face it: No matter how many adorable, wooden train sets and sweet stuffies you buy, there will always be more unsightly plastic toys. There is a way to have a chic, minimalist toy display, though. Hang shelves that feature a variety of framed art and stuffed animals like interior design studio Chango & Co. did here. The not-so-cute toys can be tucked in baskets below.
4. Turn a pegboard into an arts and crafts station.
For the petite Picasso in your life, take inspiration from this mini basement art studio. The key to keeping the space organized and tidy is a simple pegboard. Hang colorful supplies on it, but don't forget to display a few masterpieces, too.
5. Incorporate sophisticated materials.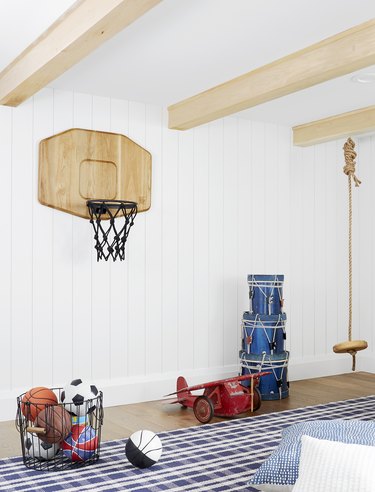 Leave it to design master and mom Emily Henderson to create a sports-themed playroom that's not an eyesore. We love her use of sophisticated materials. The wall color is crisp and white while the wooden basketball hoop and rope swing feel warm. Plus, that playroom rug is perfect for epic soccer matches.
6. Stash miscellaneous toys in a hamper.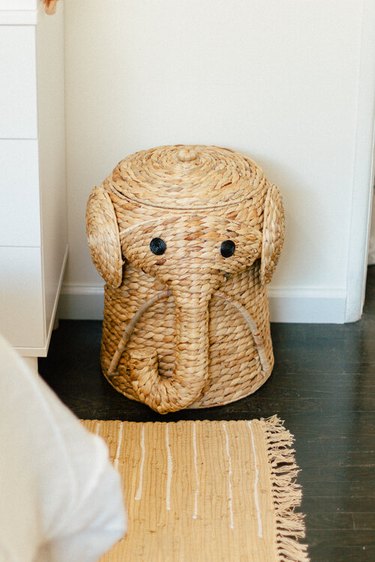 Add a few sweet hampers like this one for a game-changing basement playroom idea. Not only are they adorable, but they also help you clean up in a pinch. Throw balls, blocks, and even dirty clothes in them. You can also have the kids use hampers in their bedrooms and bathrooms so they get used to cleaning up after themselves.
7. Add a stage.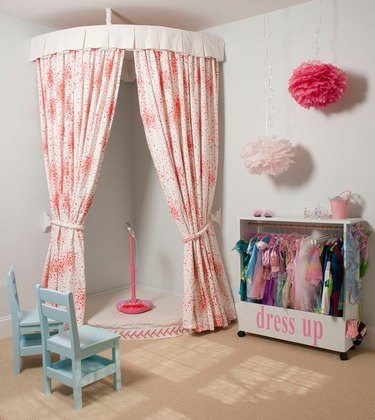 Every night can be open mic night when you build a small stage in your basement playroom. Encourage kids to belt out tunes, crack jokes, and feel confident simply by hanging floor-to-ceiling drapes in a corner as Liz Caroll Interiors did. To jazz, it up add kid-sized furniture and chairs for the audience.
8. Keep your art up high and their toys down low.
Before kids have too much of an opinion on the design of their basement playroom, keep some semblance of your grown-up style. Showcase the adult wall art at eye level with fun light fixtures. Then tuck various baskets of toy trucks and guitars down below.
9. Install an indoor swing.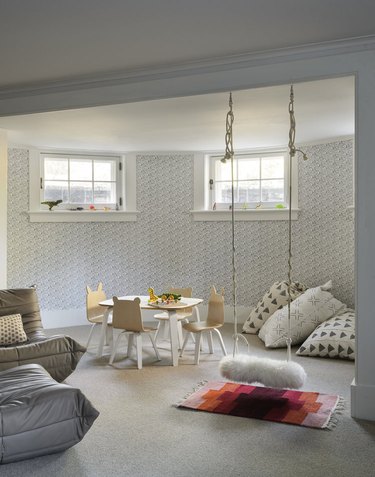 For a relatively simple basement playroom, limit your space to one showstopping feature. We love how Studio DB created a focal point with an indoor swing and accessorized with a small rug, simple pillows, and a minimal kids' table. There's still plenty of space in front of and behind the swing.