As a parent, it's easy to forfeit the battle of a clean and tidy playroom. No judgement! With the endless toys, games, books, art supplies, blankets and pillows for a (hopeful) quiet moment, and maybe a lounging area for a quick video, the playroom is bound to become overrun with STUFF. Take solace in the fact that you're not alone, and that this space is meant to be a magical oasis for your little one's imaginative spirit to take hold.
BUT. You're only human. And we're here to give you the light at the end of the tunnel. We've found six life-changing playroom storage ideas that will manage the chaos and store more than just toys with a little elbow grease and creativity.
1. Use painted crates for accessible yet concealed storage.
This playroom storage idea from Lauren of Bless'er House uses painted wooden crates in built-in shelving to provide concealed storage that is still easily accessible for your kiddos. This means they can stay independent while they retrieve what they need, and your built-ins maintain a sense of order. Win, win! Paint yours a coordinating color with your playroom decor to make them even more seamless.
2. Use bookcases for more than just books.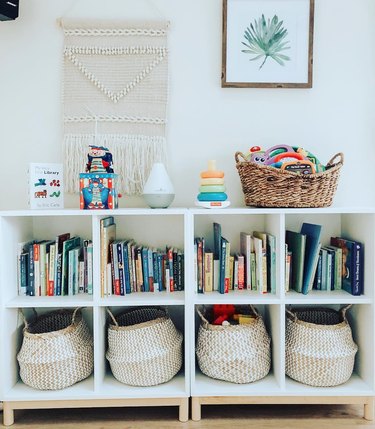 Make your playroom more functional than ever by using multipurpose pieces. Tiny bookcases can store more than just books, and these seagrass baskets from Kelly Nemeth's playroom are the perfect example. Not only does this equal fewer surfaces to clean, but it frees up floor space for more room to play.
3. Add oversize covered baskets.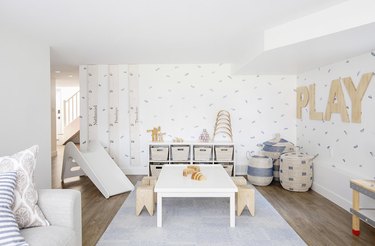 Oversize baskets with individual lids are the ultimate savior when you're doing a quick clean up of miscellaneous items. To recreate this playroom storage idea from Melissa Barling of Winter Daisy, group three similar styles together in varying sizes. Not only is this functional, but it also lends interest and texture to a modern playroom.
4. Hack an IKEA storage box to store more books.
Who says books can only be stored in bookcases or on shelves? Challenge yourself to this IKEA hack and transform a bamboo box into an adorable bin for books. It'll make the perfect accompaniment to the reading corner.
5. Save floor space by opting for a wall-mounted storage unit.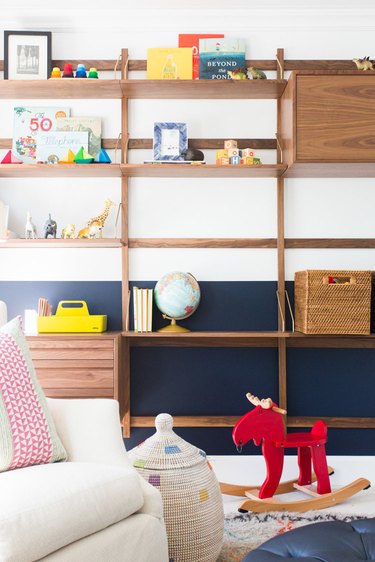 Shea McGee of Studio McGee transformed her client's spare bedroom into a charming and sweet kids' area for reading and playing, thanks to this smart playroom storage idea. Wall-mounted storage is the ideal solution when you're working with a limited square footage, since it allows you to save floor space for your little ones. Mix concealed storage, books, and charming knick-knacks for a display that is practical and pretty all at once.
6. Corral art supplies with glass canisters.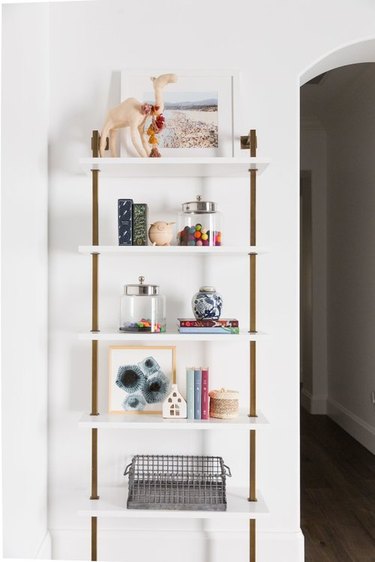 Crayons and markers gone rogue is the bane of most any parents' existence — not only are they easy to lose, but they create a mess on floors, and often end up in the mouths of our pets and or melted all over the inside of the dryer. Yikes! Instead, store art supplies on shelving in clear glass canisters, like Shea McGee did in this playroom makeover. This way, you can easily access them when needed, and you can rest assured that they'll always be in the same place (theoretically!).