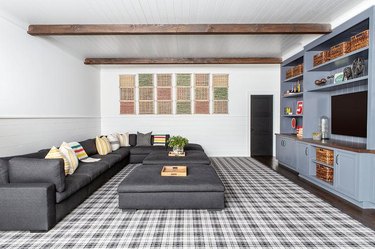 How do you know that you're in need of a few new basement family room ideas? If you find yourself spending more and more time on your lower level, but you never like what you see when you look around. The storage could be lacking; maybe the lighting is abysmal. Perhaps you just don't have any good wall decor.
Whatever aspects of your family room furniture and layout make you unhappy, though, can likely be fixed with a little guidance. So we compiled nine basement family room ideas to help get you off the ground (the figurative ground, of course).
1. Maximize the space.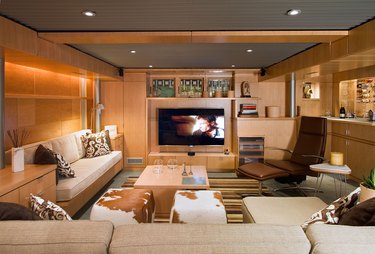 This pine-clad basement family room truly demonstrates how functional a space can be when there's ample storage. Just look at all those built-ins. They give off subtle farmhouse vibes, and they're incredibly practical. If you want a similarly sleek setup, try to match your wood flooring with the wood you use for your entertainment center and your bar area. Feel free to have fun with your accent seating, though. We especially dig the cowhide ottomans.
2. Go with crisp white paint.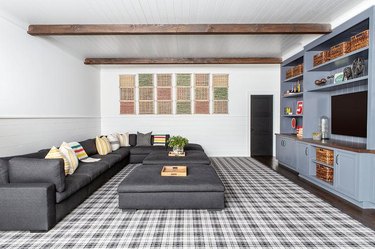 Basement family rooms can be notoriously dark and unwelcoming. But that is hardly the case in this bright space from Chango & Co. The design team kept the room feeling welcoming and airy by liberally applying a few coats of white paint. If you want your room to feel interesting and crisp, paint your walls white. Then pick a fun accent color for the other furniture in your family room. Add some vibrant wall art while you're at it!
3. Mix furniture from different periods.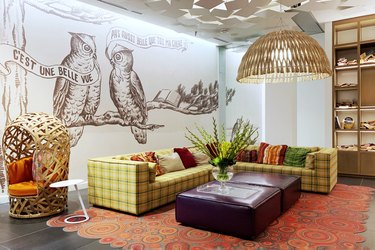 4. Play with lighting, textures, and color.
Maybe it's just us, but we wouldn't mind becoming a permanent fixture in this super chic family room. The captivating contrast of the stone walls and shelving against the gold furnace displays an interesting mix of color, shine, and texture. To achieve your own color-shine-texture combo, choose a neutral paint color for two walls and then go with a bold, textured wall to inject a bit of character and warmth into the space.
5. Amplify the coziness.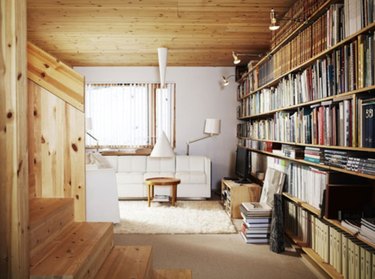 A basement family room instantly increases the area's cozy factor tenfold, thanks to the location. This earthy basement living area by Blackband Design shows how the space can benefit from lots of wood. Consider enhancing the inviting atmosphere of your own lower level with an inexpensive basement ceiling like this one. Then add a multi-cushion sofa, a fur area rug and a wall unit equipped with plenty of reading material.
6. Add a bed.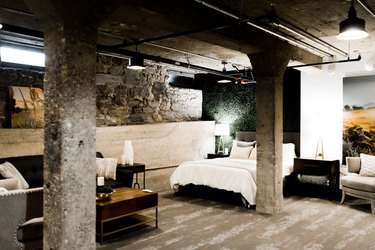 We'd venture a guess that anyone who spends a night at your home would rather not be heard or seen snoring out in the open on the main level, whether they're snoozing on the living room couch or comfortably napping in a guest room. So if you need a basement family room that offers ample privacy for overnight guests, add a bed. When you don't have house guests, you'll be grateful for the extra lounging space.
7. Create an art-friendly space.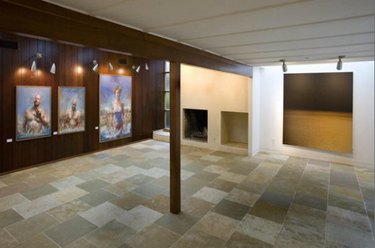 Capitalize on the room's low light by designating your basement family room as the go-to spot for displaying art. To bring a gallery-like feel to the area, use ceiling-mounted track lights to highlight paintings, sculptures, or other personal effects. Consider taking a minimalist approach to furniture arrangement with a comfortable sectional and a unique end table to cap off the look.
8. Make it a niche space.
Perhaps you want to dedicate your modern family room to a particular style, but the decor doesn't exactly mesh with the rest of the home. Use the basement to let your creativity run wild. This living room emits an unmistakable artistic vibe. Recreate the design with wall paneling, a fur-covered chair and a bearskin rug. Ensure that your living room glows and makes a statement by adding a personalized neon light.
9. Incorporate storage in a creative way.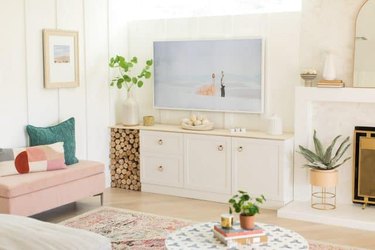 It's tempting to let the basement be your residential storage space filled with long-lost items and dusty knickknacks. But this bright modern living area from Sugar & Cloth proves you can do storage in a visually appealing way. To neatly stow belongings, use IKEA Bestå cabinets instead of built-ins. Then pick out functional living room furniture like a storage bench with drawers or a drum-storage coffee table.