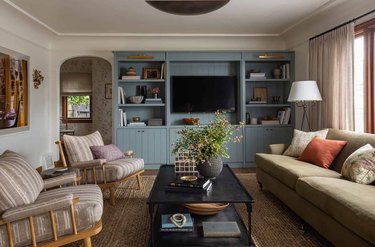 If you think it's time to rearrange your family room furniture because you're spending a lot more time in the house, a simple refresh might be all you need. In fact, how you arrange your family room furniture can change the area's functionality and make you feel a lot happier in your space.
Whether you're finally adding that new dream sectional, hanging wall art, or just switching things around, we've got you (slip)covered. The big challenge is arranging things in a way to suit the whole family's needs while still keeping things inviting and sleek, though.
But worry not; we have eight stylish ideas that will take your family room furniture to the next level. Big or small, maximalist or minimal — no matter your room's footprint or your style, there's an option for you.
1. Section things off.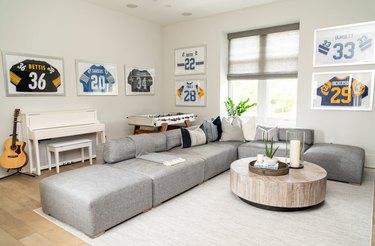 When your home is all about fun and the family room is combined with a media room or game room, try to split up your zones. A modern sofa or sectional can work two ways — as comfy seating and as a divider. Separate the music and games section from the movie and lounge space.
2. Go for more.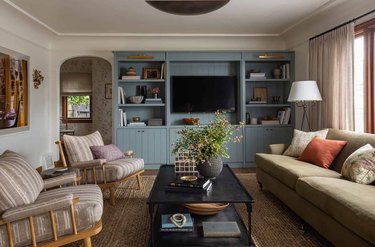 If you have limited space, don't stress about the minuscule square footage. Just make a big impact with the space you have. Go all-in with a maximalist look like this one from Heidi Caillier. Vintage items will set things off, and a fun accent wall color will keep things from feeling stuffy.
3. Break it up.
We love how a patterned sectional is broken into three chic and comfy seats in this modern family room from Reath. It really opens up the floor space and makes things feel airy. And as a bonus, if you incorporate this look in your home, you'll always be ready to rearrange your family room furniture. Indecisive decorators rejoice!
4. It's okay to be straightforward.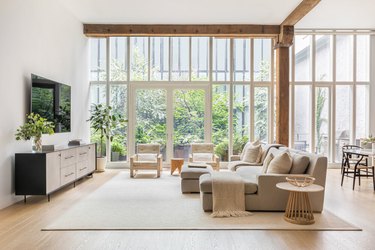 5. Claim a corner.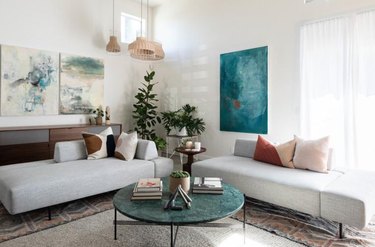 When you have a smaller family room, it's a great idea to place your larger furniture items in the corner. You'll give yourself so much more floor space for lounging and activities (at-home yoga anyone?). Feel free to skip the tiny sofas too. Two sizable ones, like these midcentury modern versions, will make things feel a lot cozier.
6. Build it in.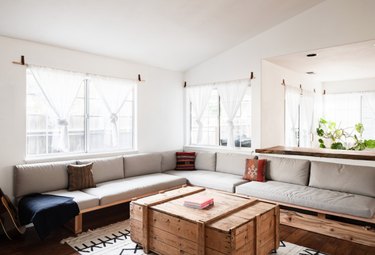 If you're redecorating but want to take a sustainable approach, a built-in sectional might be just the thing for you. Use reclaimed wood for the base, and add in a repurposed coffee table. After some crisp white wall paint, your family room will be perfect for large, informal gatherings.
7. Go a little matchy-matchy.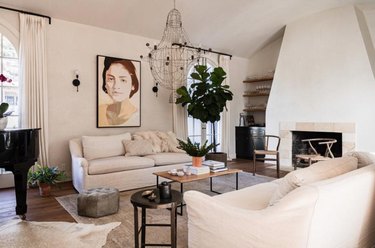 If your home is more on the traditional or transitional side, a set of matching slipcovered sofas can work perfectly. Place them face to face under a statement ceiling light, and get ready for all sorts of stimulating conversations.
8. Don't be afraid of squares and straight lines.