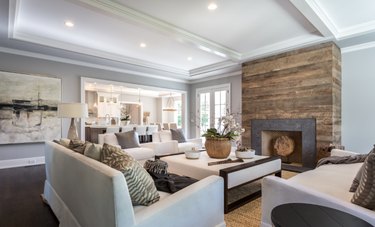 We all love a transitional family room. It can be the perfectly styled place to flop down, chill out, and gather to watch beloved movies or read classics. It's that area in your home where necessary naps and catch up time flow together. So, when it comes to your family room decor, you want both comfort and style (and let's not forget the TV). Instead of committing to a certain look and wall art, though, think about mixing things up. Take a transitional approach to your space.
Transitional family rooms tend to have simple white color palettes (with maybe a few pops of color) and a combination of styles. However, comfort and coziness are usually the most important aspects. This design approach is perfect for any family room where hang time is mandatory. And if you have a fireplace there, even better.
Here are nine transitional family room ideas that are the epitome of serenity and style.
1. Serious About a Sectional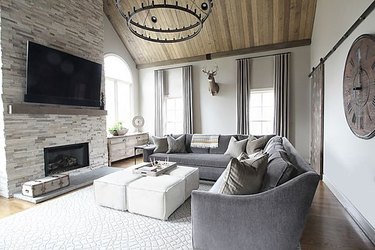 A sectional sofa is definitely necessary for your family room. Go for a large one with an interesting shape to keep things feeling transitional. And a group of ottomans, like this one from a Brad Ramsey interiors project, can be used for extra seating. We love that the ottomans' modernity contrasts with the rustic wood ceiling, stone mantel, and iron chandelier.
2. Totally Tufts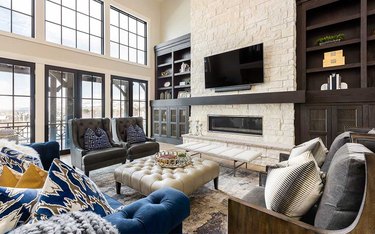 Transitional family rooms can also be a mix of formal and informal. Take this room from JCD. It combines luxe high back chairs with a tufted velvet sofa. The fun textiles used for throw cushions keep things casual, though. You can do the same thing if you add touches of farmhouse style in a more formal room.
3. High and Low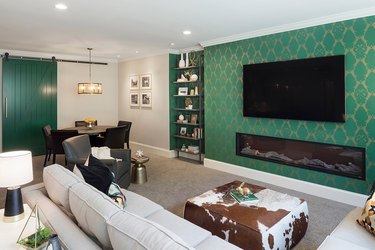 This family room from KASA pushes the boundaries of transitional with flocked wallpaper and a cowhide pouf. But the neutral sofa, carpet, and white walls still bring on the serenity.
4. Not-So Gray Days
Yes, transitional rooms love to mix and match. But you can commit to a gray paint color like the one in this room from Maestri. A similar tone will provide a perfectly neutral and chic canvas on which to add layered shelves and fun patterns.
5. Committed to Cozy
Many people incorporate a leather couch or sectional in their family room. But why not try a leather chair instead? You can curl up in one for a fraction of the cost. We're loving this space from PS & Daughters that combines a somewhat traditional couch with a vintage-looking chair and a soothing wall color.
6.  Color Pop
Consider creating a comfy conversation space with some mismatched sofas and a colorful chair with like this home does. The wood-paneled walls and bright family room rug add a little attitude, too.
7.  Farmhouse, but Make It Transitional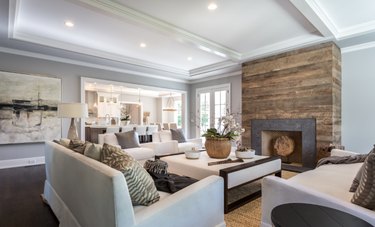 A little bit of farmhouse decor can work in a transitional family room. Skip the window treatments to keep things bright, as SIR did with this space. Then invest in a reclaimed wood fireplace and really good recessed lighting.
8. Classically Eclectic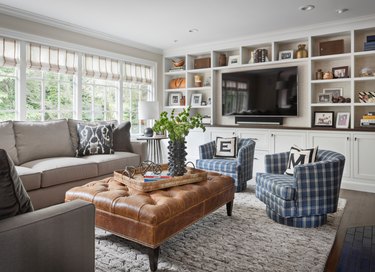 When all else fails, go for the classics. We're talking big comfy couches, leather furniture, and plaid fabrics. This room from Aubergine feels a little English country but modern at the same time.
9. Two-Tone It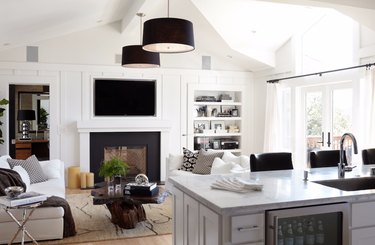 Keep your color tones crisp. Whites and creams with black accents make this transitional family room the picture of tranquility, but there are also a few midcentury modern touches as well. You can incorporate a striking wood coffee table and interesting light fixtures for your MCM transitional look.