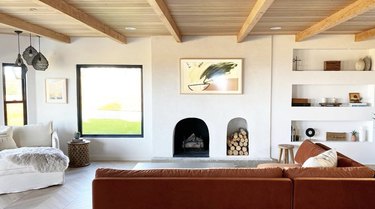 There's a reason we love modern family room ideas. They make living rooms feel like fussy older siblings. More casual. More cozy. (Ironically) more lived-in. More kid-friendly. The family room is where you relax, watch television, play card games, or even (gasp!) have that TV dinner. And when you add a cozy rug, good lighting, and fun wall art, the family room gets that much better.
In a lot of small apartments or modern homes with open floor plans, though, there's just the one room. So whether you care to call it a living room or family room, the area has to do double duty. And you have to be intentional about the decor and furniture you select.
Ready to take the plunge? Here are some modern family room ideas that are sure to inspire your lounge space.
1. Update the playroom.
2. Strip away the excess for a clean, open look.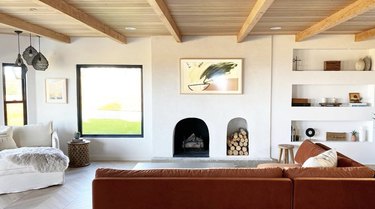 Interior designer and mom Laura Helmick first tried to paint the brick and salvage the stone fireplace during her family room reno. However, she eventually chose to strip away all the extraneous texture — leaving the space clean, spare, and open. The performance velvet couch makes the room toddler-proof as well.
3. Keep the cocktails close at hand.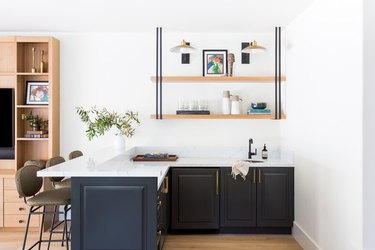 In this sprawling Manhattan Beach home, there are lots of places for people to gather aside from the more formal living room. If you have a similar space, take a cue from this modern family room idea. Go for a sleek entertainment unit that sits close to a wet bar with bar stools. If you're not blessed with copious amounts of square footage, just add a bar cart.
4. Use unexpected textures to keep it fun.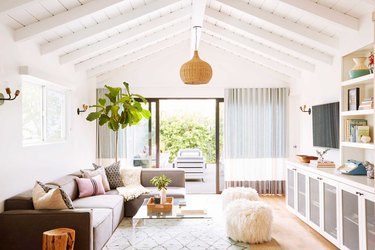 In this surprisingly kid-friendly, modern family room, a lucite coffee table and white furry ottomans keep the space from being too serious. And the giant glass doors seamlessly connect the living area to the outdoors, making the entire space feel larger. We like this approach because the textures make things fun. Add character into your own room with a large indoor plant and woven ceiling light.
5. Do double duty.
When you don't have the luxury of both a living and a family room, the space you do have has to work extra hard. If you have children and pets, look for a dark gray couch that's chic but comfy. And any accent chair with performance-grade fabric will be your best friend. Moreover, a large ottoman, like this one, can serve as a coffee table or extra seating. Lean into a more midcentury modern aesthetic if you crave a little drama in your space.
6. Connect with the outdoors to expand your space.
In this stunning renovation from Amber Interiors, whatever the client may have lacked in floor space is made up for by the huge, floor-to-ceiling doors. Feel free to borrow this indoor-outdoor setup for yourself. Just mount your TV so that it's out of the way. And layer rugs with leather poofs to increase small space seating.
7. Give everything ample space to breathe.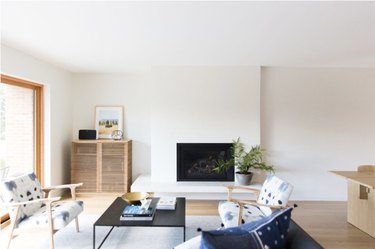 This Studio McGee space is connected to the dining area and kitchen because of the open floor plan. In modern family rooms like this, it's important to give each piece of furniture plenty of visual space. Otherwise, everything will feel cluttered and uncomfortably small. Go with a simple color palette — we like this combo of blonde wood, whites, and blues — to add more cohesion.
8. Consider an updated media room.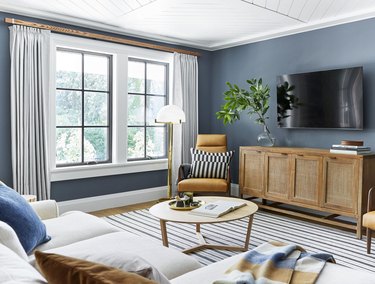 In certain larger houses, the family room might be reimagined as a media room or game room. If you go this route, keep your area stylish by storing board games and consoles in a cute cabinet like Emily Henderson did in this teal room that gives off subtle modern farmhouse vibes. Don't be afraid to go for a bold paint color either.