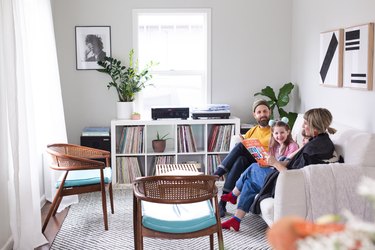 The living room: It's usually the heart of most people's homes, even when they're on the smaller side. If you're lucky enough to have a home with a larger footprint, you might have both a living room and a family room. But here's a question: What's really the difference between a living room and a family room?
We broke down some family room vs. living room characteristics so that you will no longer have the contemplate this question. Wrapping in some historical background and helpful info, we'll solve this little mystery once and for all.
Family Room Basics
If you've recently moved into a new home, you may have already begun pulling together some family room ideas. But what is a family room?
In your abode, you can think of a family room as an informal, relaxed room where you can hang out with your family, of course, or you can simply get in your sweats and chill on the couch solo or with your partner. In other words, it's the room in your house where you can truly let your hair down and enjoy snacks and movie marathons amid comfy furniture, tons of throw blankets and pillows, and perhaps some toy storage for your little ones. Sometimes, a family room also includes a sliding door to a patio or another way to access your backyard.
Living Room Basics
Defined by the Cambridge Dictionary as "the room in a house or apartment where people sit or relax together but do not usually eat or sleep," this is pretty much spot-on for a living room. Also referred to as a great room or a lounge room in the UK and Australia, a living room tends to be a space in your home devoted to entertaining guests.
A living room also tends to be a place where homeowners display some of their most treasured decor or vintage finds, and where the visuals of the entire home come together.
Living Room History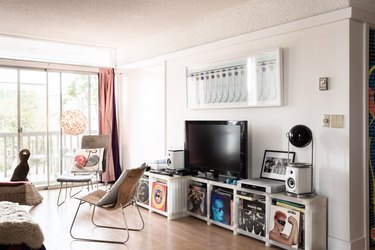 Living spaces are a relatively new concept in homes. The term "living room" first arose during the mid-19th century, when people began to create social spaces within their dwellings. Dedicated to entertaining, a living room was commonly referred to during the Victorian era as a "drawing room" or "parlor" (fittingly derived from the French word, parler, which means, "to talk"). In the late 19th and early 20th century, the room took on an entirely new intention when the space was frequently dedicated to funeral proceedings and mourning, even going so far as being called the "Death Room."
Family Room History
A family room has a much more cheerful history than the macabre beginnings of the living room. The term "family room" arose in the wake of the second World War, when the Baby Boom of the 1940s created a focus around all-things-family. The phrase first appeared in a 1945 book called Tomorrow's House by George Nelson and Henry Wright, in which they first coined the term family room as a place for family functions that isn't intended for social gatherings.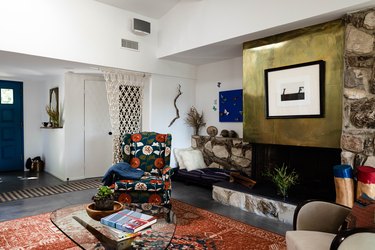 Differences Between Family Rooms and Living Rooms
And that's where the main difference lies when you break down the family room vs. living room. If you have two living spaces in your home, a family room is meant for laid-back moments spent with your family, where the decor doesn't need to be formal at all and the surroundings are warm and welcoming. On the other hand, a living room is usually larger and set aside for social happenings and parties.
A living room is also typically found toward the front of the house, near the entryway — which makes sense when you're receiving guests. A family room usually lies in the back of the house and has easy access to the yard.
As you gather family room ideas, you may end up deciding that you want to make your larger space, the living room, into the family room, especially if you have a big family and you want the space to double as a playroom. Either way, when it comes down to the business of the family room vs. living room, nowadays, it's really up to you to choose the functions that work best for you and your family.
---
Shelby Deering is a lifestyle writer who contributes to national magazines and websites, including Country Living, Good Housekeeping, Well+Good, and more. When she's not writing, you'll find her shopping flea markets, hiking, and going for walks with her corgi.
View Work