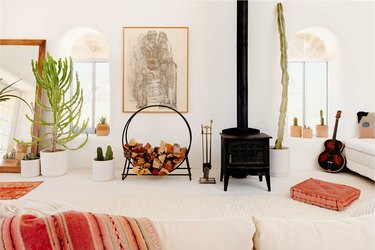 If you're looking for ways to make your shared living spaces cozier, why not start with the floor? Yes, wood planks look great. But think soft, nubby textures instead of hard surfaces or laminate floor options that can occasionally feel cold. A few good family room carpet ideas and rug choices can make your home look welcoming and stylish.
Don't worry that wall-to-wall carpet will seem dated, either. It can be perfectly modern when paired with the right furniture, vibrant paint colors, and great accessories. If you're feeling especially bold, you can even do a little layering.
Still not sold? Here are seven family room carpet and rug ideas that will change your mind.
1. Go for something bold.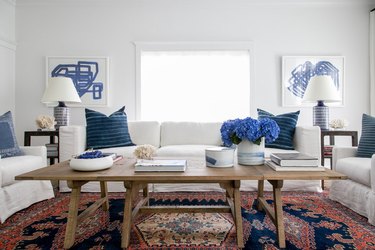 Choose a bold vintage rug to instantly add a fun vibe to your space. It can be the life of the party in a more transitional family room with neutral furniture and white walls. To recreate a space like this one, add fun throw pillows that complement the colors in the rug.
2. Don't be afraid of the lighter options.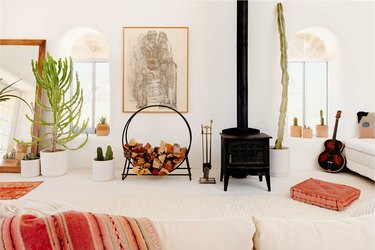 A family room with white carpet could seem risky. But there are ways to ensure light-colored floors stay pristine. We love waterproof and stain-resistant options, but you can also add a few layers of Scotchgard to any family room carpet that gets a lot of foot traffic. Keep the rest of the space light and airy, but add a few indoor plants for color.
3. Use carpet tiles.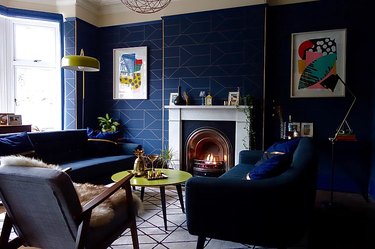 To really customize your family room, try installing carpet tiles. They'll let you mix and match designs to create an individual look. Making Spaces used carpet tiles in this living area, and the result is unique and just a little midcentury. Get a similar aesthetic by selecting an option with tons of lines and angles. Add a geometric wallpaper, too, if you're really craving pattern.
4. Have fun with florals.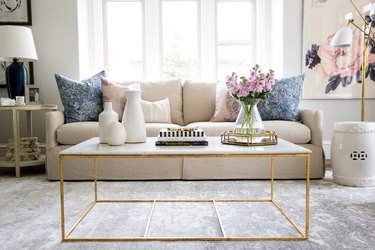 Add florals into the mix if you want a family room that's vibrant and sweet. And as a bonus, the pattern will be great for disguising stains. We love how the flowery flooring in this Studio McGee space complements the gold-trimmed coffee table and feminine decor.
5. Layer a rug on top of carpet.
Layering a rug on top of carpet can really take a space from plain to extraordinary. Here, Chango & Co. placed a vibrant area rug over grasscloth flooring in a coastal family room. And we can't help but be impressed. If you go this route, make sure the base carpet is neutral.
6. Look for a rug with texture.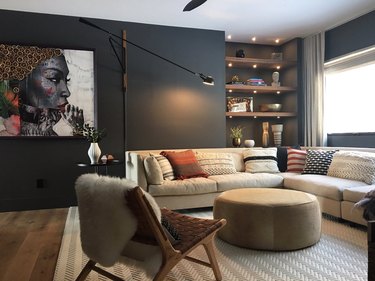 This family room from Dichotomy Interiors is perfectly modern. Get the look by daring to go with black walls and expressive wall art. To keep the space grounded, add a textured rug that's large enough to span most of the room.
7. Invest in real wool.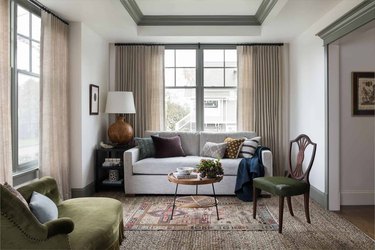 The gorgeous wool carpet in this small family room that Heidi Caillier designed is perfect. It creates a feeling that's both elegant and warm. Plus, it will last forever because wool flooring is incredibly durable. Let the carpet be the star of the room by going for neutral window treatments and a simple couch.