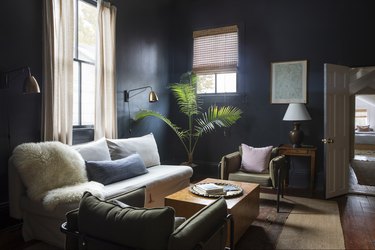 The perfect kinds of family room window treatments can completely set the tone for the entire home. Yes, the wall art, furniture, and layout are important. But the windows serve as apertures. They let light in to brighten a space while also offering a glimpse of what's outside.
It's no wonder, then, that there are so many different kinds of window treatments for family rooms. There has to be a variety to satisfy the wide range of interior styles. We're talking rustic wooden slats, minimalist Roman shades, luxe curtains, and more. In addition to the style, you have to consider the location of the window and the size of it. And if you hang your family room window treatments too low, just prepare to commit one of the most common decorating mistakes.
So how do you choose the right family room window treatments for your space without wasting money? We've got all the information you'll need right here.
1. Bold, Never Boring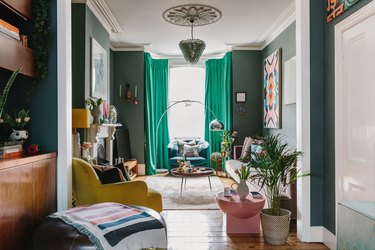 It's the center point of the home, so a family room should be fun! Whether you let your curtains be the only pops of color or go for bright window treatments that match brightly-painted walls, don't be afraid to be bold. The green maximalist effect in this North London home is exuberant in the best possible way.
2. Bright and Airy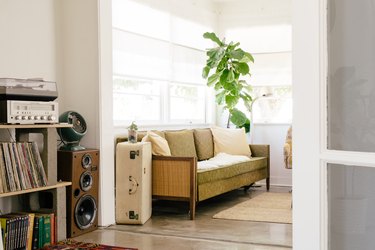 Vintage lovers usually want their antique furniture and decor to be the focal points in the room. Consequently, simple white shades, like the ones in this eclectic bungalow, are the perfect family room window treatments. They're translucent enough to allow a flood of natural light, but they also offer privacy. We especially like the dash of modernity these crisp white window coverings add to a midcentury space.
3. Mixed and Matched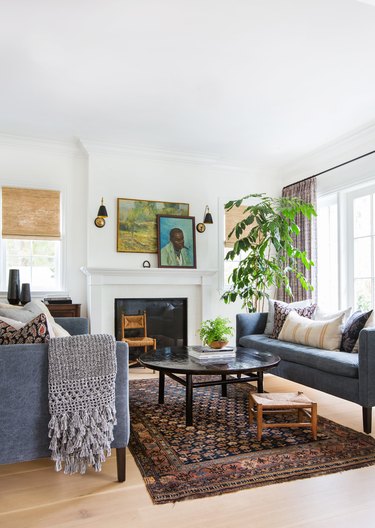 Shake things up with a combination of family room window treatments. A medley of shades and curtains lets you play with pattern. And matching gray couches will give your room a refined yet casual feeling. Moreover, when piecing a room like this together, use complementary colors. Even busy patterns can work so long as there's balance, hence the natural shades combined with the more ornate drapes seen here.
4. Sheer Serenity
This space holds a lot of character but feels open and airy. The sheer curtains exude a softness that counters the straight lines of the couch. And the minimal decor makes the room feel larger. To create this look, remember to keep it clean and simple with perhaps one bold element like a fun rug.
5. Au Naturel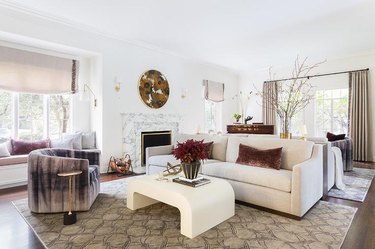 Neutral or greige tones should be a go-to when picking family room window treatments for a space that's classy and elevated. In fact, if you use similar, simple hues, you can play with multiple textures and styles. The result will look both modern and organic. You can bring everything together with a complementary coffee table.
6. Fanned Out
Here, sheer Roman shades with a playful fan shape allow for privacy without taking away from beautifully framed windows. The folded detail also injects a subtle artistic touch and sense of movement to a more structured family room. Yes, the style feels a bit old school. But with modern furniture and lots of fresh greenery, it completely works.
7. Moody but Mature
Embrace the darkness. Your family room window treatments don't have to be light and bright. In fact, going the opposite route with moody blackout shades can look so chic. Black Roman shades, in particular, offer the best of both worlds. They fold all the way up to let the outdoors in, but block every speck of light when you're napping (or just impressing your friends with your bold decor).
8. Peekaboo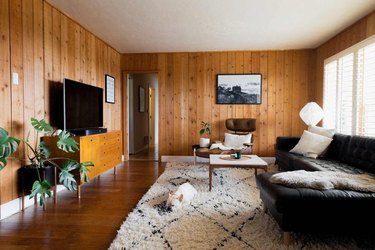 Shutters often lean more farmhouse or coastal. They can work with other decor styles, though ... even contemporary ones. These window treatments add heaps of charm and open just slightly, so they're ideal for urban spaces. You can let in light or veil views you don't always want to see. Best of all, shutters are easy to clean.
9. Light on Dark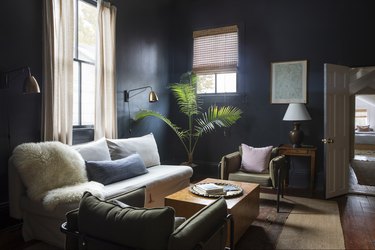 Brighten up dark-colored spaces with raw or natural materials like linen, bamboo, and wood. Use this deep blue family room as inspo. It has both light linen window treatments and bamboo Roman shades. And we're not surprised at all that the resulting effect feels cocoon-like but not claustrophobic.
10. Uncovered
Instead of covering stunning windows, play them up by placing window film over the glass. That way, you won't have to worry about people peering in. Window film can even block up to 100% of UV rays that damage decor over time. (Can you imagine if those unique side chairs got discolored?) Take advantage of the natural light, and fill your family room with plants, a chic lamp, and rounded furniture to add movement.