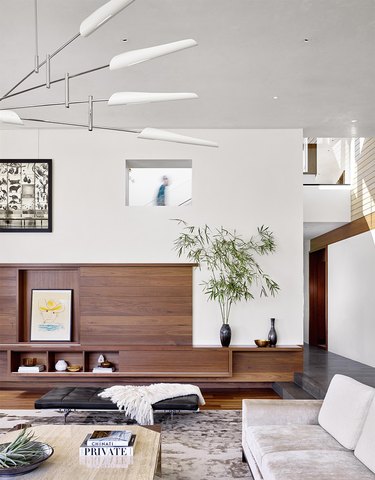 Part of contemporary design's beauty is that it literally means "of the moment," so it's fluid and constantly changing. However, this also makes the look a little tricky to nail down. To help make your life a bit easier, we've compiled an epic assortment of 11 Instagram-worthy contemporary living room ideas that are sure to knock your socks off. So sit back and start scrolling.
1. Embrace color.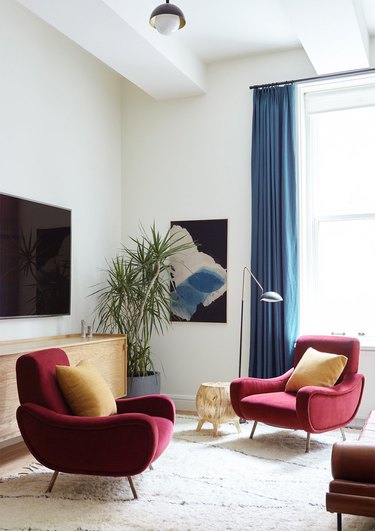 The juxtaposition between the floor-to-ceiling blue drapery panels and the jewel-tone velvet lounge chairs with yellow accent pillows is quite striking in this New York pad designed by Consort. Coupled with a leather daybed and pops of greenery, this space feels vibrant and lively.
2. Or, opt for neutrals.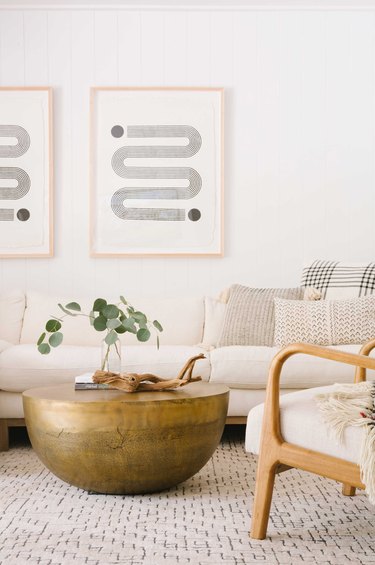 There's something to be said for the ease of neutral color palettes. The blend of textures in this contemporary living room designed by Amy Oppedisano of Salt Coastal Interiors is super inviting. And if we had a sofa like this, well ... you'd know where to find us 24/7.
3. Incorporate art.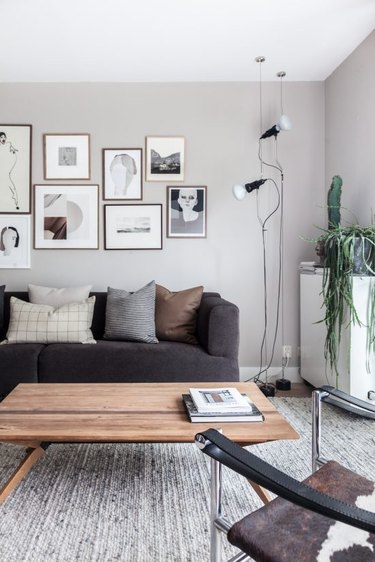 There's nothing sadder than a bare wall behind a sofa. But that's an easy fix thanks to this creative contemporary living room idea, designed by Avenue Lifestyle. The gallery wall serves as a focal point, plus it also pulls out the warm hues of the pillows, creating a curated aesthetic that's thoughtful but not fussy.
4. Tell a story.
Kim from The Minimal Animal weaves a rustic black and white fireplace, a kilim rug, a brass coffee table, and a surfboard into a cohesive living space that tells a story. Rich textiles add even more interest and snuggleability. (That's a word, right?)
5. Focus on finishes.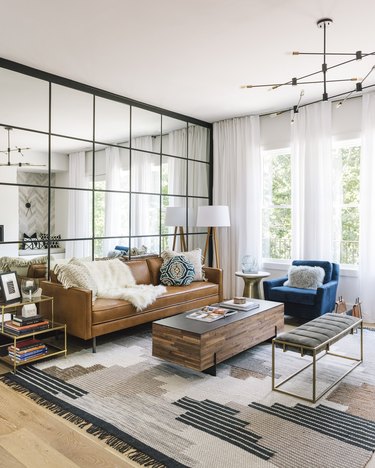 This light-filled townhouse is the epitome of contemporary cool. The walnut coffee table and sculptural chandelier lend a midcentury vibe, which is counterbalanced by rustic accents like the camel leather couch and handwoven wool rug.
6. Get global.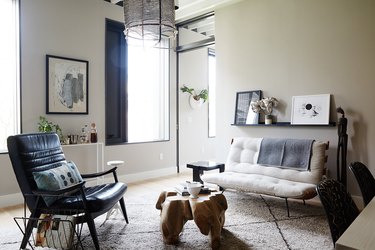 The design studio Nune beautifully captured one of our favorite contemporary living room ideas in this Brooklyn residence. A mix of fabrics, motifs, and tchotchkes create a worldly vibe, while artisan-made throw pillows and furniture add a lux touch.
7. Consider built-ins.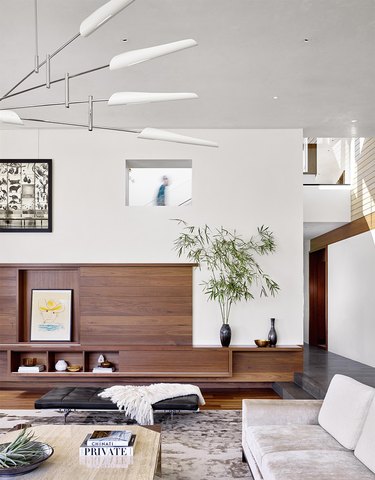 The built-in millwork is definitely the star of the show in this Austin, Texas living room designed by Aamodt/Plumb. Filled with tomes and personal items, its warm wood finish anchors the space without sacrificing the airy, loft-like quality that makes this space so special.
8. Let nature shine.
Contemporary design meets organic elements, like the palm tree casually sitting in the corner of this striking living room designed by White Arrow. And can we talk about the natural light pouring in through the beautiful set of arched windows?
9. Inject vintage flair.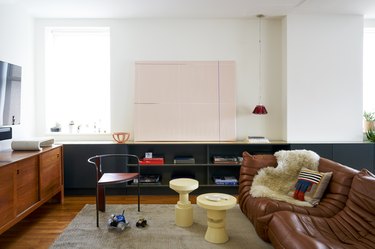 We love the way the team over at General Assembly paired vintage furniture and lighting with more contemporary pieces in this Brooklyn penthouse. Original art ups the cool factor, while rich colors and finishes warm things up.
10. Think pink.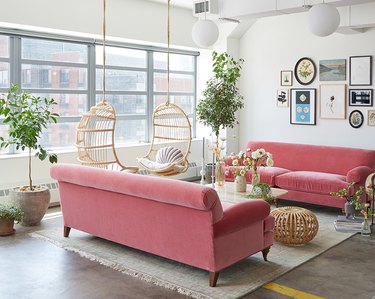 We're swooning over the combination of pink velvet sofas, hanging chairs, and concrete floors in this sitting area designed by Homepolish. The result is feminine and fun. And how about that gallery wall?
11. Mix and match.