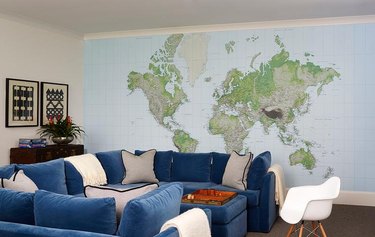 It's important to incorporate fun family room wall ideas into your design because family rooms are often the most-used spaces in our homes. It's where loved ones congregate and create memories together. It's in these spaces that camaraderie thrives. The furniture, decor, and lighting need to be just right.
You want your design to be unique, though. And it doesn't hurt at all if visitors are jealous of your family room wall ideas. Why not give them something to talk about? To help you transform your space — whether you have children or it's super compact — we compiled the perfect design plan for multiple kinds of homes.
You're going to want to take a few notes.
1. Hang a silhouette of each family member.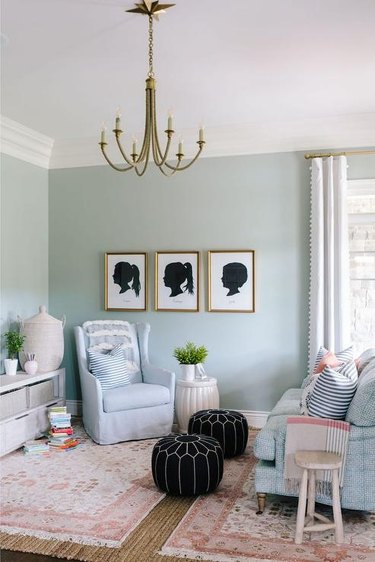 Silhouette prints are part of a vintage trend that's finally making a comeback. And we love this kind of retro art in any room; it adds a personalized touch to family room walls especially. Plus, you can usually find silhouette prints in antique thrift shops. Buy your own versions to create a mismatched aesthetic that feels as cozy and beautiful as this one. Then search for accent chairs in complementary tones.
2. Frame children's artwork to create a unique gallery wall.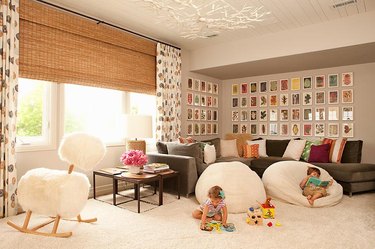 Hanging up your children's art can encourage creativity and make them proud of their work. So why not do more than pin their crayon drawings on the fridge? Display multiple pieces of their DIY art in a uniform set of frames and get ready for a huge visual impact on a large, empty wall.
3. Add vintage prints.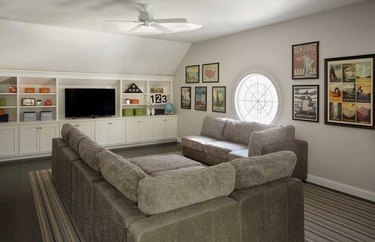 Vintage prints are interesting and unique decor; take these ads for national parks. They're typically inexpensive, and they reference geographical history. Place your own vintage poster in a frame, and bring the outdoors in. We love this approach in a crisp white family room with ample storage, too.
4. Create a wall of numbers.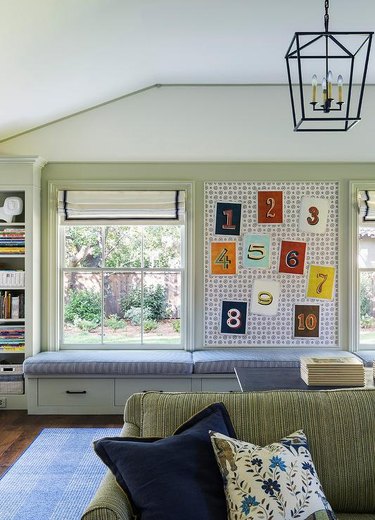 Hanging up number prints in unique typography is a great decorating technique if you have children. It adds a bit of fun to your home while providing your kids with an educational moment. Look for prints that come in different colors and keep other elements of your family room, like light fixtures and window treatments, elevated. You'll be glad for the balance of maturity and whimsy.
5. Hang a giant map.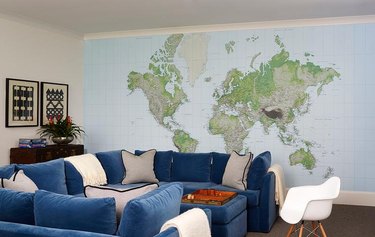 We love incorporating maps into decor, and the grander the map the better. It can make any small space feel more worldly. Moreover, if you want a family room wall idea that's as interactive as it is cool, you need your own map. Feel free to even mark the places you visited to further personalize the piece, and place your couch right in front of the decal. It can be the focal point.
6. Go for something botanical.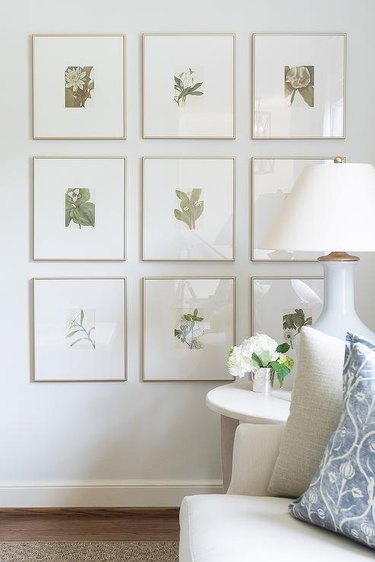 For simple yet classy family room wall ideas, think about adding a fun selection of framed botanical prints. They'll add a pop of color to a greige room without overshadowing your other furniture and decor. For people who don't have the time or energy to take care of house plants, this is a great alternative!
7. Don't be afraid to mount an animal head.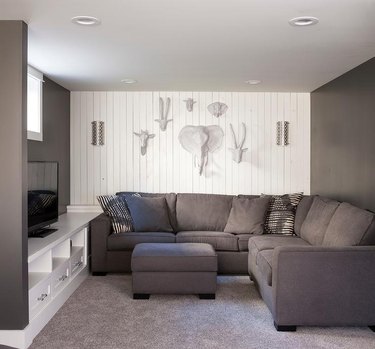 Mounting a ceramic animal head is a great way to draw upon kitschy rustic cabin decor without having real animal heads in your home. Better yet, you can get paper mache animal busts and paint them any color you want! If you want to do a collection of them, we suggest going for an all-white palette. It will make your family room wall seem more modern.
8. Put up a sketch of your favorite animal.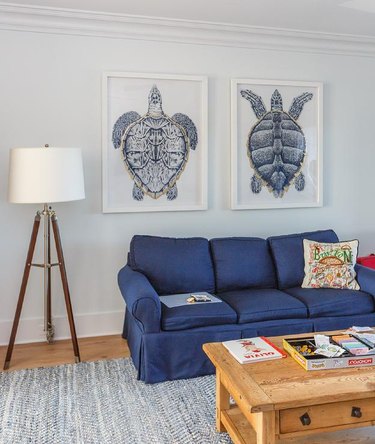 Botanical illustrations are on trend right now (hello, boho style), and observational scientific sketches of animal life are growing in popularity, too. Pick a series of drawings of your favorite fauna in the color scheme of your choice. Go for a blue motif if your family room leans more coastal.
9. Look into some industrial family room wall ideas.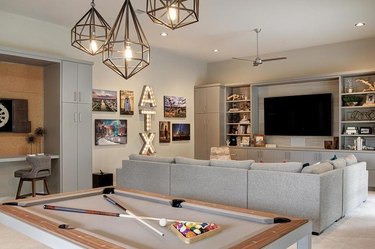 Hanging marquee letters that reflect the initials of everyone in your home is great way to customize your space. Additionally, fun pendant lights like these ones can create an industrial vibe. Add a few interesting photographs to the mix too if you want your family room to feel even more personal.