Even if you don't live in an idyllic cabin in the mountains, you can pull off a perfectly rustic living room no matter where you live. There's just something about warm, knotted wood, plush furniture, and a roaring fire that makes a living room seem even cozier.
Megan Oldenburger, owner and designer at Dichotomy Interiors, couldn't agree more. Based in Woodstock, New York, Oldenburger is known for creating modern, organic spaces swathed in rustic elements, aka rooms that reflect the beauty of the surrounding Hudson Valley and Catskills regions. "I hope my spaces feel modern, clean, and crisp, but with a warmth that only organic and handmade materials from nature can bring," the designer tells Hunker.
Oldenburger believes that rustic design and living rooms go hand in hand. "Aside from the kitchen, the living room is where most people spend the bulk of their time," she says. "Keeping things warm, organic, and rustic help keep the space relaxing and cozy so everyone can feel truly comfortable enough to play a game, have a glass of wine, or just read a good book all in one space," she elaborates.
If you'd love to achieve a rustic motif in your living room that celebrates the great outdoors while incorporating modern aesthetics, you're in luck. Ahead, we ask Oldenburger to impart her go-to tips for crafting the coziest, warmest, and prettiest rustic living room possible. Prepare to gain inspiration from these designer-approved rustic living room ideas.
Tip #1: Choose a neutral, yet warm color palette.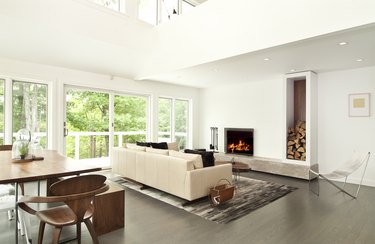 Rustic living room ideas tend to stick to a classic palette of neutrals and warm tones, and Oldenburger's interiors are no exception. "I tend to create very neutral but warm color palettes because my projects tend to have a lot of windows that highlight the scenery outside," the designer shares.
When recreating the look in your own space, aim to strike a balance between the colors represented inside and the scenery viewed outside. "There is typically so much nature, greenery, and mountains outside that I like to make the inside warm and neutral to let the views shine," the designer explains of her approach.
Tip #2: Layer textures.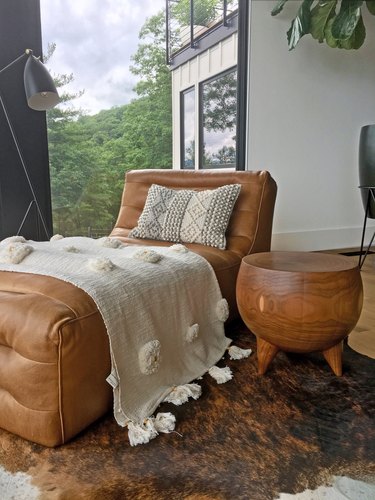 Texture should be top of mind in a rustic living room, according to Oldenburger. In fact, it's one of the main factors the designer considers while layering a space. "I like to incorporate greenery and foliage in my living spaces to help dissolve the boundary between the outside and inside, as well as wood, leather, steel, and wool," she says.
She also encourages experimenting with different textures as the seasons change. "Texture is one of the things that can be swapped around," she explains. "For instance, I typically remove my sheepskins from my chairs in the summer months and replace them with gauzy throws."
Tip #3: Blend modern and organic furniture pieces.
For example, if Oldenburger places a sleek sofa in a living room, she balances it out with a big, organic coffee table, ideally sourced from a local, small business. "I like to have at least 20% of my furniture be either custom, handmade, or from a local artisan," she reveals. "I love finding artists and makers in the area that I can incorporate into my work."
Don't hesitate to incorporate design styles that you might not typically think of as rustic. Oldenburger for one frequently includes midcentury furniture in her rustic designs. "I think my spaces try to pay homage in some way to some of the great furniture designers from the midcentury as well," she says.
Tip #4: Bring in nature.
Oldenburger asserts that plants are a rustic living room, or any room for that matter, must-have. "Spaces without any greenery make me sad, and within the last few years, they have been making some cool planters that up the game for displaying your greens," she says. Even though Oldenburger loves live plants, she's an advocate for mixing together real and faux greenery. "For every real plant or tree, get a decent fake one to mix in," she advises to all the black thumbs out there.
Tip #5: Be specific with materials and finishes.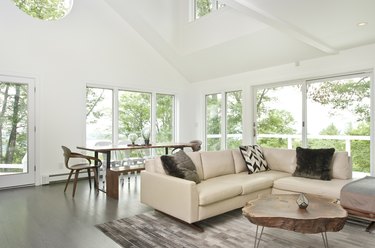 When it comes to the materials Oldenburger uses in her rustic living room ideas, she is particular about the type of wood and finishes she incorporates into a space. "I love spalted maple with a white wash on it, as well as walnut, which you can see in many of my homes, but I also love the neutrality of white oak, especially when it's rustic and has character and knots," she says. Follow the designer's lead, and seek out materials and finishes that you love and make them the focal points in your living room.
Tip #6: Opt for statement-making light fixtures.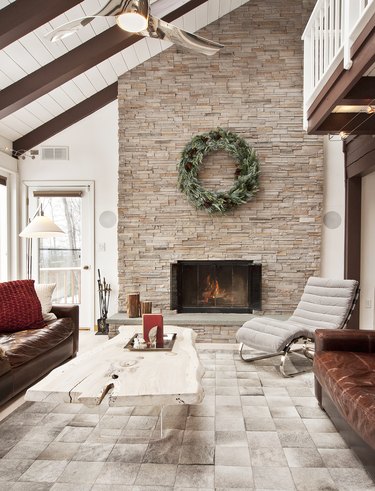 Soft lighting is essential to achieve an oh-so-cozy vibe in a rustic living room. To create even more visual interest, Oldenburger often turns toward big, bold light fixtures to make a statement and bring a feeling of juxtaposition to a room.
"I probably spend far too much time dwelling on lighting, but they can really change a room, and at night, they have a big impact," the designer shares. "I have found some great fixtures on 1stdibs and Chairish for vintage chandeliers. For contemporary lighting, Restoration Hardware is always a reliable vendor. I've used their giant brass dome pendants in two projects. For discount lighting, I like to shop on Wayfair or France and Son."