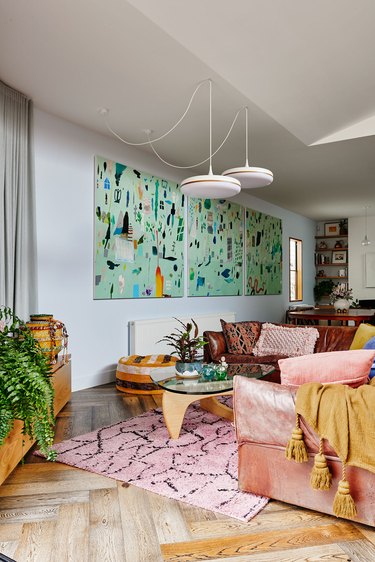 If you're anything like us, you spend most of your downtime relaxing in your living room. Whether you're reading an engrossing novel or binge-watching the latest hit Netflix series, the perfect lighting — that fits the style of your space and sets the right mood — is essential. For the budget-conscious, swapping out a light fixture is a relatively small-scale update — on par with adding a new throw pillow to your sofa or swapping out a print in your gallery wall — that can truly transform a space. Need proof? Ahead are eight living room lighting ideas that demonstrate the dramatic impact a light fixture can have on a space.
1. Consider a flush mount fixture.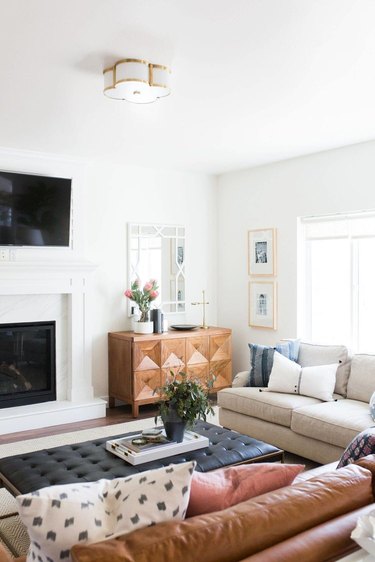 If your pad has a low ceiling height that doesn't mean your living room has to go without lighting. Thanks to a flush mount fixture you can add a luminous glow to your space without having to duck your head every time you walk under it. This classic silhouette by McGee & Co. is a simple, yet charming option that makes a statement without getting in the way.
2. Opt for a semi-flush mount fixture instead.
Semi-flush mount light fixtures — especially those with chic shades — can make your living room feel more posh. However, their added benefit is that, since they don't hang too low, they won't compete with the rest of your design's aesthetic. The ceiling light in this colorful living room created by Blackband Design is small enough that it's not distracting, but will add an extra layer of illumination to complement the recessed downlights.
3. Keep it sleek with recessed lighting.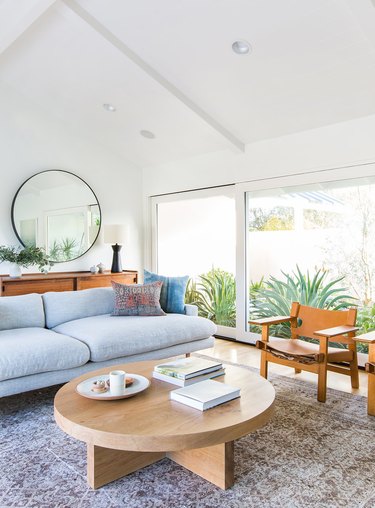 Speaking of recessed lighting ... these fixtures blend right into the ceiling, which is why they are such a popular choice for modern living rooms. And, while it's a more in-depth DIY project than you might normally be used to, learning how to install recessed lighting yourself is doable and the clean look will improve the overall aesthetic dramatically. For example, the A-frame architecture of this space designed by Amber Lewis is allowed to take center stage without any distractions from hanging light fixtures.
4. Accent special areas with wall sconces.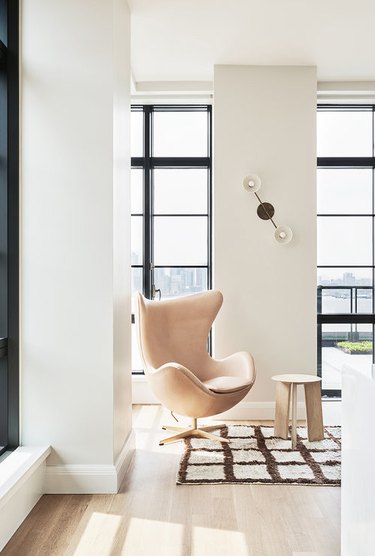 Whether you're framing a fireplace, drawing attention to built-in bookshelves, or highlighting a cozy reading nook, wall sconces are one or our favorite living room lighting ideas. They make great accents as demonstrated by the swanky light fixture illuminating a corner in this Manhattan abode, designed by the team over at Nune.
5. Make a statement with a chandelier.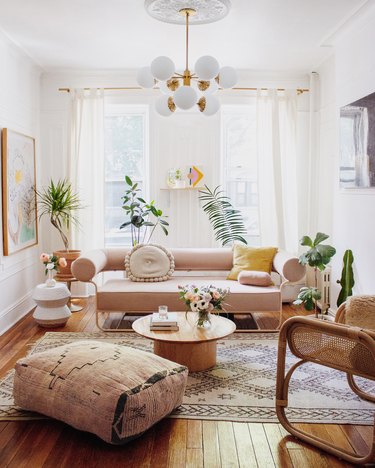 Chandeliers aren't limited to illuminating dining tables or entryways. Opt for this living room lighting idea when you're lucky enough to have plenty of ceiling height to play with. That's what Mallory from Reserve Home did in her boho-chic living room. She went with this stunning two-tier fixture from Hudson Valley Lighting which adds a hint of glam.
6. Or try pendant lighting.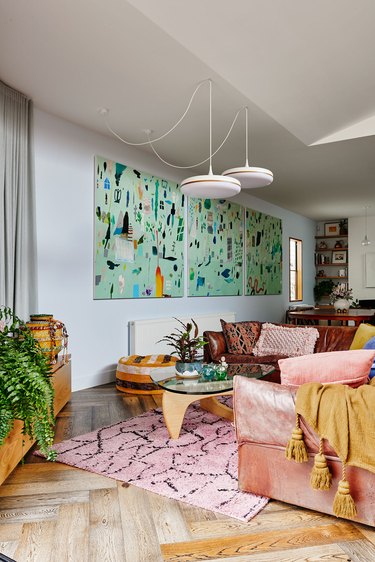 The drop of your light fixture can really affect the look and feel of your living room. Play with different measurements to see what height you like before committing. A suspension style pendants, like the ones in this living room captured by photographer Nikole Ramsay, are a great option because the long cord gives you plenty of wiggle room to adjust the height to your heart's content.
7. Don't forget floor lamps.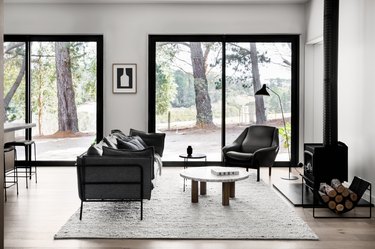 If your living room isn't wired for an overhead fixture or you simply want to make your space feel more bright and inviting, adding accent lighting can help. This black and white space designed by Studio Esteta features a modern floor lamp that will brighten up the corner beautifully.
8. Draw attention with a table lamp or two.