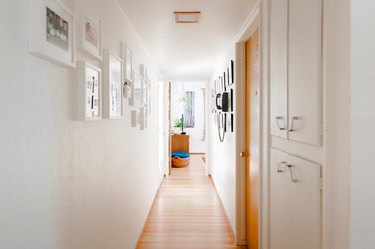 Lighting a corridor presents a specific set of challenges. For a narrow space that can occasionally feel kind of cramped, it's essential to choose a wall sconce, table lamp, or hallway ceiling light that illuminates your passage in the right way. You'll want to enhance the area, complement your existing interior design, and keep the walkway clear. Succinctly put, a clutter-free, well-lit zone should be a priority, which makes minimalist hallway lighting a great option to explore.
For instance, a semi-flush mount minimalist light source could serve as a stylish option to help accentuate a gorgeous console table. Alternatively, modern look track lighting can highlight artwork that lines the walls, helping to create a museum environment in your home.
1. Try ceiling lighting with an interesting shape for contrast.
Talk about a statement piece. This corridor from Studio Matsalla capitalizes on the use of different shapes to liven up the space. A round mirror contrasts beautifully with the angular hallway light fixture. And the matte black finishes make the organic area feel a bit edgier. For a similar effect that feels both elegant and cool, pair geometrically diverse accents with a neutral color scheme.
2. Choose a finish that stands out.
We love a shiny fixture. And this brass flush mount ceiling light from Bright Design Lab proves that minimalist additions can have a simple design ​and​ still be eye-catching. Herringwood bone wood floors, rounded archways, and the metallic lighting solution come together beautifully to create a warm, glamorous space.
3. Use a number of lights to frame your hallway.
There's no denying it. These stunning pendant lighting fixtures make this hallway and staircase pop. To create the look, Ronen Lev designers paired the custom ceiling globes of varying lengths with dimmable wall lights. And the end result is a cohesive, stylish, and well-lit hall that looks like it could be in an art studio.
4. Go for a simple design idea that has modern touches.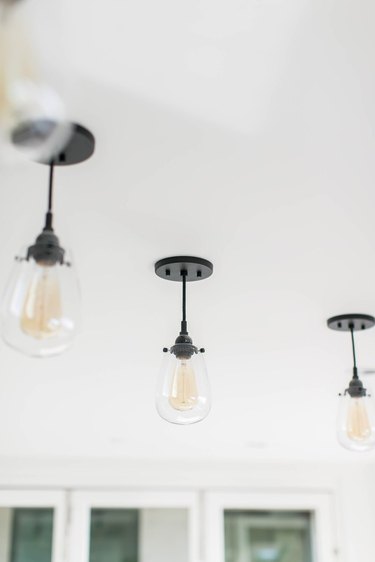 We love adding multiple fixtures for effect. And these sculptural glass pendant lights from Blackband Design are equal parts simple and modern. The size is modest enough to help a smaller entry hall appear larger. Yet the minimalist ceiling lights are interesting enough to add personality and flair to any space. If you go this route, install Edison light bulbs to enhance the look.
5. Mix and match ambient light.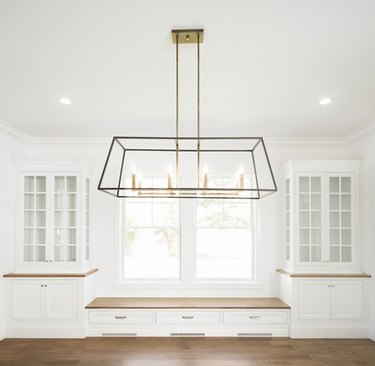 Talk about a classic space. This lovely hallway design from The Fox Group features recessed fixtures (along with plenty of natural light). But it's clear the minimalist chandelier is the intended focal point in this clean, white, and wood-accented area. Add multiple light sources to get a similarly layered look.
6. Choose hallway ceiling fixtures that complement your other home decor.
Arched details instantly add character to a house. As this hall makeover from Amber Interiors demonstrates, the elegant architectural accent can pair well with all types of lighting. In this case, we appreciate the simplicity of the clear glass shades with brass bases. Plus, they effortlessly complement the warm rug color and even the bedroom accessories.
7. Use recessed lighting to illuminate dark hallways.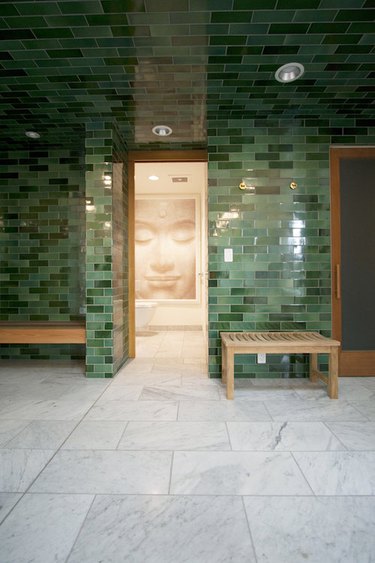 Want an inconspicuous lighting option that creates ambiance but doesn't overshadow the gorgeous shade of your glossy tiled walls? Go with recessed fixtures like the ones in this Bright Design Lab hallway. The minimal accents add depth and can also be outfitted with a dark-colored trim to absorb light in the event that you want to create a more subdued mood.
8. Make sure the light fixture complements the door frames.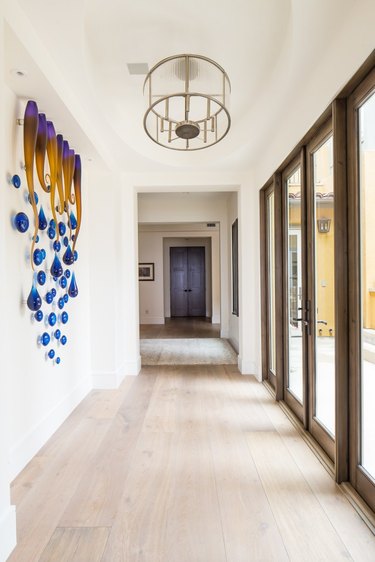 There's something so soothing about this hall with high ceilings. From Blackband Design, the sleek setup manages to draw the eye to the round light fixture, which complements the door frames and the natural light flooring. Moreover, the wall decor introduces a vibrant ambiance to the otherwise neutral space.