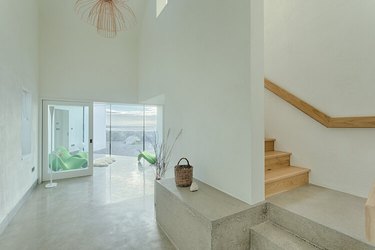 There's no better area in your abode to experiment with simple, purposeful home decor than in the hallway. In other words, we're encouraging you to allow some minimalist interior design into this oft-neglected space that deserves just as much attention as the rest of your dwelling. Monochrome wall art, a modern console table, and compact storage solutions will all thrive in this transitional area. Whether we're talking small hallways or grand entrance halls, minimalist design can work and still feel incredibly eye-catching. Even subtle changes like updating your wall paint and nixing bulky shelving can make it feel like you've completed an entire makeover or remodel for just a fraction of the cost. To push the design a little further, get creative with refined lighting fixtures and a few DIY hallway decor ideas.
For more on how to execute a look that is both simple and interesting, check out these seven minimalist hallway ideas.
1. Paint the walls white.
Ask about minimalist decorating ideas, and the conversation will invariably include a mention of white walls. The style doesn't necessarily have to include that particular color scheme (even dark hues can feel minimal), but this hallway offers a fine example of the all-white aesthetic working its magic in a narrow hallway. We love the pairing of creamy walls with light wood accents, a mirror, and mounted antlers that offer just enough dimension to keep the space from feeling washed out.
2. Build a functional look around an accessory.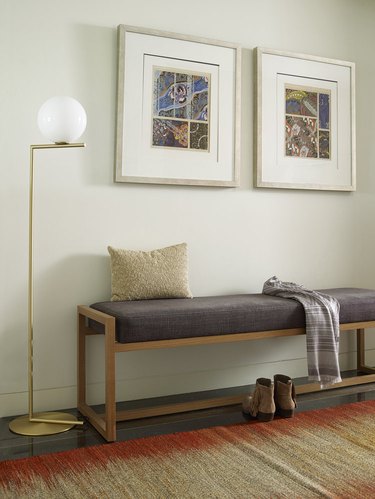 A minimalist hallway doesn't have to feel cold and cavernous, as demonstrated by this warm, small entryway design from Kathleen Walsh. In a similar hall, you can recreate the look with a cushioned bench. Just don't add too many throw pillows or blankets. To really up the ante, find subtle art that complements the color of the bench, and add a hall lamp for functionality.
3. Let the open space speak for itself.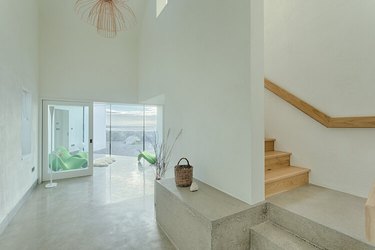 Aside from a striking wire chandelier and a built-in concrete structure, this minimalist hallway by Peter Legge Associates is sparse but beautiful, thanks to the stunning architecture. The simple color combination, glass door feature, white walls, and poured concrete floor enhance the open, airy feeling of the understated yet sophisticated space.
4. Incorporate a round mirror.
Liven up your entryway or minimalist hallway decor by hanging a large round mirror near the front door. Follow the blueprint of this simple yet refreshing Scandinavian-inspired design by pairing your mirror with a rustic wooden bench. Then add a decorative throw or blanket for warmth and style.
5. Stick to simple statement pieces.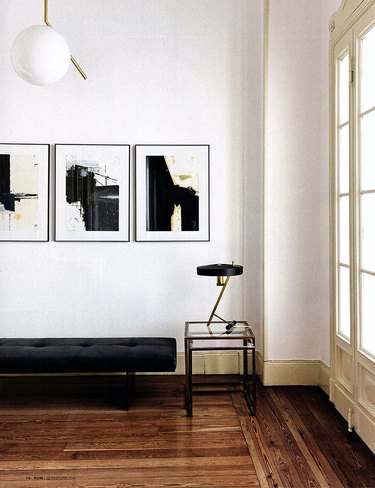 Each piece in this minimalist entry hall from Gold is a Neutral stands out on its own (we'll take the round pendant light), but together the items make for a soft, elegant combination. Warm white walls serve as the backdrop for the black and gold color scheme. With the addition of a leather bench, a small mirrored side table, and a matching black lamp, the space feels functional and simple at the same time.
6. Add a pendant fixture to light the way.
Beautifying a stylish hallway with dramatic arches doesn't take much work — the architecture will be stunning enough on its own — however, these gorgeous pendant lights manage to do just that in this Studio McGee design. To get the look, keep the paint color crisp and white, go for hallway lighting with transparent bulbs and gold hardware to add warmth, and finish accessorizing with a large wall painting. Skip the runner to let the woodwork shine.
Want another way to anchor your minimalist corridor? Focus on symmetry. This storage hallway design accomplishes that feat with painted wall paneling and wooden floorboards with complementary lines.