Hallways are the understated workhorses of the home. We walk through them all the time. More often than not, during those transitions, we need to pick up or put down different items, take off a coat or grab a bath towel. And what's the key to keeping those miscellaneous objects organized? Hallway storage.
Whether you go with a sideboard in the entryway hall, a narrow bookcase in between the mudroom and garage, or a freestanding hall tree and cubbies by the front door, you'll need something that can corral your bits and bobs. We also recommend choosing pieces that are as beautiful as they are functional.
Here are seven ingenious hallway storage solutions to help you get the look.
1. Tuck baskets under a console.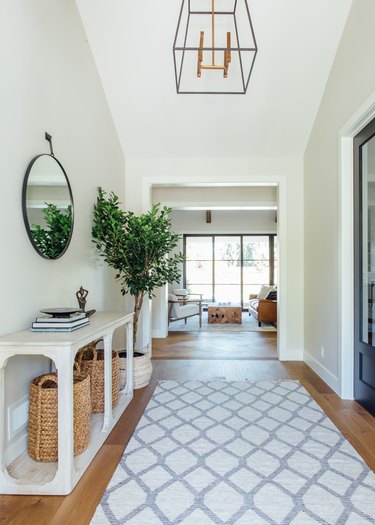 We've sung the praises of baskets as smart storage solutions before, and we'll do it again. Michelle Lisac Interior Design knows the power of a large woven bin too, as demonstrated in this wonderfully wide hallway. Make the most of your floor space — in a sleek, stylish way, of course — by tucking baskets under a console table, so you can always know where your scarves, shoes, or mittens are. (We've got an easy and affordable basket DIY you can follow, here!)
2. Don't leave dressers in the bedroom.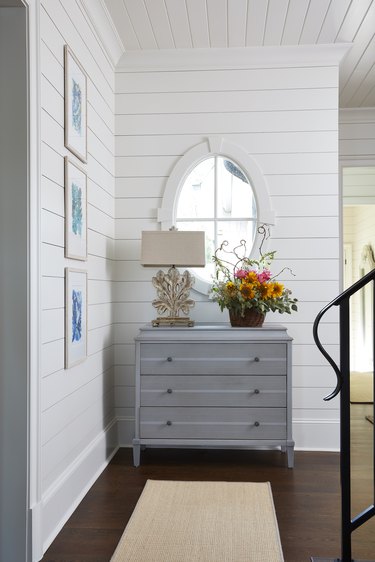 A chest of drawers in the hallway can corral backup items — like candles, lightbulbs, and batteries — that you're always looking for and can never find. Designer Maggie Griffin placed a solid wood option in the corner of this hall, making for a sweet design moment that's super functional.
3. Go wild with wallpaper and shelves.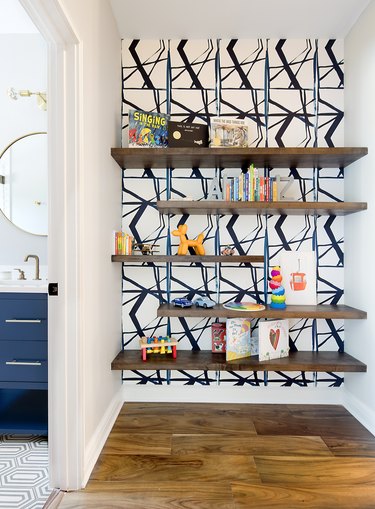 Who said you needed a bulky entryway storage unit? Etch Design Group put the end of this hallway to work as a cool, colorful kid zone. First, there's the splash of a graphic wallpaper, then there are the floating shelves of varying lengths to store and display your little one's best-looking books and toys. Has the end of an entry hall ever looked so fun?
4. Showcase your favorite objects.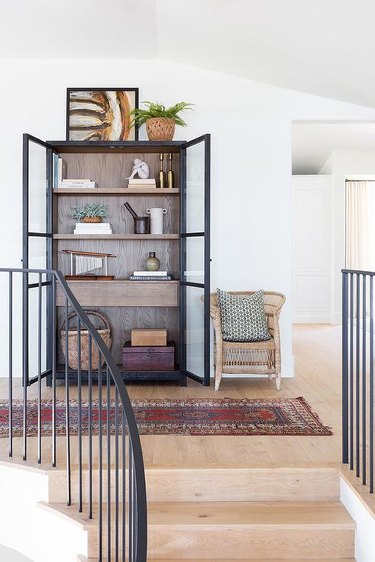 The top of a staircase can be a tricky space to decorate. But here's one (really good) idea: Use the area to show off your favorite books, artwork, plants, and other trinkets. That's what Kate Lester Interiors did here, thanks to a cabinet with glass doors (IKEA carries similar versions). It's a stylish hallway storage solution that keeps meaningful objects safe and on display.
5. Combine seating and shelving.
If this isn't the sweetest hallway. Not only is it charming, but the shelving and seating combo also makes it incredibly practical. The subtle floating shelves, which are white to match the wall, provide ledges to prop artwork or house everyday essentials like keys. If you go this route and need additional storage, simply tuck baskets under the bench.
6. Seek out storage solutions big and small.
If you're not lucky enough to have built-in storage in your hallway, take note of the simple outerwear storage idea on the blank wall here. A sleek coat rack provides the perfect spot for jackets, hats, and anything else you don't want to forget before walking out the door.
7. Make the most of an awkward space.
As we previously mentioned, the hallway at the top of a staircase can be a bit difficult to design. Leave it to Emily Henderson to solve the awkwardness of a landing with built-in cabinetry that's beautiful and ultra-practical. Store books on the open shelves, place artwork up top, and tuck away more unsightly items (such as board games or cleaning supplies) behind the cabinet doors. Hallway storage solved.