If you've decided to pay some long overdue attention to your hallway, you've landed in the right place. More often than not, these little corners of our home remain untouched and a last priority to decorate (you're not alone, we promise!), taking a backseat to rooms that we spend hours upon hours in (think: kitchen, living room, office, etc.). But there's something to be said for investing a little time and energy into the connectors of our home. You may not clock long hours in them, but that doesn't mean that they're not a central and essential part of the house. Today, we're sharing hallway ideas and inspiration that can make a huge impact, from design and decor to lighting and storage.
Whether your hallway is small and narrow or airy and spacious, keep scrolling for everything you need to know about turning this forgotten area of your home into a gem in its own right.
First things first: You need your hallway design to function well. Whether yours operates simply as a pass-through or as an additional storage spot for things like coats, shoes, backpacks, and more, it's important to find a layout that works best for your home.
For a narrow hallway, try a layout that employs wall hooks, shelving, or even built-in cubbies. In a more spacious hallway, place a console table with storage baskets tucked underneath. If your hallway is simply a pass-through, a long runner can often be a sufficient way of adding a touch of texture and color, as well as a functional piece that adds traction to wood flooring.
Hallway Storage/Organization Ideas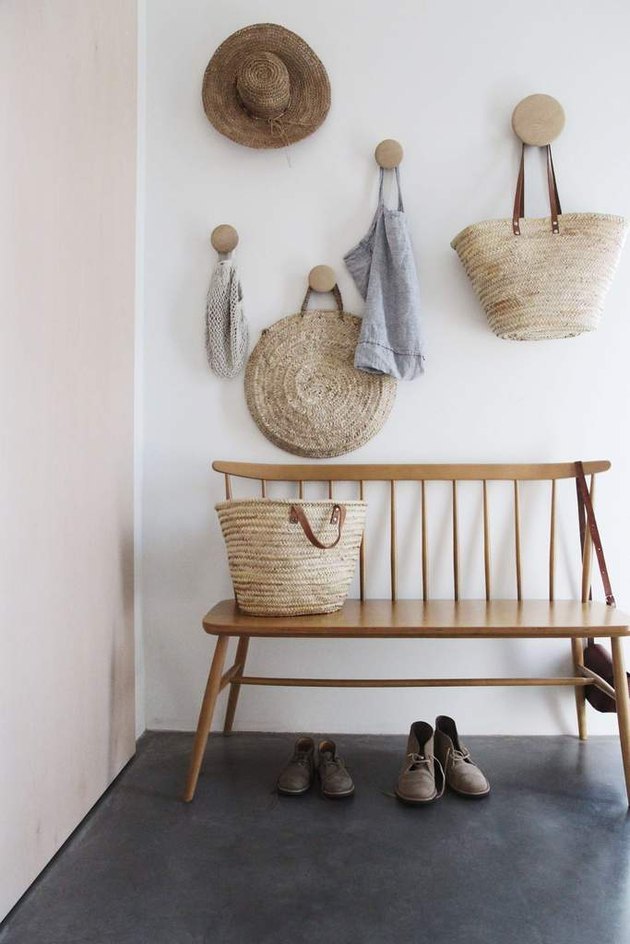 Including sneaky storage in your hallway can be done easily and effortlessly with woven baskets, or by hanging stylish jute bags on wall hooks. If you've been #blessed with more square footage and a bigger budget, try installing custom built-ins that cater to the size and shape of your space. Tuck away items like seasonal candles, umbrellas, scarves, and additional overflow storage from your entryway.
Hallway Furniture and Decor Ideas
Even though it may not be a bonafide room of its own, there are plenty of hallway ideas that prove you don't have to skimp on style or creativity when it comes to furniture or decor.
Showcase a statement bench with a gorgeous Turkish runner, or create a go-to spot to double check your hair and makeup with a sleek console table and hanging mirror. If you're short on space but want to make a splash, consider wallpapering your hallway walls in lieu of artwork — you'll find that it makes for a bold and elegant transition between rooms. If your budget is tight, or wallpaper makes you nervous, you can always consider paint to add a pop of color and visual interest.
It's essential not to overlook the lighting situation in your hallway — after all, the entire purpose behind this thoroughfare is to travel from one room to the next, making it a high traffic area. Lighting is the perfect opportunity to personalize your space and add your own sense of style, thanks to options ranging from statement pendant lights to plug-in sconces to minimal table lamps.
Consider hanging oversize rattan pendants for a decidedly boho vibe, or add a modern touch with industrial wall sconces. If you're renting or just prefer to keep it simple, opt for flanking a console table with one or two table lamps for extra ambient light.
Where to Shop for Hallway Idea Must-Haves