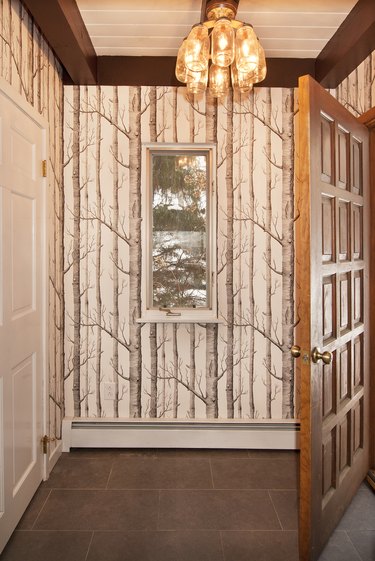 Getting from here to there in your home is something we spend little time thinking about once we're in a committed relationship with it. But there was a moment when you were figuring out if it was time to go steady. This meant looking at how things should flow, feel, and look. For instance, with hallways, we can do a lot for them or keep it simple, but they'll always be there for us.
So, if you're here, perhaps you're wondering what to do with your hallway's design and decor. If you're remodeling or redecorating, you'll want to consider whether you need the space in your hallway for more than a stroll. Is it wide enough for storage? What about shelving for your art book collection? Is it dark and could use some extra lighting? Do you want to add skylights to let the sunshine in, even on a cloudy day? What about what's underfoot? Do you continue the same flooring all over your home for a seamless vibe? Or do you stop people in their tracks with a splash of tile? So many questions that need some answering. Don't fret, take it one step at a time. We're here to help. Get ready for some fun and useful things to consider when it comes to your hallways.
1. Let There Be Light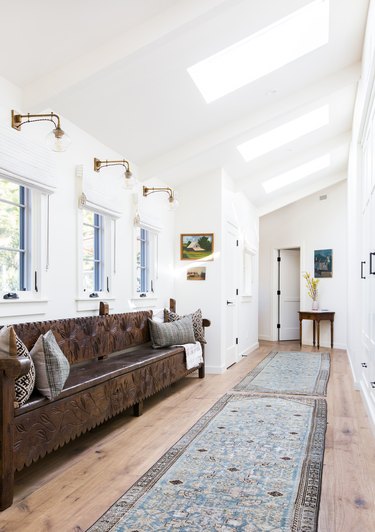 The hallway in this spectacular Ojai, California home by Amber Interiors has everything: space, storage, seating, and skylights. We love it so much we want to put a ring on it! What else could you ask for? Consider opening up your rooftop with one or two skylights when you have a centrally located hallway to bring in some sunshine. Add a set or two of sconces to finish things out.
2. Say Something
When it comes to decorating, you love playing it somewhat safe, but your inner wild child is just aching to shine. Amy Sklar's design in this Studio City modern home is the perfect combo of both. Neutral tones are turned on its head with to-die-for gray toned wallpaper and an elegant pendant with a bold brass finish. Add a console table where you can showcase some ceramics and a place to put your keys so they'll never go missing. (Well, almost never.)
3. Love the One You're With
You're redecorating, but you can't break up with your currently narrow and dark hallway. Or, perhaps you're renting. Just because your budget or landlord say "no" doesn't mean you can't say "yes" to some simple upgrades. Embrace what you have and paint the space a darker color, like the one here from Little Greene. Do the ceilings, too. Don't be scared. Put in some recessed lighting so you don't go bump in the night. Keep your flooring consistent throughout your home so things don't feel so snug. Stand back and just say it: simple is sensational.
4. Just Be Cool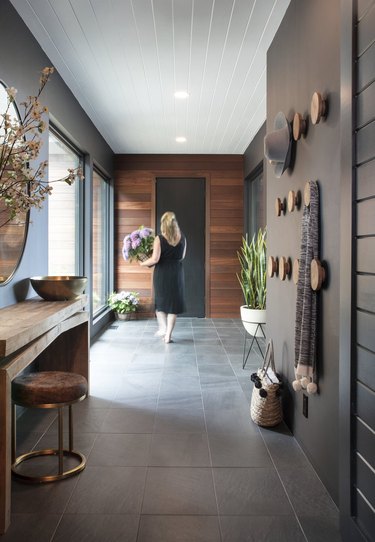 This hallway by Dichotomy Interiors is all about form and function ... and being fabulous. You've got a place to hang your hats and scarves, natural light for your indoor plants, and just look at those tile floors for easy maintenance. The slate keeps things comfortable in hotter months or can be warmed up with a rug when things get chilly. How cool is that?
5. Something in Stor(age)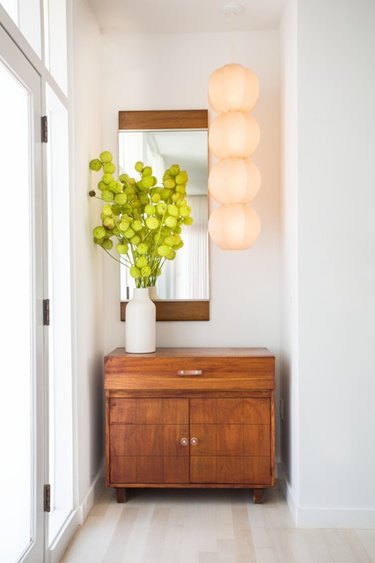 Instead of just sticking with a closet in your hallway, why not remove the door and create a nook where you can place a piece of furniture that not only provides storage, but a stylish addition to your decor? This lovely look by Von Fitz Design took an all-white hallway somewhere special with a dramatic light and vintage cabinet.
6. Go Long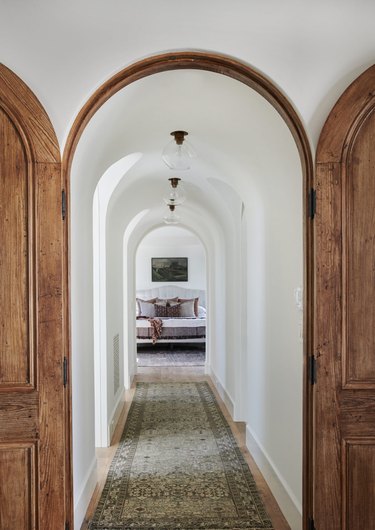 If nothing else, get real with a rug. When thinking about a runner for your hallway, one long one is always a good bet. It absorbs sound if you have wood or concrete floors and warms things up (both feet and decor). This long and elegant rug in a dreamy California home by Amber Interiors makes this hall seems endless. Be sure to place a non-slip rug pad underneath so things are kept in place as your family rushes in and out. They're not called runners for nothing.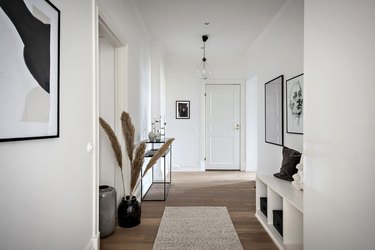 Where to Shop for Heavenly Hallways
CB2 has a great selection of hallway runners, from simple to sophisticated.
Velux USA makes skylights in all shapes and sizes for small and big spaces that need some sunshine.
Little Greene has a gallery of paint and wallpaper inspiration for hallways featuring some striking colors and unique patterns.
AllModern is filled with a lot of midcentury modern styles for credenzas or cabinets, and you can get your goods without spending a lot of cash.
Y Lighting is all about recessed lighting: the what, the why, the who … the possibilities!