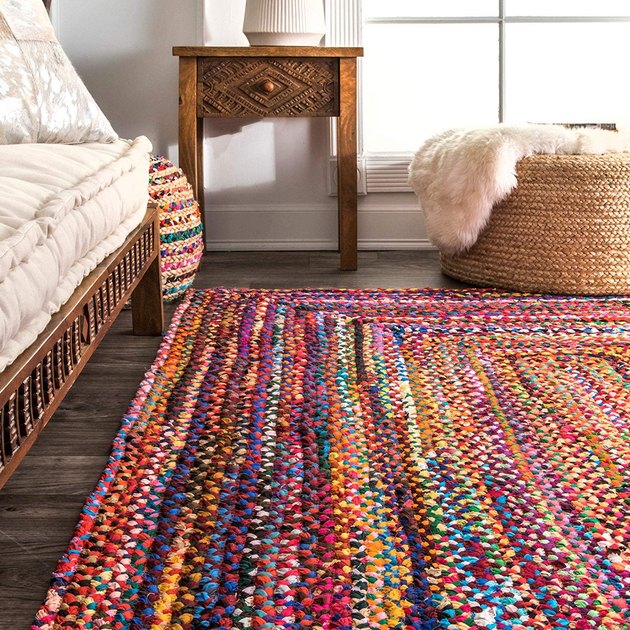 It's true: Rugs transform a room — but picking the perfect one can truly be a pain. Luckily, Etsy gathered its team to release their top tips for picking out a new rug. "No single decor piece can do as much to set the tone for a space as a great rug," explains Dayna Isom Johnson, the company's trend expert. Here, we lay out the seven biggest takeaways (and some of our favorite rugs, too):
1. Start with the setting.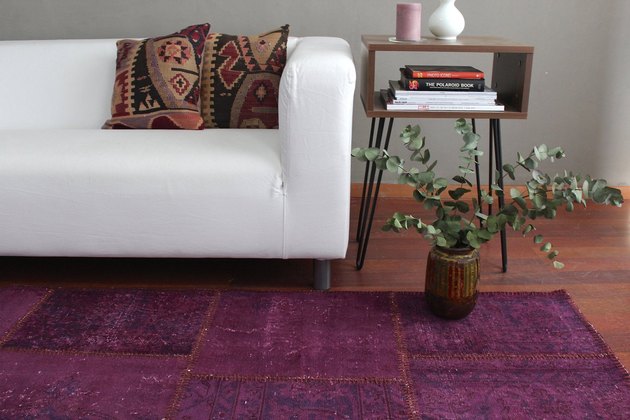 Save the shags for the bedrooms — no pun intended. "If you'll be using it in a high-traffic area — family rooms, hallways, entryways, and kitchens — you'll want a durable wool or man-made fiber in a color that won't show dirt," says Alex Bates, a New York-based creative director and sustainable design consultant. Flat weave or low-pile rugs are best for these areas.
2. Measure yourself.
Of course, when buying a rug without seeing it in person, you'll want to make sure the measurements fit your home. Bates suggests the following tip: "Starting about 12 to 18 inches from the wall, use masking tape to mark off where you want the rug to fall and then measure those dimensions," she says. Some other general rules to keep in mind when buying a rug: In a larger living room, only the front legs of a sofa should rest on the rug, while in the dining room, you'll want to ensure that your rug spans the whole room — it should extend beneath all of the chair legs, even when they're away from the table. Don't be afraid of going too big. A larger rug will almost always make a room feel larger, Bates says.
3. Buy what you love.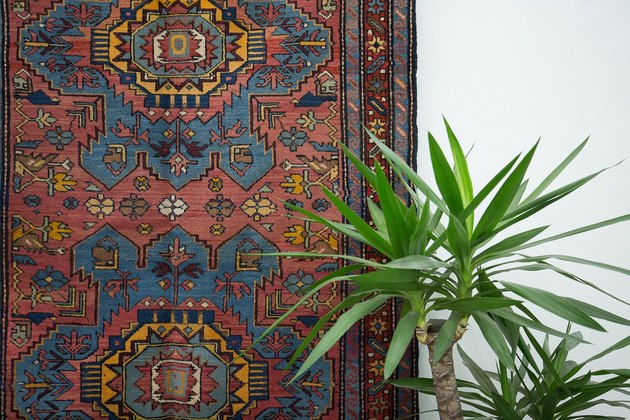 If you find the perfect vintage rug, don't be afraid to break a few of these rules to get it. "It should make your heart skip a beat when you see it," says Bates. "You'll want to embrace all those imperfections — they bring soul and character into a room." Just know that your vintage find might come with a few signs of age; color saturation, fading, and wear-and-tear are all part of the deal with old rugs.
4. Don't be afraid to mix it up.
"Layering is a fun way to experiment with patterns or textures without having to commit to covering a large area," Bates says. If you fall in love with a smaller rug that doesn't fit anywhere else in your home, try placing it onto a larger, natural fiber rug.
5. Consider the construction.
While investing in a good rug can take up a large chunk of change, there's a good reason why. Most inexpensive rugs are tufted, which means fabric is glued to a backing. These rugs have a limited life span. Meanwhile, a classic hand-knotted Persian will last for years. For pet owners, seek out a good wool rug, as they can be easily cleaned with enzyme treatments without damaging the rug itself.
6. Don't forget your fibers.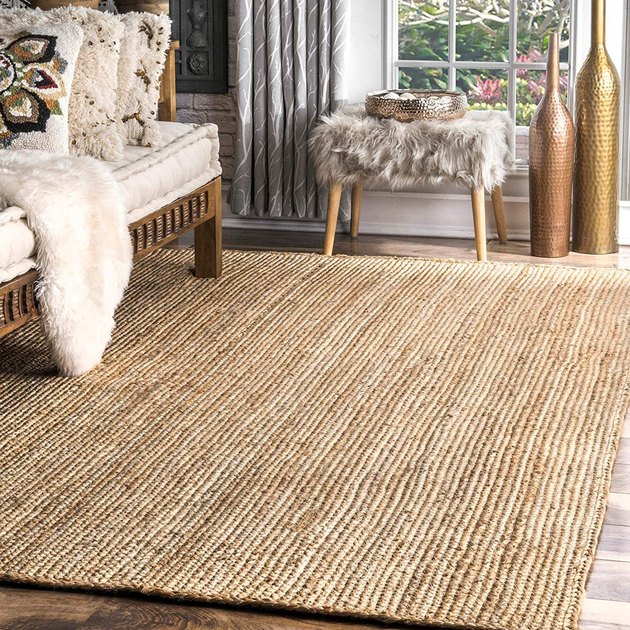 Natural fibers like jute are tough and can take a real beating while still providing comfort, so they're the perfect option for high-traffic areas. Hemp is another great material that holds up well and feels a bit softer than jute. These will typically be a bit more minimalist in style and color as well.
7. Search smarter.
"When it comes to searching for rugs on Etsy, narrowing down and creating a defined space to browse is key," says Lindsay O'Brien, Etsy's senior merchandiser for home goods. "Think of the characteristics that are most important to you — whether that's size, style, or color — and start adding them to your keyword search."
---
Laura is a New York City-based freelance writer who writes about travel, food, and design. Her work has appeared in Architectural Digest, Bon Appétit, GQ, Condé Nast Traveler, and more. She's a sucker for a good curbside furniture find.
View Work