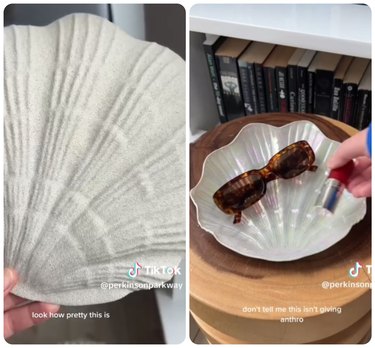 Whether you're feeling inspired by the new live-action ‌The Little Mermaid‌ movie or just looking for a quick DIY, you're going to want to bookmark this project. It calls for just three items — a Dollar Tree plate, spray paint, and tape — but it looks so much fancier.
Created by Krystle Perkins on TikTok, the project involves an iridescent plastic shell plate from Dollar Tree. Perkins loved the look of the plate, but wanted to give it a more high-end vibe.
To do this, the creator taped off the front of the plate, leaving a thin rim around the edge. She then coated the piece with three layers of Rust-Oleum Multicolor Textured Spray Paint in Caribbean Sand.
The result is ‌so‌ pretty. Not only does the spray paint give the plate a more natural appearance, but the iridescence looks like it's on top of the texture. That's because the plate is clear, allowing both finishes to shine through.
"Don't tell me this isn't giving Anthro," said Jenkins in the video. Her followers agreed, noting that the retailer would charge at least $38 for the piece.
Other users on TikTok felt super inspired, sharing their own suggestions for customizing the dish.
"You could do the first coat of paint in a different color so that it shows through the dish," said one person. This would look especially pretty in a pastel color, such as light blue, pink, or lavender.
Many folks recommended filling in the rim with a gold paint pen. How gorgeous would that be?
As with many Dollar Tree products, the shell dish is priced at $1.25. It also appears to be sold in the party supply section of the store, though it might vary by location. Check out the brand's store locator to find your closest Dollar Tree.