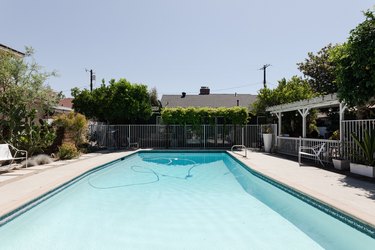 Noticing cloudy water in your swimming pool? Algae is probably the culprit.
Leigh says to cut a 1- or 2-inch piece of copper pipe and place it inside a plastic container with a few holes cut out of it (she uses an empty medicine container). Screw the lid on the container and toss it in your pool skimmer. The best part? You never need to replace the piece of copper.
One commenter says they simply toss their copper piece right into the basket of their skimmer. How easy!
This hack is a prime example of copper ionization, a water purification method that has been used for centuries. Copper ionization is a safer alternative to chlorine for cleaning your swimming pool — not only does it kill algae, but it also kills bacteria and viruses without irritating your skin and eyes.