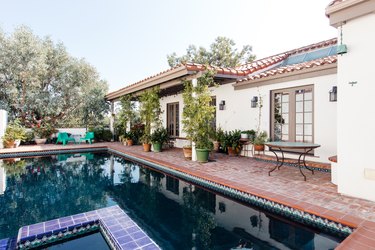 When you close your eyes and imagine a completely relaxing, beautiful place, what do you see? If it involves a turquoise-blue swimming pool surrounded by tropical plants, then we're definitely on the same page. There's just something about just looking at a cool, refreshing lagoon that instantly lowers our blood pressure. And they're even more pleasing to the eye when dressed up in lush landscaping, stylish outdoor furniture, and clever accents.
Backyard pool ideas can run the gamut between simple and aspirational, and regardless of what type you are planning, they can all lend dreamy inspiration. And if you're not planning to install a pool, enjoy taking a mental vacay by perusing these stunning designs.
Here are 10 pools we're currently soaking up — and, tbh, we can't get enough of them:
1. Complement the exterior color palette of your home.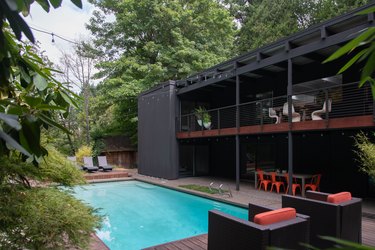 Just like you would with your interiors, set a color palette for your poolside oasis. The black and red hues used in the backyard of this abode belonging to Chris and Kerry Chartier juxtapose flawlessly with the sky-blue water and surrounding lush greenery.
2. Embrace midcentury visuals.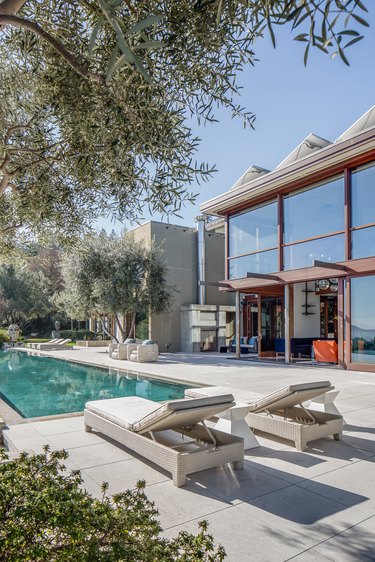 There's one aspect of midcentury design we simply adore: the backyard pool ideas. Look at punchy postcards from the 1950's, and you're sure to spot a mid-mod lagoon, flanked by space-age furniture and geometric details. Get inspired by this outdoor space designed by Applegate Tran Interiors, and try the throwback vibe in your own backyard: linear furniture, a rectangle-shaped pool, and interior midcentury elements that can be viewed outside.
3. Create a tropical paradise.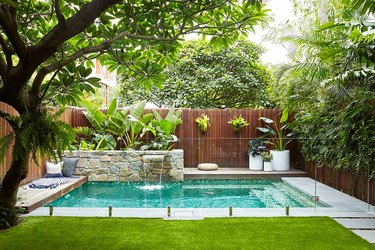 If you can't slip away for tropical vacation, why not create a bit of nirvana in your own backyard? The team at Harrisons Landscaping crafted such a paradise using a built-in waterfall, a spot to lounge, and tons of flourishing plants. If you need us, we'll be here for a few hours.
4. Set up stylish areas for entertaining.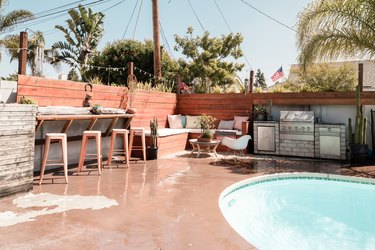 5. Go clean, classic, and polished.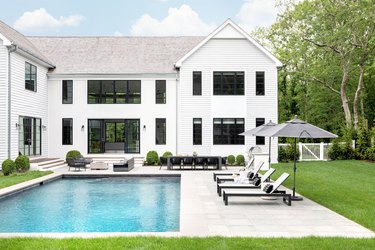 Sometimes, pretty backyard pool designs don't need to be particularly contemporary. In fact, we think they can look traditional and still take people's breath away. This fact is proven by this setup courtesy of Chango & Co. The rectangular lines of the pool emulate the accompanying furniture and exterior of the home. Here, simplicity really is striking.
6. Keep things lush and green.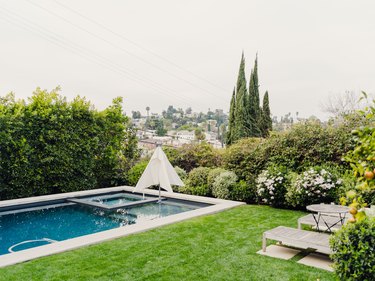 Sure, you can surround a pool with a deck or a cement hardscape. Or, it can lead right up to your landscape, which creates an even more aesthetically pleasing look for backyard pool designs. We can't get over all the verdant goodness going on around this backyard pool idea belonging to Mara Roszak.
7. Keep it curvy.
Soft, curvaceous lines can be lovely and unexpected for a backyard pool design, especially when you're used to seeing rectangle-shaped lagoons. Softness and enchanting visuals are the theme for this oasis spotlighted on Style Me Pretty. The curved pool meshes nicely with the light colors and nearby textiles.
8. Experiment with tile.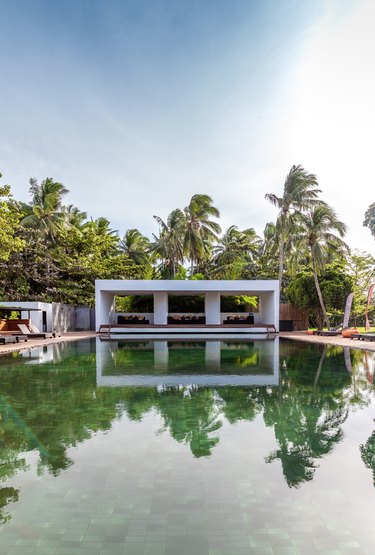 Tile is a fresh way to dress up backyard pool designs. If you want to switch up the color or present a pattern that's in line with your decor or personality, look no further than versatile tile. Bali Interiors decked out this pool with vibrant green tile — would someone mind teleporting us to Thailand, STAT?
9. Echo the aesthetic.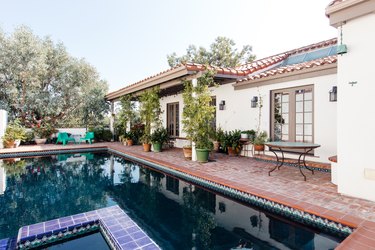 Backyard pool ideas can anchor the rest of your outdoor decor, something that's seen in this space belonging to Perri Perry. The Spanish design of the exterior is emulated in the tile and general feel of the pool.
10. Cast a chic reflection.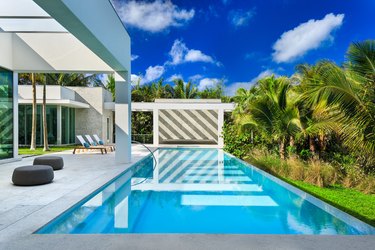 Sometimes, a reflection cast in a pool can be the most stunning thing about your outdoor living space. When planning your backyard, consider which parts of the house will be reflected in the water. And keep in mind that you can also build out a graphic wall alongside the pool to achieve the reflection that you want — an amazing look that's witnessed in this pool designed by Herscoe Hajjar Architects.