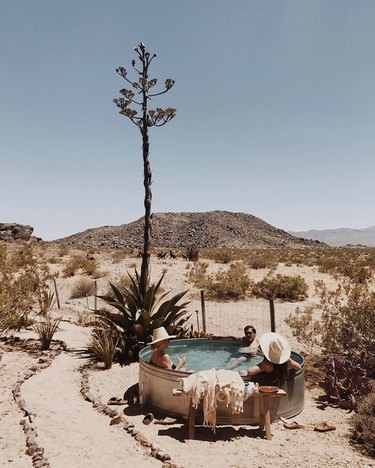 In the throes of a scorching summer, the desire to plunge into crystalline waters is undeniably strong. As the mercury rises and the throngs descend on community pools and local beaches, the temptation to install a pool in your own backyard can be hard to resist — that is, until you discover that the average cost of a built-in swimming pool is $35,000. Which is why we're arguing that it's high time you consider a stock tank-style pool.
Made by repurposing an inexpensive galvanized stock tank — intended for watering livestock — into a rustic swimming pool, with the help of a water filtration system, a stock tank pool offers an affordable alternative to a costly built-in swimming pool. So, in the interest of helping you soak up the last few days of summer, ahead, we're sharing five stock tank-style pools so chic we're willing to bet they'll inspire you to head to the nearest farm supply store stat.
1. Opt for a Simple Stock Tank Pool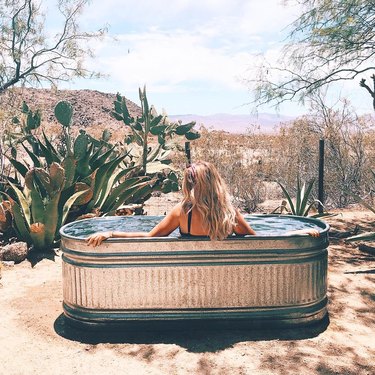 A 125-gallon oval stock tank is ideal for a low-maintenance, modestly sized pool. Measuring in at 5 feet by 2 feet and only 2 feet deep, it's just large enough for one or two people to take a refreshing dip.
2. Or, Opt for a Pool Fit for a Crowd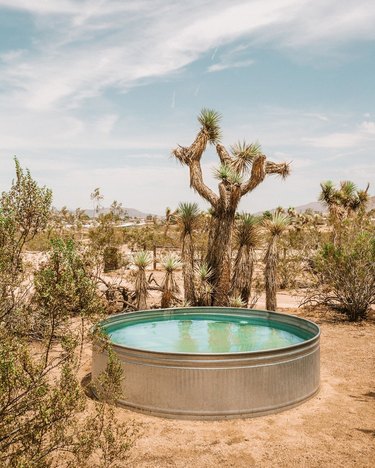 3. Add a Deck and Wrap-Around Seating
Elevate a simple stock tank-style pool with an inviting deck and wrap-around seating. Add solar-powered path lights and a spot to hang lanterns in order to illuminate your oasis for an evening soak.
4. Or, Simply Add a Wooden Bench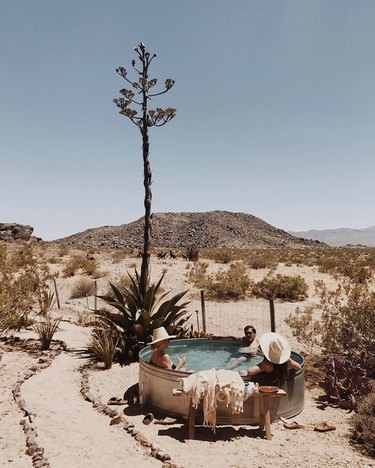 If custom seating isn't in the budget, place a wooden bench next to the pool to keep towels dry, drinks within reach, and snacks at arm's length. Now all that's left to do is don a wide-brimmed hat and hop in.
5. Bring a Stock Tank Pool to the Backyard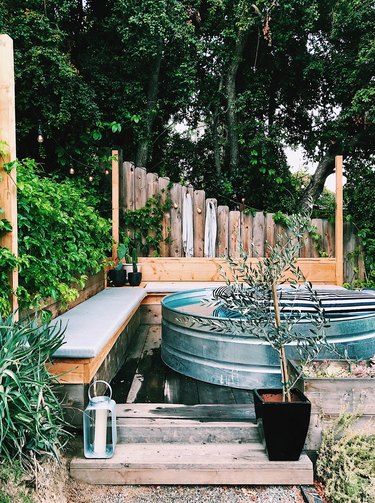 Boasting a deck with built-in bench seating, this backyard belonging to Victoria from SF Girl by Bay makes the ideal backdrop for a DIY plunge pool. Complete with string lights, this verdant patio is the picture-perfect setting for a post-sunset swim.