Outdoor lighting doesn't need to be bland. If done right, it can lend a magical touch to any space. These 10 outdoor lighting ideas are anything but ordinary, and relatively easy to install.
1. Lanterns Hanging From Trees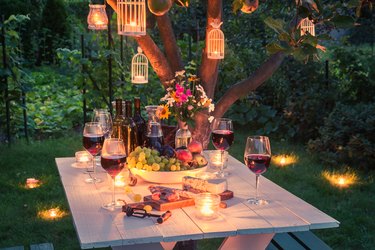 How romantic is this? Simply hang some assorted lanterns onto trees surrounding your outdoor dining table. You can place real or LED candles inside.
2. Cascading String Lights
Create the look of Spanish moss with string lights. Just wrap them around your pergola and let the ends cascade downward.
3. Moroccan Lanterns
Calling all boho-chic fans: Moroccan lanterns make for great outdoor lighting.
4. Edison Bulbs Wrapped Around a Pergola
Outdoor Edison bulbs offer an industrial touch.
5. A Simple Strand of Lights
There's no harm in keeping things simple. String a strand of large lights across your yard.
6. String Lights With Conical Shades
If you want to get fancy, string lights with conical shades are a cool look, too.
7. A Solar Floor Lamp/Table Combo
Why not use the power of the sun to light your yard? A solar floor lamp that also functions as a table is the perfect multitasker.
8. A Fire Pit
Is there any better backyard addition? Fire pits offer not only light, but also warmth. Here's how you can DIY.
9. Outdoor Pendants
Here's a unique idea: Hang pendant lights from the overhanging part of your roof.
10. Elegant Sconces That Provide Both Uplight and Downlight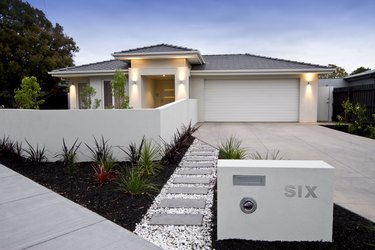 Now this is a grand look. Hang multiple wall sconces that offer both uplight and downlight on your home's exterior.