Your deck stairs shouldn't be an afterthought. When you put all that work into your home and creating an outdoor space, the stairs leading to the yard should be just as carefully planned as everything else. It doesn't matter if you have a large modern home with extensive landscaping or a cute cabin in the woods, either. If you need deck stair ideas and inspiration, we have a few tips to get you started.
1. Go wide.
This deck stair idea can work no matter the size of your space. An extra-wide set that extends from the deck down to the yard will definitely create some drama, but that's a good thing. Longer steps work especially well on this rustic midcentury modern retreat because the home is small, and the stairs make the whole place feel larger. You could just as easily do this on a large deck, though.
2. Match the exterior.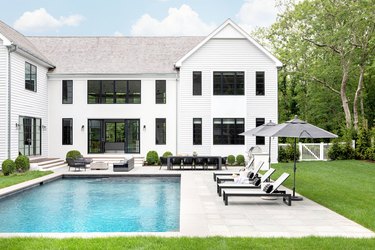 It's okay for your deck stairs to coordinate with your exterior. At this house, for example, white-washed stairs lead to the pool and patio area and contrast the lush greenery. This approach can work with traditional homes or contemporary ones.
3. Embed lighting.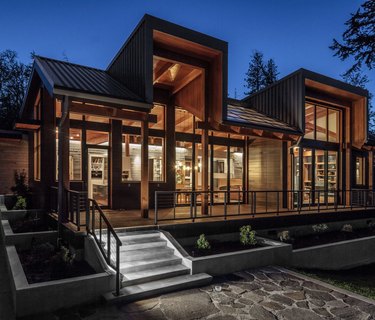 Adding lights to your backyard is smart in general. But it's also a great deck stairs idea to embed some sort of illumination right into the design. Add path lighting on both sides so they aren't as noticeable during the daytime. And at night, your entire space will be a lot safer.
4. Stay minimal.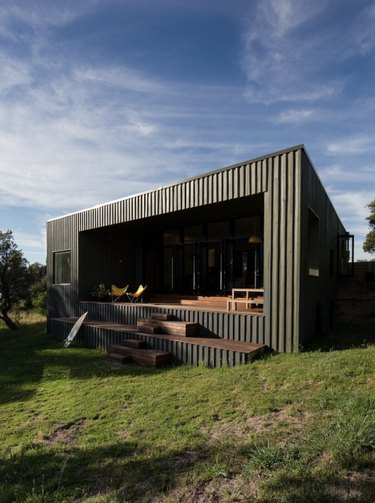 This home has a modern facade and gorgeous color. And by leaving the stairs in their natural wood state, MRTN Architects gave the exterior an even more elevated look. You can easily do this on your own deck stairs if you prefer a minimal look and want your stairs to blend in rather than stand out.
5. Think industrial.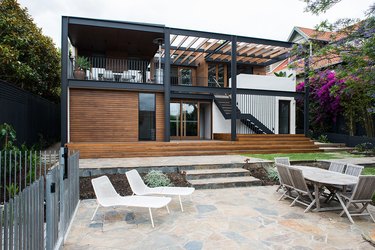 This house features multiple stair ideas in various shapes and materials, but we want to focus on those industrial-looking staircase that leads from the patio to the second-level deck. The black metal risers complement the exposed metal frame of the house and tie the whole aesthetic together.