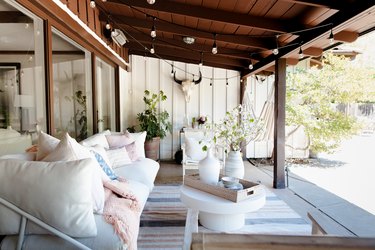 Who doesn't prize having an outdoor space? However small or large, an area to lounge, relax, or entertain outside is something to treasure, and that's been the case for centuries. Patios (or courtyards) were prevalent in medieval Spanish architecture and became standard in homes during the country's Renaissance as a place to gather, decorate, dine, and escape extreme elements, generally the heat. This last point speaks to one of the major functions of public and domestic patios back then and today — shade, whether by means of towering adjoining walls or an actual covering over the space. We're also very aware that many of you have had to add storage to your list of patio functions (yes, we have our bikes and bins on ours too!), but that doesn't mean your patio can't still be a fabulous retreat serving a variety of functions.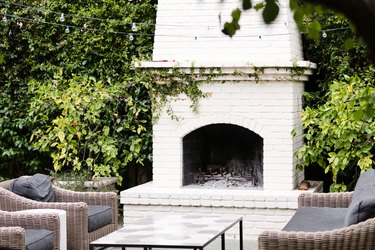 Now if you're sitting there thinking, I don't have the time, or I don't have the space, or in many cases, I don't have the budget, we have some inspiring patio layout images to convince you otherwise, along with eight design tips that will have you lounging in style on a patio that is also rich in function. We're here to help you visualize, plan, and execute your dream getaway.
1. Prioritize patio seating: Choose based on function and style.
What's a patio if you don't have somewhere to sit? If a chair or couch is what first came to mind for seating, sure, those definitely work, but if a hammock or luxe floor cushions also did, now we're talking. Depending on the area you're working with, maximize or minimize your seating, while thinking about what its prime use will be.
Once you have the number of seats and their main function in mind, you can hone in on the right piece(s) for you and start to build from there based on how you'd like the area to serve your — and your guests' — needs. Factors to consider when choosing your seating: How many does it sit? Is it weather resistant? How easy is it to clean? (Think Sunbrella fabric.) What is its estimated lifespan? How comfortable is it? How flexible is it, can you move it easily? Is it customizable, can you dress it up or down?
2. Complement your patio seating with a variety of design "friends."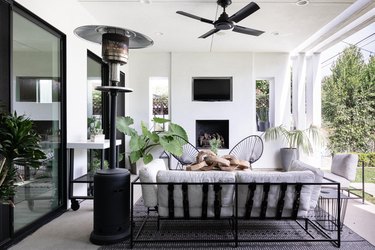 No two friends are the same. You may have those you turn to during your highs and lows, those you need every day, and those who are nice to spend time with once in a while. Same with the furnishings and decor that complement your patio seating: You may love them all, but think about how often you'll need them (and how dependable they are) to determine your patio shopping list. Will large pillows be your best friends while that chiminea will be an occasional one? Will a table with storage be your everyday friend and an outdoor bar cart be perfect as a patio party friend? Have fun exploring.
3. Place outdoor furniture and decor thoughtfully throughout your space.
Bring on the warmth, storytelling, and cooking around the fire, but be extra conscious of keeping ample space around fire when sparks fly. While it's a no-brainer to avoid hanging branches near your grill or pit, it can be difficult to judge how far the fire can reach. Do your research and anticipate all risks. Maybe a small tabletop pit is more appropriate for your patio than a sunken one if kids are involved.
Even with water features on your patio — a welcomed feng shui element — keep safety in mind, especially if there are animals involved. Will wild critters be looking to make your fish or turtles dinner? Consider a stylish way to cover your pond or fountain to protect them.
4. Get creative with your patio flooring: Renter-friendly changes are possible.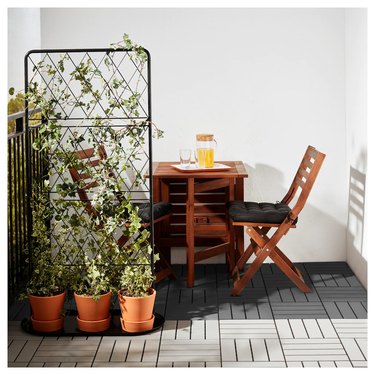 You've always dreamed about having a deck but don't own your home or have thousands of dollars to spend (like most of us). Consider wood tiles or discarded pallets or a combo of the two to make it a reality. If the concrete below your feet may indicate "patio" but doesn't bring you joy, lay down an outdoor rug or artificial grass, or layer the area with rocks. And, yeah, this is all affordable and doable, plus, you can take it with you should you move. Wish you were along the coast instead of the city? Play sand isn't just for kids.
5. Make your patio seating area inviting and conducive to socializing.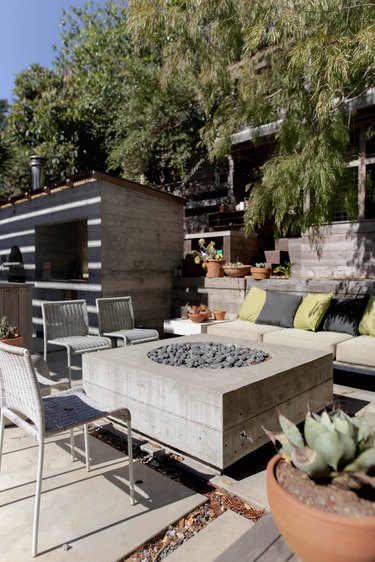 Having a fire pit (or a tabletop fire bowl) with friendly seating is a surefire way to invite visitors to gather, so make it comfortable, whether you have chairs or pillows around it. For smaller spaces, round tables are a smart choice because they can allow for more seating and more intimacy. And, let's face it, more ease in reaching across the table for food or drinks. Also, always make the seating easily accessible by creating a flow that is welcoming versus cluttered with unnecessary items.
6. Create patio views you'll love.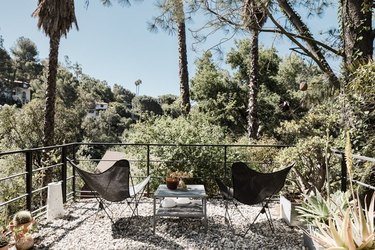 While we can't all have a view of the Hollywood Hills, like this architect and designer's home in L.A., you'll still want a view that puts a smile on your face — and your visitors' — versus one that makes you want to run for cover. That could mean a view of nature, an assortment of plants, or a pretty neighboring building. Or, guess what, you can also fake a stunning view with hanging landscape artwork or graphic curtains. Put your bike behind your seating area so it's out of sight and decorate your laundry line with wind chimes.
7. Make your patio private — and welcoming year-round — with fencing and shading solutions.
These Londoners used a combination of wood fencing and strategically placed plants to create their private patio haven to unwind from city life and people. Take a cue from them and opt for tall potted plants or movable privacy screens to shield your patio from snooping neighbors or passersby. If you're looking for easy, creative patio-cover options to create some shelter from the sun and neighbors, try hanging sails, adding a colorful umbrella (or two!) or charming gazebo or canopy without having to commit long-term.
8. Bring some drama and create a party atmosphere with lighting.
From hanging string lights to Moroccan lanterns or simple tealights and cool torches, it can take very little to make your nights magical with the right combination of lighting. Notice how these DIY light poles were created with heavy planters. With the basic structure in place, you can string a variety of lights, paper lanterns, and even fabric to create a festive patio area.
Where to Buy Patio Furniture
Now that you're all set with a wealth of patio layout ideas and tips, let us help you consolidate some your shopping to a handful of stores. Check out these retailers for great options, from the affordable to the luxurious.
Just as with your usual household items, Target tends to be friendly on the pocketbook, while still offering an impressive collection of furnishings: from patio sets and colorful (and kid-friendly) dinnerware to hammocks and fire pits. Don't forget your s'mores supplies!
The beauty of Lulu and Georgia's outdoor furniture is that if you're a minimalist, its tables and chairs, primarily in muted tones, are perfect just as they are: chic, functional, with clean lines. If you're not a minimalist, they are ideal canvases to build on and personalize. Just add a vase of fresh flowers or tray of colorful candles to a table or stool. Throw your favorite patterned pillow or blanket on top of a chair or love seat, and add a fun rug beneath it.
If you want to go totally luxe with your patio furniture and decor — perhaps a backyard wedding is on your agenda this coming year? — Perigold has some incredible pieces you'll want to have forever. There are seating designs you never dreamed existed that you could make your own. If you do, you'll have conversation pieces galore and friends who may never leave your backyard again, and you won't be able to blame them.